WOODBURY — Armed with something of a dual purpose, one to ring in the new year but also — and mainly — to celebrate the successful re-election in November of three of its own members, an empowered Gloucester County freeholder board gathered with friends and family here tonight for its latest reorganization meeting, held in the big stone courthouse off North Broad Street.
Re-elected in November for three year terms, the local officials at the center of the swearing-in ceremony included incumbent freeholders Lyman Barnes, Heather Simmons and Adam Taliaferro. All three re-joined the seven member — and all Democratic — board tonight after fending off a GOP challenge last year, in a race against Republican hopefuls Joseph M. Bennis, Jeanine E. Butterworth-Green and Jack Scheidell.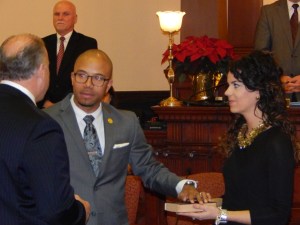 Bumped up in ranks was the board's Deputy Director, Giuseppe "Joe" Chila, replacing Freeholder Director Robert Damminger.
In individual speeches addressed to a roomful of well-wishers and supporters, each freeholder spoke about the issues — both successfully tackled and still ahead — that face Gloucester, a South Jersey county of some 300,000 residents. Simmons, now effectively in her fifth year on the board, talked about ongoing efforts at generating economic stimulus for local business, while Barnes, beginning his second term, touched on two of the board's bigger landmark accomplishments: the creation of Rowan College at Gloucester County, and a 2013 deal to close the county's jail.
Barnes said the moves helped the county demonstrate "to itself not to be afraid to change government."
But the reorganization likely would not have been complete without the return of the board's own prodigal son, or the express support of the power brokers heading up the rest of South Jersey's political family. The former found representation in Senate President Steve Sweeney (D-3), a South Jersey product who began his own ascent in Trenton here in Gloucester as a freeholder, while the latter found it in Norcross (CD1), a former state senator in neighboring Camden County and the brother South Jersey's Democratic Party boss, George Norcross III.
Both pols were present at tonight's meeting, heralding the board's work and Gloucester's standing as a "leader" in the state.
"You know, when you talk about initiative, this county is always the first," Sweeney said. "And somebody always has to have the courage to do it first. And this county is the first county in the state not to have any jails. To save taxpayers millions and millions of dollars. And that takes leadership and courage. That doesn't happen all the time in politics."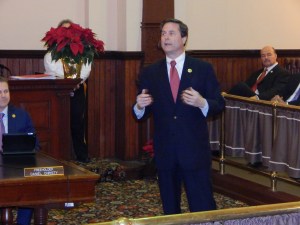 Sweeney, now a statewide presence with gubernatorial aspirations, recalled his own tenure as a freeholder in the county, and noted the progress it's made in areas like countywide emergency and storm water management.
"This is a county that goes first, and everyone follows," he said.
Also present at tonight's swearing-in was Assemblyman John Burzichelli (D-3), Assemblyman Angel Fuentes (D-5), Assemblyman Paul Moriarty (D-4), Assemblywoman Gabriela Mosquera (D-4), and state Sen. Fred Madden (D-4).