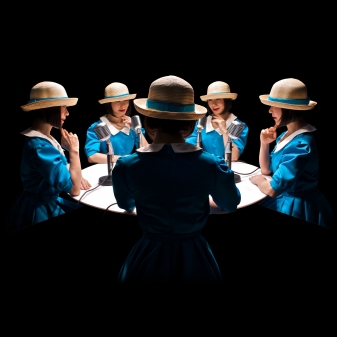 "Hello, you fighting orphans in the Pacific," she purrs into the microphone like an old, loving friend.
Tokyo Rose, who was actually a group of a dozen women employed by the Japanese government during World War II, aired a nightly radio show aimed, like a weapon, at the American troops. Tokyo Rose whispered demoralizing words into the soldiers' ears and played nostalgic Western music. One of those women was Iva Toguri, a Japanese-American who became stranded in Japan during a family visit right when World War II broke out. She tried to leave the country, but the Japanese government swept her into the propaganda machine because of her proficiency in English. After the war, Toguri was charged with treason and had to wait 20 years for a presidential pardon.
This is the story that photographer and visual storyteller Miwa Yanagi set out to tell in Zero Hour: Tokyo Rose's Last Tape. The play is part of Japan Society's "Stories from the War" series marking the 70th anniversary of the end of World War II and it will be performed three nights at the Society, from January 29-31.
Yanagi is renowned for her work of poignant photography that centers on changing the perception of women, but this is her first piece of pure theater. Yanagi's dedication to theatrical storytelling isn't unusual, according to Yoko Shioya, artistic director of the Japan Society. Yanagi's body of work in photography features a narrative behind each image. Yanagi's internationally recognized "Elevator Girls" series, which presents women posing in a narrow space wearing an elevator operator's uniform, is one such example. Yanagi focused on the expectations of Japanese society and the entrapment of women in specific roles.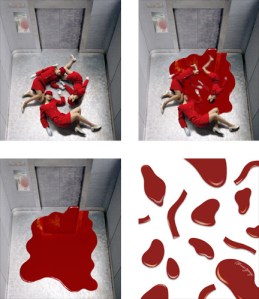 After seeing one of the first performances of "Zero Hour" in Japan in 2013, the Japan Society artistic director approached Yanagi about doing a North American tour. Shioya felt that the play was all about the Japan-United States relationship and thus a good way to introduce new theater work in the United States.
The play has value for different kinds of viewers, from the art buffs to the casual viewers.
"It's straightforward theater but what you see visually are really detailed body movements, projections and lighting. Even the costumes are very specific. The whole thing is a visual statement in itself," Shioya says.
Among the other theater performances featured in Japan Society's "Stories from the War" series are a one-woman tragic comedy starring Michiko Godai on April 25 and new and traditional Noh theatre performances from May 14-16.
Cat lovers may also want to block off at least a day from March 13 to June 7 to visit Japan Society's upcoming exhibition "Life of Cats: Selections from the Hiraki Ukiyo-e Collection." The show will feature a selection of Japanese paintings, prints and sculptures that includes themes ranging from cats and people, cats as people and cats versus people.