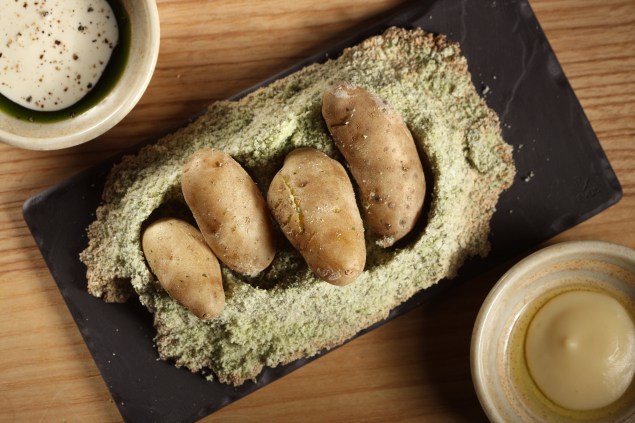 Is it possible to sufficiently chronicle the throbbing gristle of the New York food world as a vegetarian? Is that fair to the readers or to the restaurateurs? Will it consign one to the hippie-dippie freak show of niche restaurant criticism?
In my last review for this publication, I wrote about a very good spot called the Bowery Meat Company, which has tremendously satisfying steaks and transformative duck lasagna. I meant every word of praise I gave, but I have to admit that, for the past year, I have become increasingly uncomfortable eating meat. So I've decided that was my last review as a carnivore.
---

SEMILLA 

160 Havemeyer Street
(718) 782-3474
semillabk.com
★★★★★
(5/5 stars)

---
I'm not, however, becoming a vegetarian per se. I'm what I believe is called "vegetable-forward." It's not that no meat product shall ever again cross the threshold of my lips, but I will no longer be ordering the wet-aged rib-eyes, dry-aged burgers, squab wings, lamb breasts, crispy ears, slow-cooked bellies and handpicked shoulders that have made up the main courses of many dishes I've eaten over the years. Perhaps my reviews will take on an entirely different, even more acetous flavor, consigned as they might be to the littoral zone of trendy menus. But I hope not.
All I can say is I want to be the change I believe in. If I don't think chefs are paying proper attention to the non-meat-eating, or promoting dietary habits that are salutary for our physical or moral selves as well as for the planet (and, you know, for all those miserable fucking cows), what better way to at least attempt to remedy that by appreciating when they do and sternly finger-wag when they don't? I've eaten at a tremendously high level since I became a critic for the Observer two years ago, and I hope I can continue to do so with this pivot. I don't see any inherent reason why one must choose between living (and eating) according to one's own morality and experiencing the best of a city with an Olympic-size pool of culinary talent.
Semilla, Jose Ramirez-Ruiz and Pam Yung's new restaurant, obviates the choice entirely. It started as an intensely DIY pop-up called Chez Jose and debuted in October as a permanent restaurant in a small space on the south side of Williamsburg. I have to admit, the specter of a small, tasting-menu-only restaurant in Brooklyn where a minyan of diners sit around a U-shaped bar gave me traumatic flashbacks to a certain unhappy incident, years ago, at Brooklyn Fare. In fact, the Puerto Rican-born Mr. Ramirez-Ruiz did a stint at Cesar Ramirez's restaurant. He also served in the brigades of Thomas Keller at Per Se and Ignacio Mattos in the pre-normcore, pre-pre-Estela days at Isa. Ms. Yung, Mr. Ramirez-Ruiz's partner in both life and business, is an inventive pastry chef who got her start at Will Goldfarb's Room 4 Dessert before spending time at Roberta's, Isa, wd-50, Torrisi and just about every other restaurant in New York that takes pastry as seriously as it deserves to be taken.
What differentiates Semilla from Brooklyn Fare (and, for that matter, most other restaurants) is not the presence of genius in the kitchen but the absence of aggression. The menu has been described as "vegetable-forward," but I would say its guiding principle is waste-light. The nine-course menu is guided by a kind of lex parsimoniae. "I've worked in a lot of restaurants," says Mr. Ramirez-Ruiz, "where a lot of edible things are wasted. What we did at Chez Jose and what we're doing here is based on the idea of having as little waste as possible." The vegetable-heavy menu, then, is an outgrowth less of dogmatic adherence to vegetarianism than a realization of the waste inherent in the production and consumption of meat. Meat is present, but only at the margins, and treated as a precious resource.
There's no need to fret. The ingredients are ample enough for Mr. Ramirez-Ruiz to build flavor fantasias. Some chefs specialize in bright poppy flavors that are like Technicolor sunshine days in the mouth. Mr. Ramirez-Ruiz is a master of dusk, a clever close-up magician who plays hide and seek with sweet and sour and nearly everything else. But sour is his prestige.
The third of his nine-work opus—beet, sunflower seeds and fermented ramp aioli—showcases Mr. Ramirez-Ruiz's virtuosity. The plate looks like a Neil deGrasse Tyson diagram. A slightly shimmering black terra cotta plate is sparsely populated by a swirled sheet of crimson beet on one side and, a few light years away, a pale green dot of fermented ramp aioli. Lonely seeming, perhaps, but the big bang awaits. Underneath the beet blanket lurks another fervent beet, this one poached in a hay water infusion, then marinated in a homemade burnt juniper vinegar. It pops, as does the beet on top, which has been brined for a week. The pair rests on a touch of hay yogurt while, across the universe, that little dot of aioli is a green nova of flavor with a bracing gravitational pull.
Time and time again the chefs evoke all the Earth has to offer. A whey and parsley oil broth in a turnip and braised kale course, for instance, and tender discs of rutabaga and crisp shallot on a thin layer of lovage-dusted salt cod. The flavors are a direct experience of terroir—liberated, not mitigated, by technique.
There's joy in seeing how the chefs' philosophy of little waste is expressed. Ms. Yung's sprouted rye sourdough, for instance, comes with butter and buttermilk—a brilliant use and re-use of product and by-product. The best course—cabbage, beans, pork—consists of a glistening fold of bright green cabbage inside which a ragout of black soybeans, fresh soybeans, miso and cuttlefish ink steamed. There's a mote of meat, a light sprinkle of white powdered pork fat—a nifty trick of tapioca maltodextrin brought all of its flavor and none of its greasiness—streaked across the plate like a flavor comet. But it's just a hint, not a pound of flesh. Anyway, it's the glistening cabbage that's stuck with me. Despite a sheen of butter, it turns out the secret is vinegar again, this one made of satsuma tangerine skins, which the chef recycled from a granita by Ms. Yung. Mr. Ramirez-Ruiz glazes the cabbage, adding layers of flavor and texture to the slightly bitter, slightly sweet leaf. At Semilla, something often overlooked as a mere vegetable envelope is celebrated.
The cabbage is delicious, but even more, the gesture—a suggestion of walking lightly, listening closely—is an inspiration.