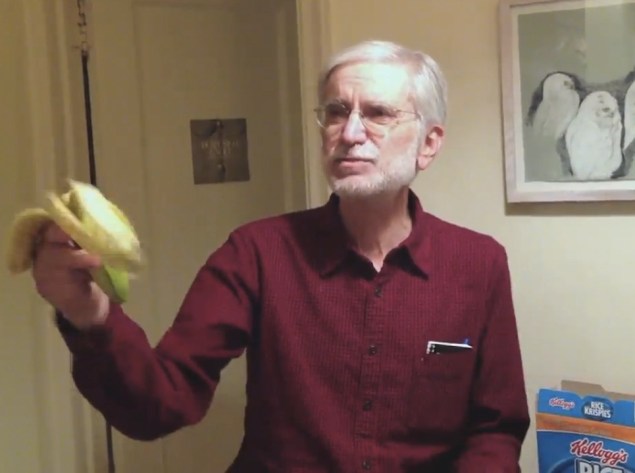 Barry Newman, the former Wall Street Journal reporter—otherwise known as the "King of the A-Hed"—may have retired from the paper two years ago, but this weekend a pressing matter beckoned his byline back into print: baby bananas.
Mr. Newman's page one story, "Is the Time Ripe for Baby Bananas?," is a light-hearted yet seriously reported piece—as most A-Heds are—whose title pretty much sums itself up. (An "A-hed" is the Journal's term for front page stories that take a more frivolous approach to the news, focusing on such overlooked subjects as professional cuddlers, mushroom thieves and rapping rabbis.)
"I have a long list of story ideas, sort of obsessional ideas, that I felt like I needed to get done," Mr. Newman, who turns 68 next month, told the Observer when we reached him by phone on Sunday. "And small bananas has been an obsession for a long time."
Mr. Newman said he has long enjoyed small bananas, which are overshadowed by the foot-long Cavendish. "I like them," he explained, "for the reasons I said in the story—they're small and they taste better." In early November, he found that his local Key Food on Seventh Avenue in Park Slope was selling the small ones—the first time he'd seen them in a mainstream supermarket—and decided to do a story.
"I've been thinking about this for a while," Mr. Newman said. "I have accumulated a fat file on it, but I could never find a vehicle for that story, and I found one on my doorstep."
In his time at the Journal, Mr. Newman, whose work has been anthologized in The Literary Journalists, published more than 400 page one features, and one story—about banderilleros in Spain—inspired a country music song. (His last piece for the paper, on apostrophes, was published in May 2013.)
Aside from contemplating baby bananas, Mr. Newman has been keeping busy since he left the Journal in the summer of 2013.
Mr. Newman edited a collection of A-heds, Dogfight at the Pentagon, which was published last year and features a number of his articles. And this spring, he will release News to Me, a compendium of his Journal stories accompanied by his own personal reflections on how he came up with them, published by CUNY Journalism Press.