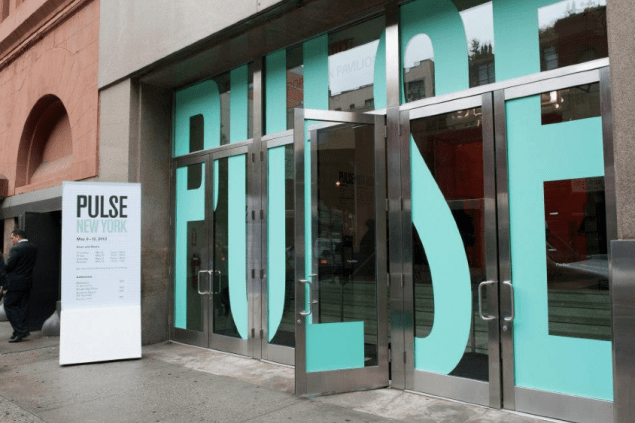 In case you forgot, the local edition of Pulse is set to open during Armory Week—not, as it has in past years, during Frieze Week, the dizzying time of nonstop openings and events that goes down in New York in the first half of the year. But who exactly will show at Pulse? And what about the Pulse Prize, a cash grant given to an artist who has a solo exhibition at the fair? Well, we have all the info below.
And we've also got the skinny on the Pulse Prize jury, the experts who decide who to give out the dough to. This year, the jury consists of collector Lisa Anastos,Times Square Alliance director Sherry Dobbins, JP Morgan Chase Art Collection chief curator Lisa Erf, and New York magazine art reporter Julie Baumgardner.
Pulse opens at the Metropolitan Pavilion, at 125 West 18th Street, on March 5.
PULSE EXHIBITORS
523 Gallery Thomas Jaeckel, New York, NY: Diana Copperwhite
Adah Rose Gallery, Kensington, MD: Joan Belmar, Brian Dupont, Alan Steele
ANTONIO COLOMBO ARTE CONTEMPORANEA, Milan, Italy: Zio Ziegler
ART LEXÏNG, Miami, FL: Ye Hongxing
Black & White Gallery / Project Space, Brooklyn, NY: Liset Castillo, Cristina del Campo, Peter Brock, Michael van den Besselaar
Brodsky Center Rutgers University, New Brunswick, NJ (POINTS): Lynda Benglis, Trenton Doyle Hancock, William Kentridge, Irena Nakova, Chris Ofili, Kiki Smith, Pat Steir, Richard Tuttle, Chuck Webster, Carrie Mae Weems, Stephen Westfall
Causey Contemporary, New York, NY: Melissa Murray, John J. Richardson
Conduit Gallery, Dallas, TX: Marcelyn McNeil, Sandra Ono
CYNTHIA CORBETT GALLERY, London, UK: Fabiano Parisi
DAVIDSON CONTEMPORARY, New York, NY: Thomas Witte, Sam Messenger, Darren Lago, Kim Rugg, Ghost of a Dream, Mel Rosas, Kiel Johnson
De Soto Gallery, Venice, CA (IMPULSE): Laura Plageman, Osamu Yokonami
Emerson Dorsch, Miami, FL: Elisabeth Condon
Galerie Ernst Hilger GMBH, Vienna, Austria: Mel Ramos, Cameron Platter, Brian McKee, Oliver Dorfer, FAILE, Shepard Fairey
GALERIE FREY, Vienna, Austria: Herbert Golser, Anselm Gluck, Johannes Domenig
Galerie L'lnlassable, Paris, France (IMPULSE): Anne Deleporte, Reinhard Voss & Adam Dix
Galerie Sator, Paris, France: Yevgeniy Fiks
Gallery LVS, Seoul, South Korea: Tea Jin Seong, Won Kun Jun
gallery nine5, New York, NY: Jessica Lichtenstein, Katherine Tzu-Lan Mann
Gallery Poulsen, Copenhagen, Denmark: Jean-Pierre Roy, Christian Rex van Minnen, Aaron Johnson, Nicola Verlato
InLiquid, Philadelphia, PA (POINTS): Melissa Maddonni Haims
InSitu Works, New York, NY: Pablo Davila, TrujilloPaumier, Alexis Zambrano
Lesley Heller Workspace, New York, NY: Katherine Newbegin, Jim Osman
Livingstone gallery THE HAGUE/BERLIN, The Hague, The Netherlands: Raquel Maulwurf, Arnulf Rainer
Lyons Wier Gallery, New York, NY: Jeff Muhs, James Austin Murray
LMAKprojects, New York, NY: Russell Nachman
MC2Gallery, Milan, Italy: Renato D'Agostin, Trong Gia Nguyen
Mindy Solomon Gallery, Miami, FL: Osamu Kobayashi
My Name's Lolita Art, Madrid, Spain: Paco Pomet, Joël Mestre
ODETTA, Brooklyn, NY (IMPULSE): Margaret Roleke, Ryan Sarah Murphy
Philip Bloom Gallery, Nantucket, MA (IMPULSE): Eli G. Halpern, Patrick Shoemaker
Pictura Gallery, Bloomington, IN: David Magnusson, Connor Green, Joe Johnson
Project ArtBeat, Tbilisi, Georgia (IMPULSE): Beso Uznadze, Maia Naveriani, Thea Gvetadze
RICK WESTER FINE ART, New York, NY: Alyse Rosner
ROCKELMANN&, Berlin, Germany (IMPULSE): Jeffrey Teuton, Kathleen Vance
Sienna Patti, Lenox, MA: Jonathan Wahl
Susan Eley Fine Art, New York, NY: Carole Eisner, Allison Green
SVA Galleries, New York, NY (POINTS): Curated Graduate Exhibition
TRANSFER, Brooklyn, NY: Carla Gannis
Uprise Art, New York, NY: Charlie Engman, Rachel Mica Weiss
Voltz Clarke, New York, NY: Michael Marra, Elaina Sullivan
WAGNER + PARTNER, Berlin, Germany: Peter Dreher, Ruud van Empel, Eckart Hahn
Waterhouse & Dodd, New York, NY & London, UK: Kim Keever, Jean-Francois Rauzier
X-Change Art Project, Lima, Peru (POINTS): Alessandra Rebagliati, Mariana Rivero, Iliana Scheggia
Yuki-Sis, Tokyo, Japan (IMPULSE): Katsutoshi Yuasa
PULSE PRIZE
Diana Copperwhite | 523 Gallery Thomas Jaeckel, New York, NY
Zio Ziegler | ANTONIO COLOMBO ARTE CONTEMPORANEA, Milan, Italy
Ye Hongxing | ART LEXÏNG, Miami, FL
Fabiano Parisi | CYNTHIA CORBETT GALLERY, London, UK
Elisabeth Condon | Emerson Dorsch, Miami, FL
Melissa Maddonni Haims | InLiquid, Philadelphia, PA (POINTS)
Yevgeniy Fiks | Galerie Sator, Paris, France
Russell Nachman | LMAKprojects, New York, NY
Osamu Kobayashi | Mindy Solomon Gallery, Miami, FL
Alyse Rosner | RICK WESTER FINE ART, New York, NY
Jonathan Wahl | Sienna Patti, Lenox, MA
Katsutoshi Yuasa | Yuki-Sis, Tokyo, Japan (IMPULSE)