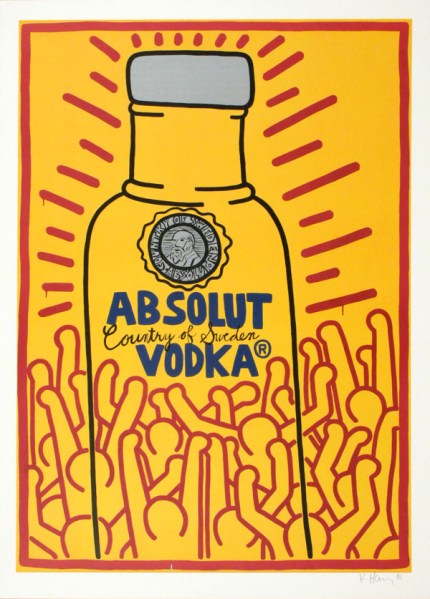 Absolut Vodka has always been one of the more art-forward manufacturers of everyone's favorite flavorless liquor. They asked Warhol and Haring to design bottles back in the day, and the "Absolut _____" campaign is akin to a fresh black canvas that any artist can fill in for themselves. This also proves to be convenient when putting together a social media strategy for, say, a Vice party it's sponsored (#AbsolutWhatever, its going viral!) but that's another story.
They also have the Absolut Art Award, which is given to an artist and—amazingly—an arts writer every two years. Here's how the prize money breaks down, per the press release:
The winning artist will receive a cash prize of €20,000, complemented by a budget of €100,000 to produce and exhibit a new art work or project. The winning art writer will also be awarded a cash prize of €20,000, alongside a budget of €25,000 to be used towards the research and production of a new art publication.
Yay, money! We talked to Saskia Neuman, Absolut's global art manager, a few months back, and she had some nice things to say about using booze payouts to fund kooky installations and whatnot, and there's no doubt this is a good thing.
So who's still in the running? Full list of finalists below:
Art Work
Trisha Donnelly, USA
Camille Henrot, France / USA
Ragnar Kjartansson, Iceland
Minouk Lim, South Korea
Frances Stark, USA
Art Writing
Julia Bryan-Wilson, USA
Mark Godfrey, UK
Sarah Lehrer-Graiwer, USA
Helen Molesworth, USA
Dieter Roelstraete, Belgium
Man, Camille Henrot gets nominated for a lot of art awards—the Nam June Paik Award (she won) and the Hugo Boss Prize (she did not win)—and this is a little funny, because her dad is a wildly successful money man in Paris: François Henrot, the very high-powered Rothschild banker who works as number two to David de Rothschild. But hey, the best artist wins, not the neediest artist. And Helen Molesworth, she started at least one nasty fight with her scathing review of the 2014 Whitney Biennial in Artforum, but she still gets the nod.
The winner gets announced during the Venice Biennale, on May 8, and then the awards get handed out in September in Sweden.