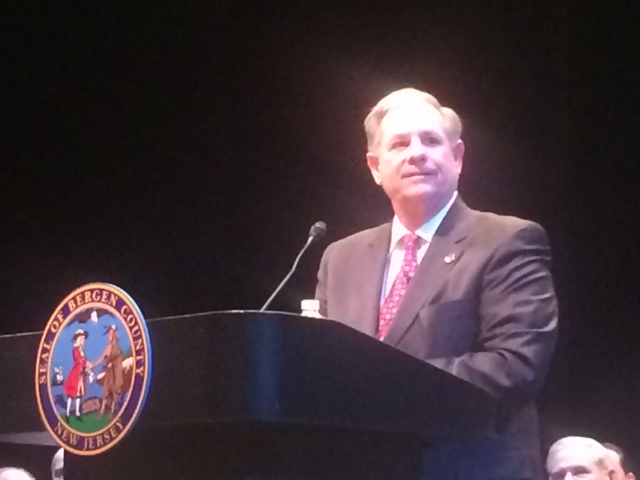 PARAMUS – Bergen County Executive Jim Tedesco was ceremonially sworn in on Sunday, promising that his administration would be centered on decisiveness, not divisiveness.
"We're going to bring the people of Bergen County together this year," said Tedesco, 62, before an overflow crowd of more than 300 people at Bergen Community College in Paramus on Sunday, three days after he was officially sworn in to be the fifth chief executive of New Jersey's most populous county. "In my administration, there will not be Democratic or Republican ideas – just good ideas. I will pursue any policy, regardless of where it comes from, if it is in the best interest of Bergen County. The people of Bergen County demand it, and they will not accept government that sits idly by."
Tedesco noted in his swearing-in speech that his first 100 days in office began with a policy bang on Thursday when he signed the memorandum of agreement that began the process of realigning the Bergen County Police Department with the Bergen County Sheriff's Office, an issue that played a key role in his 17,000-vote November 2014 election margin of victory.
Tedesco also noted other important initiatives he will target in the weeks ahead. A former mayor of Paramus and Bergen freeholder, Tedesco, a Democrat, said he supported "transforming" Bergen Regional Medical Center into a place where more veterans can be served, "not selling it"; reducing the 2015 budget without cutting education, social programs or senior services and implementing economic development and transportation plans meant to boost Bergen's economic viability.
An array of prominent Democratic officials assembled to laud the beginning of the Tedesco administration.
"Today, a new day dawns on Bergen County, as we celebrate the swearing in of my Paramus neighbor," said U.S. Sen. Bob Menendez, the product of Hudson County politics who recently moved to Bergen. "The new year brings some new resolutions and a new commitment to success, and success requires leadership. As a volunteer firefighter and former mayor of Paramus, [Tedesco] earned the people's respect and administration. When others were running away from fires, Jim was running into [them]. Today marks the beginning of what I believe will be a very successful term. The challenges will be great, but the rewards will be greater."
U.S. Sen. Cory Booker (D-NJ) referenced his formative years in Bergen's Harrington Park.
"Dozens of Bergen County teachers and coaches taught me and formed me. This community helped to ignite my dreams and cultivate my hopes," said Booker. "It is this great county that should be proud that we together have created something special. Our newly-elected county executive and his team on the freeholder board will now continue this uniquely American mission to make this county live up to those common aspirations."
Booker also referred to U.S. Bill Pascrell (D-9) in an alliterative rhetorical riff as a "passionate, persistently, pugilistically powerful person." Pascrell then referred to Tedesco's personal qualities.
"Jim Tedesco is a humble servant," said Pascrell, whose district includes parts of Bergen County. "I'm here because I believe he looks at each of us as an equal, even the person who cleans up after we leave today. What you see is what you get. How refreshing is that in this day and age of celebrity."
While the crowd celebrated the result of the political fire in Tedesco's belly, the heat of the slow burn of 2017 Democratic gubernatorial politics could be felt in the room. The three main potential candidates were all present on Sunday at Tedesco's swearing-in ceremony, a tribute to Bergen's status as the bellwether county in statewide elections.
Jersey City Mayor Steve Fulop was seated in the auditorium's front row, next to New Jersey Democratic State Chairman John Currie. The seating arrangement in Bergen contrasted with that at the Newark swearing-in of recently re-elected Essex County Executive Joe DiVincenzo on Jan. 1. Fulop was seated close to Bergen Democratic Chairman Lou Stellato, whose critical role in Tedesco's victory was acknowledged by the crowd with a standing ovation when the chairman was introduced.
Further down the same front row was Phil Murphy, a former U.S. Ambassdor to Germany, another Democratic gubernatorial aspirant.
Former Gov. Richard Codey, who swore in Tedesco, was seated on stage in front of the other main gubernatorial hopeful in the room, State Senate President Steve Sweeney (D-3), who deposed Codey from that position in 2010.
Sweeney was the only member of the gubernatorial hopeful triumvirate who spoke to the crowd.
"Lou Stellato said 'You've got to meet my candidate. He's outstanding.' Then Loretta Weinberg said it, then Paul Sarlo said, then Bob Gordon said it. You know how hard it is to get those four to agree?" Sweeney said to laughter from the crowd, including the aforementioned Bergen Dems. "I figured he must be something special. Very few people in this business say what they mean. Well, Jim does. You're off to a great start."
While praised as a temperate, measured man, Tedesco flashed some of his inner fire that made the day possible during his approximately 30-minute speech at the public start of his administration.
"What [Kathleen Donovan] didn't realize and the people around her didn't realize was that I wasn't green," said Tedesco, referring to the Republican rival he defeated in November. "I had never lost an election, and she was never going to face an opponent like me, ever."