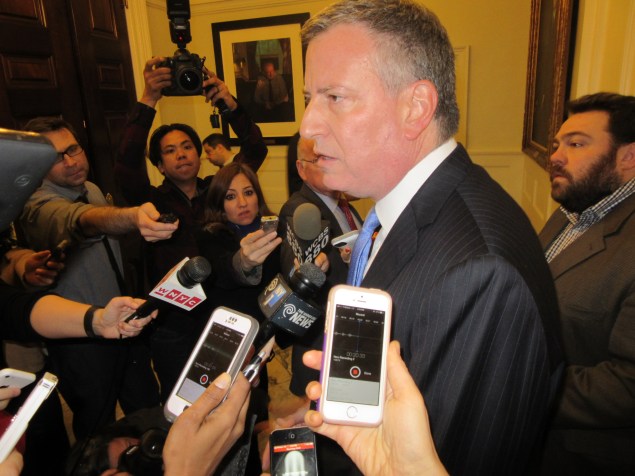 Mayor Bill de Blasio heaped praise on Assembly Speaker Sheldon Silver in spite of federal corruption charges against the longtime lawmaker announced earlier today.
Mr. de Blasio, who has relied on the liberal Mr. Silver to act as a powerful voice for New York City in Albany, said he believed the Manhattan legislator's character to be unimpeachable.
"Although the charges announced today are certainly very serious, I want to note that I've always known Shelly Silver to be a man of integrity, and he certainly has due rights and I think that we should let the process play out here," he told reporters in a gaggle at City Hall.
U.S. Attorney Preet Bharara claims Mr. Silver received kickbacks from law firms after referring real estate interests with business before the state to them. Mr. Silver, a personal injury lawyer by trade, also allegedly funneled state money to a doctor's research center in exchange for asbestos suit referrals.
Mr. de Blasio would not speak to how the arrest would affect his ability to gain funding from Albany, where Mr. Silver has functioned as a counterweight to the suburban and rural Republicans in control of the State Senate and Gov. Andrew Cuomo.
"Allegations are allegations, charges are charges, and there has to be a process to determine the outcome. I think, separately, it's a true statement that he's done a lot for New York City and I value that, certainly," he said, adding that he did not believe Mr. Silver should step down.
The mayor said he saw no contradiction between his calls for a fair and equitable process for Mr. Silver, and his insistence that former Republican Congressman Michael Grimm of Staten Island should have resigned immediately after his federal indictment last year, instead of waiting until earlier this month.
"I think in Michael Grimm's case, we saw a pattern of questionable practices over a long period of time. And I think in my experience with Shelly Silver, I've seen integrity and public service," Mr. de Blasio said.