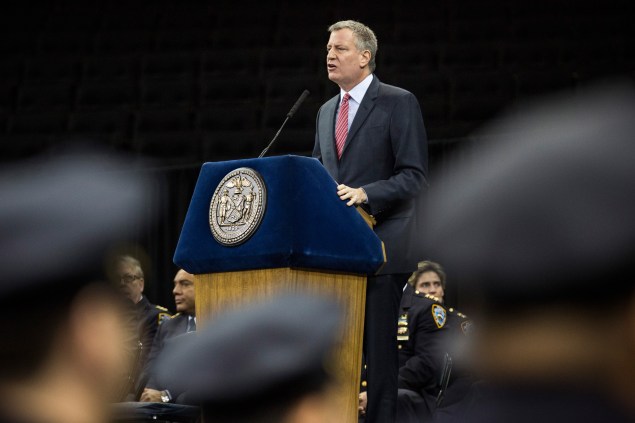 Massive demonstrations against the actions of police and a growing rift between City Hall and the NYPD will not keep the Democratic National Convention from coming to Brooklyn, Mayor Bill de Blasio claimed today.
Despite scores of police officers turning their backs on Mr. de Blasio in three different instances and anti-policy brutality protests shutting down streets around the Barclays Center, the potential site for the 2016 convention, Mr. de Blasio said the city's falling crime numbers would lure the Democratic convention to Brooklyn.
"You have a city that is getting safer all the time and that is ultimately how business leaders make decisions, people make their decisions," Mr. de Blasio told reporters this afternoon at a press conference to tout plummeting crimes numbers. "It's important to remember there have been so many expressions of respect over these last weeks for the way that this department handled what were complicated protest dynamics."
Brooklyn is competing against Philadelphia and Columbus, Ohio for the right to host the Democratic convention, a top priority for Mr. de Blasio, a liberal Democrat with aspirations to be a standard-bearer for his party. Some commentators have cast doubt on Brooklyn's viability as a site after massive protests shut down traffic in Brooklyn and Manhattan following grand jury decisions not to indict police officers in the deaths of Eric Garner and Michael Brown.
Further damaging the city's image in the eyes of the Democratic National Committee, observers say, was the December 20 murder of NYPD Officers Wenjian Liu and Rafael Ramos. Police unions blamed the killings on an anti-police atmosphere that Mr. de Blasio created, an assertion the mayor strongly rejected, and a rift between City Hall and police only seemed to widen.
But Mr. de Blasio said the "politics in the background" wouldn't effect the DNC's decision.
"This is a police force that can handle anything so it's been a painful few weeks because we've lost a few good men and yes, there's been some politics in the background," he said.
"In the foreground is an incredible year of success for this department. In the foreground is an extraordinary example of this department protecting people's democratic rights and really being an example to the entire nation and I think that will be on the minds of a lot of people in this country," he added.
Protests aren't new to presidential conventions in New York. Thousands of protesters rallied outside the 2004 Republican National Convention to denounce President George W. Bush and the Iraq War.
Jillian Jorgensen contributed reporting.