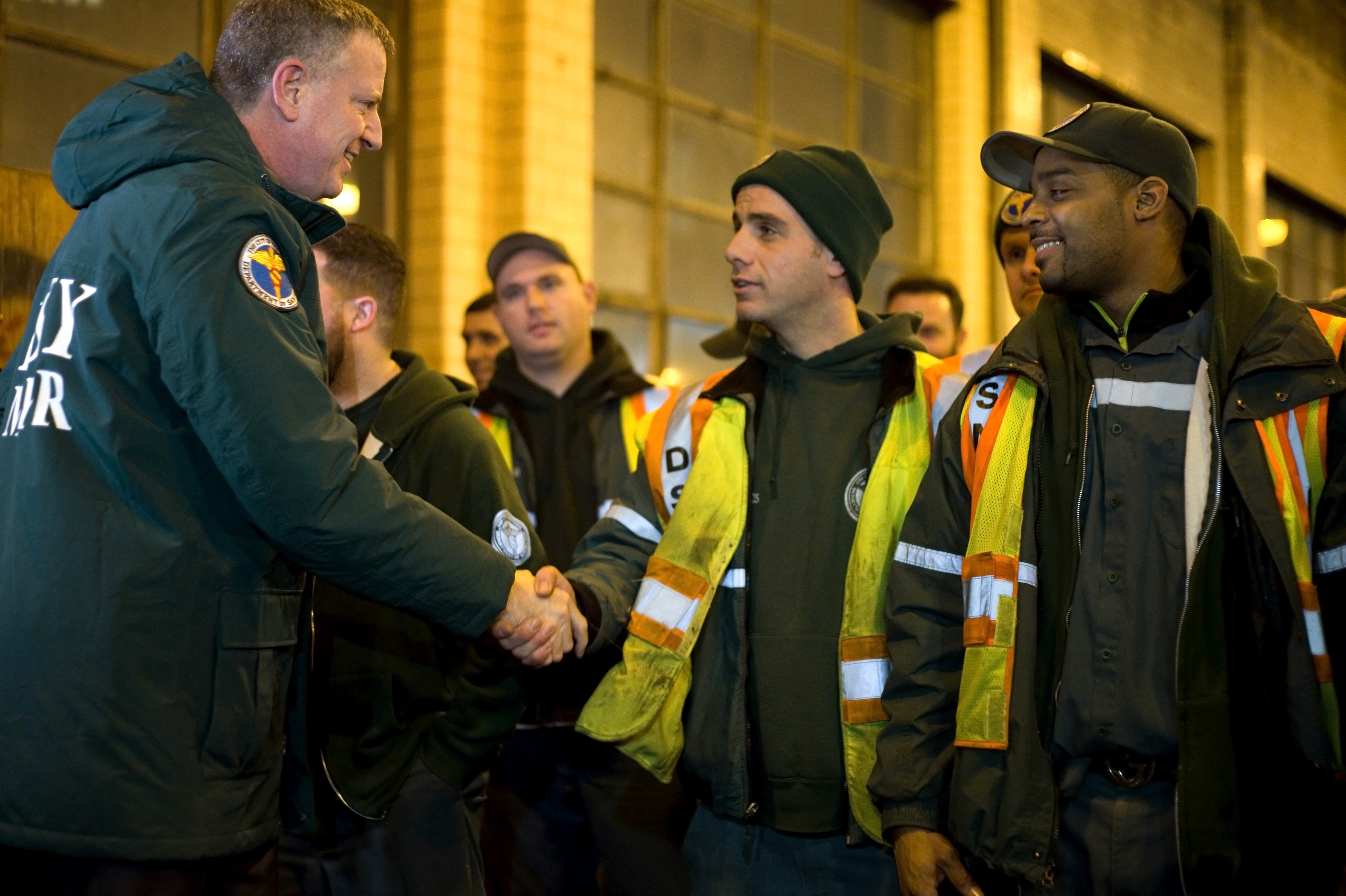 After a much-hyped blizzard-that-wasn't, Mayor Bill de Blasio said this morning that he was glad the city had prepared for a worse storm and that New York would be getting back to normal quickly.
"We thought we were going to get something much bigger," Mr. de Blasio told CNN "New Day" anchor Chris Cuomo (who happens to be the brother of Gov. Andrew Cuomo).
Forecasts of two or even three feet of snow led Mr. de Blasio and Mr. Cuomo to essentially shut the city down. Mr. de Blasio rolled out a driving ban, lifted at 7:30 a.m., closed city schools and shut the Staten Island Ferry. Mr. Cuomo stopped all MTA service—an unprecedented move for a snow storm—and also banned travel on state roads.
Mr. de Blasio talked to CNN at Columbus Circle, where a second reporter eventually arrived with a warmer greeting than the mayor typically gets from the press, a cup of hot cocoa. Nearby in Central Park, the snow totals amounted to less than a foot.
"This is a situation where the storm moved, thank God. It saved New York City and a lot of other places from a few very difficult days, but we had to be prepared," Mr. de Blasio said. "Better safe than sorry."
Mr. de Blasio noted the precautions were taken after getting "a consensus from meteorologists across the board" that the blizzard would be a historic one, instead of what ended up a fairly regular bout of January snow.
But even with all the historic cancellations, without the historic snowfall the mayor said he expected the city to bounce right back.
"We're going to quickly get back normal here in New York City," he said.
Service on MTA subways and busses, the Long Island Rail Road, Metro North and PATH Trains to New Jersey are all expected to return this morning. The Staten Island Ferry has already begun running.
Asked how much grinding the city to a halt would cost taxpayers, Mr. de Blasio said that was being worked out.
"We'll get a final estimate in the next few days, but again for public safety, you have to make that expenditure," Mr. de Blasio said. "You can't put a price on that. You gotta keep people safe."
The mayor said New Yorkers should continue to stay off the roads if they can, and thanked them for doing so last night. He urged those who must drive today to take precautions on slippery streets. And he said they'd done a good job looking out for one another.
"I know people think of New Yorkers a rough and tough people, but New Yorkers, to their great credit, we all take care of each other," he said.