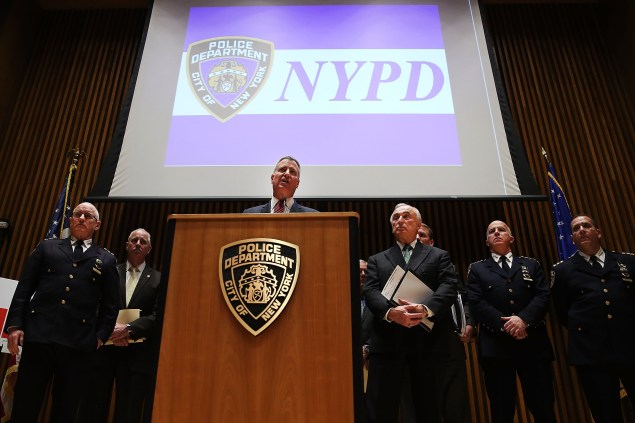 Mayor Bill de Blasio said this afternoon he would not apologize to police union leaders and rank and file cops, despite calls from some top officials for the Democratic mayor to be contrite in the wake of a glaring rift between the NYPD and City Hall.
"I respect the question but the construct is about the past and I just don't want to do that. I think this is about moving forward," Mr. de Blasio told reporters when asked about whether he'd consider apologizing to the police.
"I've always tried to tell the truth as I know it and I tried to be respectful and if you look at years of what I've said about the NYPD, I have immense respect for the men and women of the NYPD. I believe in them and I've obviously directed a lot of resources to helping them do their work and be safe," he added.
Mr. de Blasio and two of the city's most prominent police unions, the Patrolmen's Benevolent Association and Sergeants Benevolent Association, have been at war with for much of his tenure as mayor. Patrick Lynch, the PBA president, blamed Mr. de Blasio for creating an atmosphere that led a mentally unstable 28-year-old man to murder two NYPD officers in December.
Police unions and their conservative backers revile Mr. de Blasio for tolerating the anti-police brutality protests that roiled the city after a Staten Island grand jury voted not to indict a white police officer in the death of Eric Garner, a black man. On the night the decision was announced, Mr. de Blasio repeated a mantra of the protest movement, "black lives matter," and said he warned his biracial son about interacting with police. Many in the NYPD recoiled at those remarks.
On three separate occasions, police officers have literally turned their backs on Mr. de Blasio and some have alleged they are retaliating against Mr. de Blasio by enforcing less crimes over the past two weeks. Mr. de Blasio blasted the "disrespectful" back-turning on Monday and denied their was a slow-down.
The morning before Monday's press conference, Edward Mullins, the president of the SBA, said he wanted "some type of apology" from Mr. de Blasio.
Today, Mr. de Blasio said the appointment of his police commissioner, Bill Bratton, showed he had plenty of respect for the NYPD. Mr. Bratton is well-regarded in law enforcement circles and served a previous tour as commissioner under Republican Mayor Rudolph Giuliani.
Increasingly, Mr. de Blasio has been turning to Mr. Bratton to mend the rift between City Hall and the NYPD. Mr. Bratton met with union leaders today.
"I chose a leader for that agency that has the respect of people all over this country in policing," Mr. de Blasio said. "So I'm very comfortable with the fact that I've always tried to tell the truth and stay consistent to my values but I don't think it's about the past, I think it's about what people said and moving things forward and getting things done."