WEST NEW YORK and JERSEY CITY – A group of Republican state Assembly members from around New Jersey, led by state Assembly Minority Leader Jon Bramnick (R-21), rolled into El Pio Pio restaurant on Hudson Avenue in West New York on Saturday, clutching their cups of strong Cuban-style coffee from La Cubana Bakery down the block. One local woman, picking up her order of pernil, arched her eyebrow.
"These guys look out of their element," said the woman, who asked not to be named. "Make sure they don't get lost."
Bramnick led what some political observers would call a quixotic quest to find votes in the Democratic stronghold of Hudson County on Saturday, kicking off the North Jersey leg of the first step New Jersey Republicans need to take to try to reclaim the state Assembly in November 2015, when all seats are up for grabs. For Bramnick, the way for the New Jersey GOP, down 48-32 in the Assembly, to find its way out of the wilderness is to go everywhere in the Garden State, even into potentially hostile territory.
"I'm here for one simple reason. If we're going to become the majority party in Trenton, we have to think outside of the box," said Bramnick sitting down at La Conguita restaurant on Grove Street in downtown Jersey City. "Therefore, we're coming into Hudson County, a traditional Democratic venue, and talking to people about how business can thrive in the state of New Jersey and how we want people to stay here. I'm looking at the survival of the state of New Jersey."
According to recent polls, many New Jersey residents feel the Garden State's chances of survival could depend on the longevity of Gov. Chris Christie's presidential ambitions. The state and federal investigations focused on the shutting down of access lanes to the George Washington Bridge, also known as Bridgegate, a sluggish state job recovery following the recession, successive downgrades of New Jersey's credit rating by rating agencies, an ongoing downward spiral of Atlantic City casino closures and a reversal on his signature pension reform agreement with public employees, saying that the state could not afford to make the pension payments required by the accord, have led New Jerseyans to increasingly question Christie's leadership.
As evidenced by his recent State of the State address, Christie's eyes remain fixed on a 2016 Republican presidential nomination
run. Asked if the shadow of 2016 casts a pall on the GOP's chances in New Jersey in 2015, Bramnick turned his gaze to the Democrats.
"People should focus on a Democratic Legislature that won't give Chris Christie any more reforms and a potential presidential candidate any more wins," Bramnick said. "How do you expect to continue this reform agenda that he started if you have a Legislature that is basically more interested in investigating the governor than passing reform legislation so that New Jersey becomes more competitive? I think New Jersey voters are smart enough to know that we have not been in charge [of the Legislature] for more than a decade."
If Republicans are to regain the majority in the state Legislature in 2015, they will to have win over the voters who shop and work in the small businesses that line Hudson Avenue in West New York.
"Taxes are the most important thing," said Nelson Ubiera, 53, the Dominican Republic-born owner of La Llave hardware store. "The people who do the best to control them will get my support."
"It's incredible to me how many people vote Democrat because they're the only party that's done outreach work," said state Assemblywoman Holly Schepisi (R-39), a member of the Assembly Republican posse that began the day campaigning in Bergen County before moving on to Hudson County. "Going from small business to small business, we spoke to a lot of people who are starting to vote Republican for the first time in their lives."
But steps away from where the GOP delegation enjoyed lunch at La Conguita, one local politician found that idea unlikely.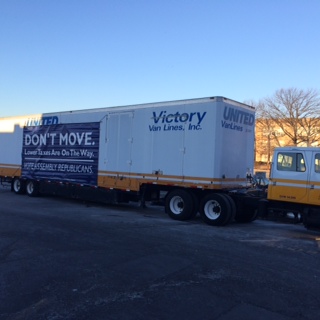 "I find it a little odd that Bramnick is here," said Jersey City Councilman-at-Large Daniel Rivera, who had just arrived from a benefit honoring slain policemen, including Jersey City police officer Melvin Santiago, who died in the line of duty last July. "To me, I don't think a small little walk is going to impact Latinos in the area. I'm looking forward to see what type of policies he has to help people in Jersey City."
Bramnick's name is being bandied about as a potential Republican gubernatorial candidate in 2017. Another boldface name in the upcoming governor's race sweepstakes also questioned Bramnick's North Jersey incursion.
"The likelihood of Assemblyman Bramnick moving Jersey City or Hudson County into the Republican column is as likely as the Knicks winning the NBA championship this year," said Jersey City Mayor Steve Fulop, a Democrat. "Coincidentally, I spent the day with elected officials and party builders in Kenilworth, Garwood and Roselle Park [all in Bramnick's 21st state Legislative District]. My advice for Assemblyman Bramnick is that he should be minding his own backyard as he is barely winning elections there."
Despite Fulop's disdain, Bramnick plans to persevere as he leads the Republican charge in 2015.
"I have no interest in following a pattern of failure. The Politics of Inclusion by New Jersey Gov. Tom Kean, Sr. is one of the first books I read when I became interested in politics," said Bramnick. "I've got a lot of work to do in 2015, but this is far from the weakest time we've had as Republicans. This is about a philosophy of government, not one county or one individual or where someone is in the polls. We've got to make a substantial change in the Legislature if we want to change the direction of this state. You can't leave it up to the governor or anybody else."