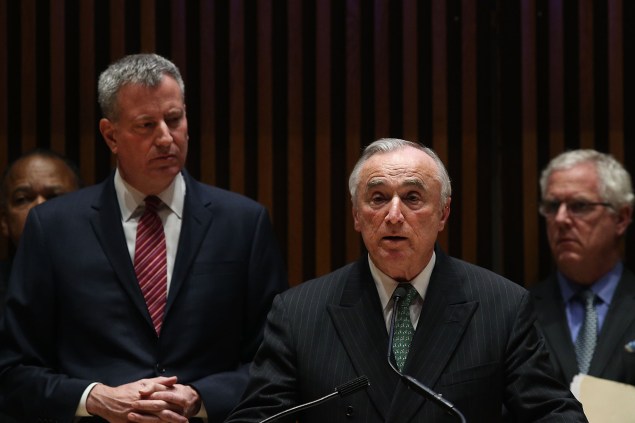 Mayor Bill de Blasio and Police Commissioner Bill Bratton held a press conference to discuss year-end crime statistics today, but much of the attention was on a different set of numbers—figures showing a large drop in arrests and summonses over the last two weeks that some have called an NYPD "slowdown."
"At this time, I've not used the term slowdown, which would indicate it's an organized or even comprehensive initiative," Mr. Bratton told reporters today at police headquarters. "I'll know a little better in the next several days, as I indicated, and if in fact we feel, myself and the leadership, that's what we're dealing with, we'll call it that and we'll deal with it accordingly."
The number of summonses issued has dropped more than 90 percent and arrests are down 56 percent for the week ending Sunday, when compared to the same week a year ago, the Daily News reported today, with sources telling the paper it was due to a slowdown aimed at the mayor. The week before, the New York Post reported similarly sharp decline.
The reduction in arrests and summonses comes at a time of deep tension between City Hall and the NYPD. Just yesterday hundreds of police officers turned their back to the mayor during a funeral for slain Officer Wenjian Liu, and the Patrolmen's Benevolent Association president, Patrick Lynch, has accused the mayor of having blood on his hands. Police unions have slammed the mayor for his tolerant view of anti-police-brutality protesters and for saying he told his biracial son to take "special care" with police. By law, members of the NYPD are not allowed to strike nor to engage in slowdowns.
Even with the number of arrests and summonses dropping, Mr. Bratton insisted there was no need for people to worry about a crime going up.
"We're not in a public safety crisis by any stretch of the imagination in New York City at this time," Mr. Bratton said.
Mr. Bratton implied that there could be reasons for decreased police activity—cops tied up with protest duty and officers in mourning for two massive police funerals among them.
"We've had a lot of things that have been impacting on activity levels, but even with that reduced activity the overall crime numbers have continued to decline in this city," Mr. Bratton said.
Enforcing low-level and quality of life offenses—which often result in summonses—is a hallmark of Mr. Bratton's "broken windows" policing philosophy. He was asked today whether crime staying low even as officers were less pro-active challenged that strategy, as some have argued.
"Not at all. You're referencing broken windows," he pointedly told a New York Times reporter. "I know it's something your paper would like to see done away with. Sorry, broken windows is here to stay. Stop, question and frisk is here to stay."
Mr. de Blasio sought to shift the focus back to the drop in crime he had called the press conference to tout—with overall major crime in the city having fallen by 4.6 percent and the city logging the fewest murders on record, even as police are stopping and frisking far fewer people.
"I certainly don't think a few very aberrant days suggest anything compared to what you see over the course of a whole year of success," Mr. de Blasio said.
NYPD brass is undertaking a "comprehensive review" of the reduced arrest and summons figures, Mr. Bratton said.
"If in fact we feel—my team and I after our analysis this week—that we're engaged in some type of job action, then we will deal with it very forcefully, very effectively, using management supervisory tools to address and focus on those who may not be performing up to our expectations and standards," Mr. Bratton said.
But the commissioner said he did not believe that members of the city's police force would allow one another to put the city in any danger—noting that more than half of the NYPD's ranks live here, too.
"Their families are here. They ride the subways, they walk the streets, their kids go to the schools, they use the parks. If you think these officers are going to risk the safety of their families—and allow the other half who don't live here to risk the safety of their families—I don't think that's going to happen," Mr. Bratton said. "I think officers are very mindful that if this city were allowed to be de-policed, some of the first that would be affected would be their families."