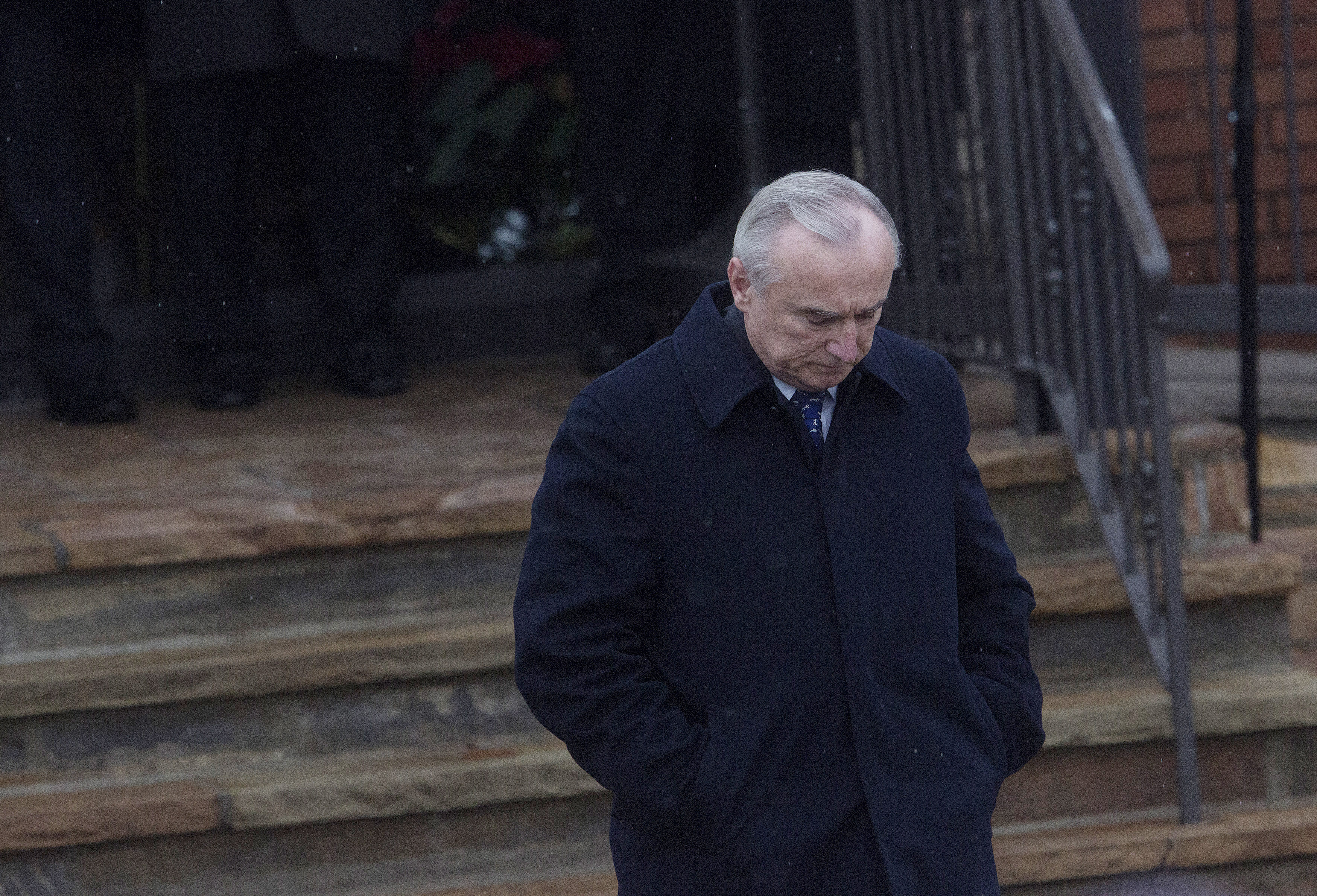 In his second eulogy in just over a week, NYPD Commissioner Bill Bratton defended the police department against the criticism of protesters today at the funeral for slain Officer Wenjian Liu—noting the department's increased diversity and defending the vast majority of police officers as "the good ones."
Speaking shortly after Mayor Bill de Blasio at the Brooklyn funeral home that hosted Liu's burial service, Mr. Bratton seemed to strike back at accusations of racism and overbearing policing from protesters enraged at the killing of black Staten Islander Eric Garner at the hands of NYPD Officer Daniel Pantaleo. Mr. Bratton recalled Liu's life story, as an immigrant who came from China at age 12 and resolved to join the force after the 9/11 attacks.
"For 170 years, immigrants in this city have found a home in the NYPD," Mr. Bratton said, his voice hoarse with emotion. "Only the homelands have changed over time. First it was the Irish, then it was the Italians."
"And now our cops come from everywhere. The NYPD looks a lot more like the city it serves than some people think," he continued.
Mr. Bratton went on to challenge accusations that the police department is an authoritarian force, arguing instead that law enforcement allows for the possibility of open expression.
"Everyone who comes here is from someplace where opportunity is more rare. Someplace where fear is more common. Someplace less free," he said. "And if you come from such a place, is it any wonder you'd want to join the profession that helps make America so different? Because without public safety there is no possibility of free government. Everything that our government promises—freedom of speech, freedom of worship, freedom from want, freedom from fear—everything starts with public safety. It starts with us."
Liu and his partner, Rafael Ramos, were shot dead in their patrol car in Brooklyn on December 20 of last year by the suicidal Ismayil Brinsley, who posted anti-police messages on social media before committing the murders. Mr. Bratton went on to turn the rhetoric of the demonstrators back on them, arguing that the killing of Ramos and Liu was an act of prejudice, and that the overwhelming majority of cops serve the public.
"In the days after Detectives Liu and Ramos were assassinated, murdered for their color, slain because they were blue, I visited their families and learned what profoundly good men they were. And I found myself wondering 'why do we always lose the good ones?'" he said. "Until I realized: it's the law of averages. Almost all of them are the good ones. Our cops are people just like Wenjian and Rafael."
Mr. Bratton had previously offered a strong defense of the department—and again noted the officers were killed for wearing the NYPD uniform—in remarks he made at Ramos' funeral last week.