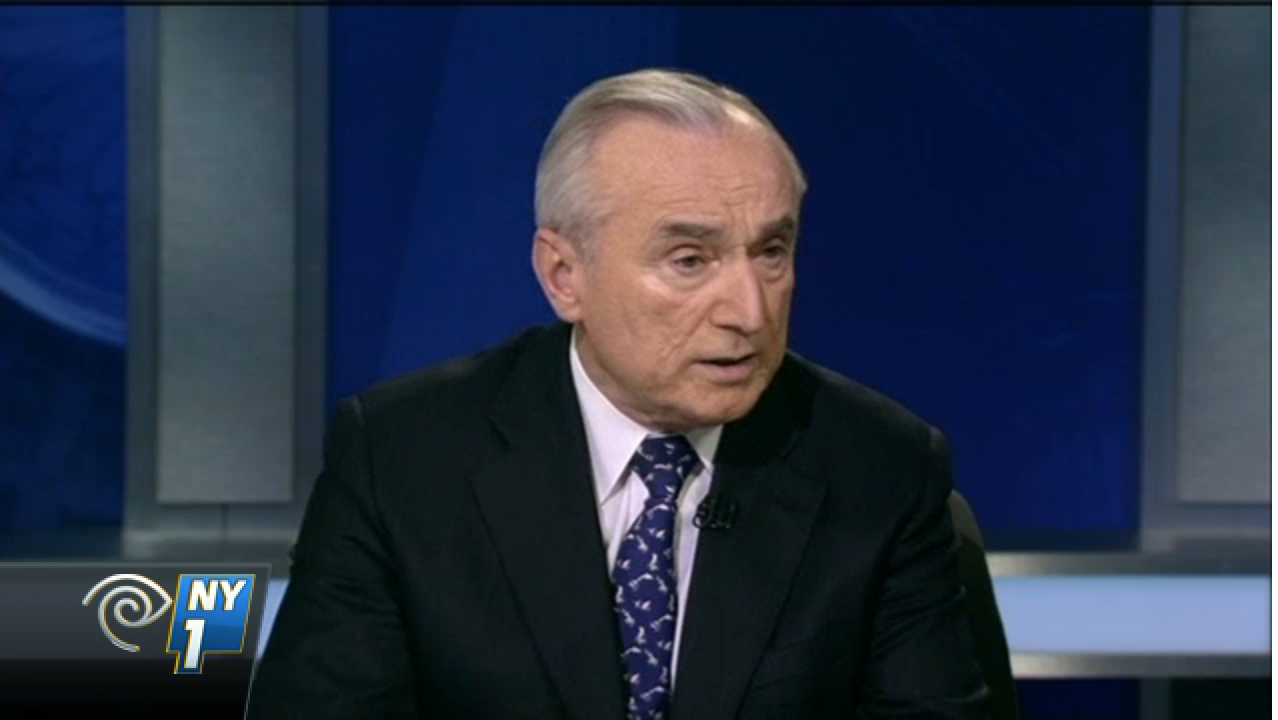 Crime may have continued to fall even as police slowed down their enforcement of low-level offenses this month—but Police Commissioner Bill Bratton bristled at critics' assertion that means his broken windows policing strategy is unnecessary.
"I hate to disappoint them, but as always they don't know what the hell they're talking about," Mr. Bratton told NY1 host Errol Louis on Inside City Hall last night.
Amidst continued tensions between the police department and Mayor Bill de Blasio, the city saw a precipitous drop in the issuing of summons for parking, moving and criminal violations—as well as arrests—for two weeks that many have identified as an NYPD slowdown. Public worker slowdowns and strikes are illegal under state law.
But even as summonses for criminal violations were down by 71 percent compared to the year before earlier this month, crime continued to fall. That led some critics of Mr. Bratton's broken windows policing—which focuses on stopping minor crime in an effort to prevent bigger offenses—to insist that crime would go down even without aggressive quality of life enforcement.
"Quality of life offenses, it's like the weed in the garden—if you don't weed your garden it's going to eventually kill event he strongest tree. It takes time," Mr. Bratton said.
And the time officers "reduced their level of activity," as Mr. Bratton put it, simply hasn't lasted long enough to show an impact on crime, he said.
"It proves nothing. I'm being quite frank with you, because the impact of quality of life enforcement, or lack of it, would take a much longer period of time than the several weeks we've had the issue alive in New York," Mr. Bratton said.
Many police reform activists have targeted broken windows policing since the death of Eric Garner, a Staten Island man who died as police tried to arrest him for selling untaxed cigarettes on a street corner—a quality of life crime.
But as he has in the past, the police commissioner pointed to the thousands of calls to 911 and 311 asking police to handle complaints about things like loud noise, prostitution, or public urination.
Mr. Bratton drew a parallel to the use of stop, question and frisk—a practice reformers had also derided under Mr. Bratton's predecessor, Ray Kelly, for being used too much and focusing mainly on young men of color. The NYPD has drastically reduced the number of stops it makes, but will never do away with the practice entirely, Mr. Bratton said—as was proposed by activists and one mayoral candidate, former Comptroller John Liu. "Shows how naive he was," Mr. Bratton commented on Mr. Liu's plan.
"The same zealots that sought to go after stop question and frisk and have it totally done away with are approaching quality of life in the same way, with the same zealotry—and it's misguided. It gives the public the wrong sense or the wrong impression," Mr. Bratton said. "Stop, question and frisk is here to stay in the appropriate amount. Quality of life, broken widows, enforcement is here to stay in an appropriate amount."