Last Thursday, some thirty-odd hours after men with Kalishnikov assault rifles entered the offices of Charlie Hebdo in Paris, the people who go to galleries in New York braved subzero conditions to attend an opening at Mary Boone, and some of them were wearing white t-shirts hand-emblazoned with the phrase "Je Suis Charlie." The show was "Ryan McNamara: Gently Used," and with Mr. McNamara fresh off his applauded performance at Art Basel Miami Beach, this exhibition seemed hard to miss, even given current events.
So did many others. The weather here and political climate abroad should have kept the masses indoors, but by the time I ended up at a kegger hosted by three Lower East Side galleries somewhere random on Ludlow Street, people were proclaiming that it felt like an art fair weekend. I was thinking of going to Los Angeles, like I did last year, but why sit in some bungalow by the beach when you can go gallery hopping to some two dozen openings on the coldest nights of the year?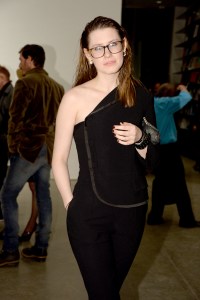 At Mary Boone's 57th Street gallery, Piper Marshall—Ms. Boone's young star curator, who organized this show and the one at her Chelsea space, "John Miller: Here in the Real World"—walked up in one of her smartly glamorous dresses and began explaining how the sculptures were actually like a McNamara performance, but then conversation turned to flight prices to Venice (after all, it's almost May) and I had to split downtown for a few other openings. At 55 Gansevoort, Ethan Greenbaum had placed a bunch of doors in the tiny space, which was a nice gag, and everyone shivering had to squeeze through the tiny space bisected by doorways, and guzzle whiskey for warmth. There were, nearby, openings at David Zwirner, DC Moore, Petzel—but it was on to Paul Kasmin Gallery, for shows by Jiri Georg Dokoupil and William N. Copely, and the after-party, at the McKittrick Hotel. Just a few drinks, and then I rallied a few friends to come down to Swat Bar, the dingy Canal Street karaoke joint that's often taken over by art kids, much to the confusion of the old Asian men who shoot dice there on quieter nights. Tonight was not a quieter night. It was an after-party hosted by Shoot the Lobster, 47 Canal, and the recently transplanted Berlin gallery Mathew.
Outside, I ran into Georgia Ford, a friend who's recently been curating group shows in her apartment in the West Village under the name Salon Ford (and who, incidentally, happens to be the daughter of a very famous movie star who shares her last name).
"Roberta Smith came to the last one," she told me as the two of us huddled by the entrance, shivering over cigarettes. "She asked me why I did the show, and I just said, 'Well, I'm rich!' I decided I might as well be honest."
The next day, Friday, was just as cold, if not colder, just miserable outside, but for some reason, I decided to go to some gallery shows on Broome Street. First up was Greer Patterson, at Marlborough's smaller outpost east of its Chelsea digs. Like us, Mr. Patterson seemed to be in denial: his bright paintings were of hot beaches in sunshine, a nearly painful thing to think about in the midst of a polar vortex.
Downstairs was a pool with white sailboats. Remember sailing? Remember warmth and happiness?
And next door, at CANADA, Tyson Reeder was showing similarly summer-like works, mostly very pleasant images of Winnebagos by the water. Just miserable. The party migrated to Happy Ending, the restaurant co-owned by Marlborough Chelsea owner Max Levai, and then after consuming some roasted quail it was out the door again—the bitter cold now unbearable—and on to China Chalet, where the well-loved Gavin Brown's Enterprise assistant Thor Shannon was throwing a very well-attended party, with a great cross-section of dealers, writers, publicists, artists, curators and collectors, some of whom were rather high-powered for a raging late-night Chinatown party. And they were all enveloped in a thick haze of smoke, as apparently lighting up is fine this far down on Broadway, this far after midnight.
Then, somehow, I got roped into an impromptu late-night Rihanna-fueled dance party at that new Mathew space, located at the old 47 Canal space. But not at the new 47 Canal space, on Grand Street, as friends and I learned after buzzing up at 291 Grand for a long, long time.
And then, Saturday. Really cold. Just miserable. But! I made my way over to Metro Pictures, who was co-hosting the John Miller show with Mary Boone, next door, where I went next.
"It's actually got a lot of common with Ryan's show, right?" Ms. Marshall asked me, while wearing a furry grey hat in the cold gallery. I nodded. Ms. Marshall and I were standing with the artist Liam Gillick and discussion moved to where on earth to get dinner on this most cold night.
"I started going to Michael's recently," said Mr. Gillick, "You know, the place in midtown. They recognize you after two visits. Mary has breakfast there apparently."
"But isn't the food terrible?" I said
"I enjoy the food there," Ms. Marshall said.
"That's the charm. I would go there every day."
I walked a block away to Marlborough Chelsea, for the opening of the Devin Troy Strother show, "Space Jam," inspired by the Michael Jordan/Bugs Bunny classic of the same name. The paintings were large, bright, abstract spectacles, often with an image of His Airness—tongue out, arm outstretched, reaching toward oblivion—plastered across the canvas, and they have titles like "just a bunch of niggas in space" reedited (tell that nigga michael, he better clean up his mess, nigga got paint everywhere) and "just put a lil paint on the top of it" (jasper johns and bunch of niggas in space) and "just a bunch of niggas in space" reedited (tell that nigga jordan, he made a mess trying to be gerhard richter). Kanye West wants to buy one, I heard.
The artist was in white sweats and had an iPhone 5 charger around his neck tied like a necklace and a bright shining gold grill on his bottom teeth. He was posing for selfies and drinking a Nebuchadnezzar of Perrier-Jouët, though later, at the after-party, he would switch it for something slightly harder in a styrofoam cup.
"You going to stay for the show?" Mr. Strother yelled at me, in the basement of Happy Ending, which was once again packed with gallery assistants, cool-hunting collectors, and the odd hip celebrity like Alexander Wang. The show the artist was referring to was a surprise set by the rapper ILoveMakkonnen, best know for a little song called "Tuesday" that bemoans the gauche ritual of going out on the weekends when a casual weekday rager will most certainly do.
"Got the club going uuuuuup!" yelled the crowd along with the rapper. "On a Tuesday!"
That it was Saturday didn't seem to make a difference, and perhaps it explained why, when I left the club, it was truly still going up.
But it was already a few hours into Sunday, and when I awoke the next morning it was just another day to pack on several layers and brave the horrible cold in pursuit of salvation through a string of openings. MoMA PS1 had booked the singer Panda Bear, part of Animal Collective, to play one of its Sunday Sessions in the geodesic dome.
It was a perfect bit of blips and hisses to round out the weekend of running around everywhere trying to duck into galleries and then duck into other galleries. The video installations, by Danny Perez, showed disintegrating images of lips locked in a kiss, or some Matthew Barney-esque nudes contorting their bodies, and afterward I went into one of the old school building's annexes to find Panda Bear (né Noah Lennox) in a hoodie drinking a Tecate looking at some flow chart scribbled in sharpie on a whiteboard, perhaps for an exhibition of some sort. "Lena Dunham—>YOKO ONE AS SUGAR—>J. Beuys—>CENTRALIZED MASS" read the flow chart.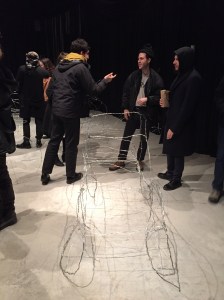 Openings had started on the Lower East Side, and so I went by James Fuentes to see "Amalia Ulman: Stock Images of War." She was expected to be there herself, Ms. Ulman, though Ms. Ulman can be a bit of a shapeshifter, as I witnessed in Miami, when her elaborate Instagram con—she pretended to be an aspiring actress in Los Angeles who resorts to plastic surgery and breast enhancements for her career, chronicling it all with selfies—bewildered her male co-panelists. They take Instagram extremely seriously.
Ms. Ulman did not appear to be there, and instead this was the scene: her barbed wire sculptures, bicycles or cars or attack tanks, dotted the floor frozen in combat as "Rollin' (Air Raid Vehicle)" by the rap rock band Limp Bizkit blasted through the gallery, announcing itself with the immortal couplet, "Now I know y'all be lovin' this shit right here / L.I.M.P. Bizkit is right here."
With the hour barreling toward 8 p.m., I skipped Room East and Lisa Cooley and went by Bodega for "Lands' End," a group show organized by artist, poet and K-HOLE co-founder Dena Yago. There were multiple women with "Je Suis Charlie" buttons outside chatting in French and a guy saying to his friends, "You say you're never gonna smoke crack, and then you try it, and you're like, I'm gonna smoke all the crack."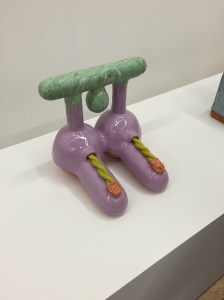 And for one last stop, Rachel Uffner Gallery was presenting "Proper Nouns," a group show that set photos of uncooked hotdogs by Lucas Blalock next to phallic ceramics by Zachary Leener.
"Yeah, aren't those great," said Wyatt Kahn, the justly hyped abstract painter who curated the show for Ms. Uffner, of the ceramics. By this time the whole crowd had migrated to Eastwood, a tiny bar on East Broadway that serves lovely Scottish/Israeli soul food—think falafel-crusted scotch eggs, or cheesy pita slashed liberally with Cholula—that also plays any record you want to bring in over the hifi.
It was also conveniently located near the aforementioned triple gallery kegger and the after-party for the James Fuentes opening, which was at the hot-in-2008 club Chloe 81, the bottle service-heavy Chloe 81, the Olson Twins and Lohan Chloe 81—which means it's more of a place for "Amalia Ulman" (the bottle blond hair, the selfie arm outstretched, the fake boobs, the inspirational aphorisms) rather than the reclusive, isolated Amalia Ulman making barbed wire sculptures by in an abandoned house. But there she was, standing in a corner, swaying to the music, so I said hello. Amalia Ulman gave me her business card. The card makes it look like she sells insurance, and for good measure there's a calendar on the back.
"I like it so much, this business card, that I just have the calendar changed every year and keep the rest of it the same," she said.