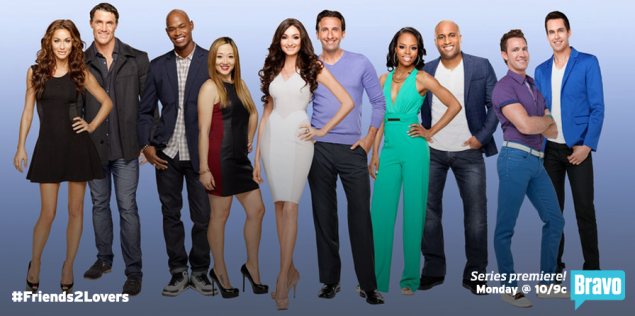 Marshana Ritchie and Stefan Lienhard were playfully bantering when I talked to them over the phone last week. Ms. Ritchie, a make-up artist, was complaining that she went to visit Mr. Lienhard, a Long Island police officer, far more often than he came to visit her in the city.
"So," I said, "can I ask if you two are a couple now?"
"Of course you're allowed to ask," Ms. Ritchie said, "but you won't really get much out of me."
Ms. Ritchie and Mr. Lienhard are guinea pigs in Bravo's latest social experiment, a docu-series called Friends to Lovers, premiering tonight at 10 p.m. The show is exactly what its title suggests; it follows six sets of friends as they attempt to take their relationships to the next level—a move that could, at best, produce long-lasting love, or, at worst, destroy whatever they had to begin with.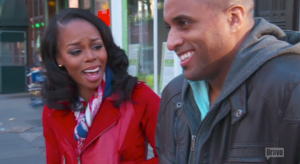 The pair originally met through eHarmony, but Ms. Ritchie claims she "got put in the friend zone." For four years they stayed as close friends, until Ms. Ritchie—a reality show vet who appeared on Season 12 of The Bachelor—heard about Friends to Lovers.
"I heard about this whole experience, and of all the friends I have, he's the only one I'd really want to do this with," Ms. Ritchie said. "It was my way of finally being able to let him know the feelings I'd had all these years."
Shari Levine, Bravo's executive vice president of current production, said the idea for the show came from a Bravo staffer—a single woman in her 20s who was having trouble dating. The woman had read that by the time people turned 30, 82 percent of them have met the person they're going to marry.
"You want your partner to be your best friend," Ms. Levine said. "What if you start with your best friend and make them your partner?"
The show purports to be entirely unscripted—"there wasn't a blue print; there wasn't a road map," Ms. Levine said. Couples decided when to go on dates, when to have their first kiss, and when to have sex for the first time. The question of when to sleep together, Ms. Levine said, was something the couples took very seriously.
"They didn't just jump into each other's beds," she said. "They were cautious. And there were interesting consequences."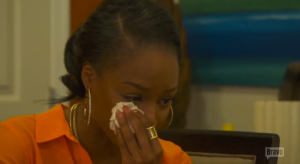 I asked Ms. Ritchie and Mr. Lienhard what it was like to hook up with each other. The pair had kept it "pretty conservative" during their four years of friendship, Mr. Lienhard said, so it was a shock to see Ms. Ritchie in a bra and underwear.
"Thank god I didn't have anything in my mouth," he said. "Yeah, I think it says it all when you see her standing there in lingerie."
Of course, the journeys weren't always easy.
"You watch them go through the process of trying to see if potential benefits outweigh the potential loss of a friendship," Ms. Levine explained. "What if it doesn't work out? They all were concerned about it."
"It's a hard thing to do," Ms. Ritchie said. "It's very challenging. Very risky. There's a lot at stake."
So how did it all work out, we asked Ms. Levine? Did the six couples end up dating each other, or did any of their relationships fall apart?
"I would say," Ms. Levine said, "that everything that you could think happens probably happens."