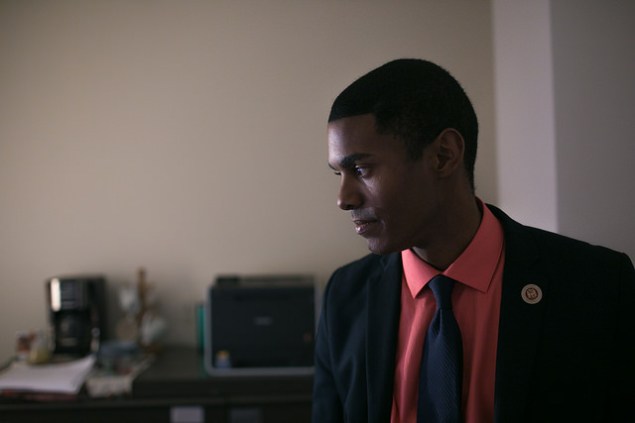 Councilman Richard Torres is tired of the lies.
The Bronx Democrat today decried critics who have attacked his "Right to Know" Act, a controversial piece of legislation that would require cops to identify themselves upon making a stop and to explicitly request permission before searching an individual. Mr. Torres said the two bills only affect stops conducted without probable cause, without a warrant or when an officer is not making an arrest–and slammed anyone, police unions included, who oppose the legislation without knowing what it does.
What angers Mr. Torres most is when critics say the act "requires officers to get permission from those that commit a crime. That is a vicious lie. It's one that makes my blood boil."
"There comes a point where you are misrepresenting a bill, you are smearing those who sponsored the bill," he said.
Mr. Torres, speaking with the Observer after publishing a defense of the Right to Know Act in the Daily News, said police unions and other critics are opposing his legislation because of misinformation and not the merits. He insisted he is simply reaffirming the Fourth Amendment–a prohibition on unreasonable searches and seizures and the requirement of any search warrant to be judicially sanctioned–and not radically changing how the NYPD does its job.
Council Speaker Melissa Mark-Viverito, a progressive Democrat like Mr. Torres, said she has "reservations" about the Right to Know Act. Mayor Bill de Blasio and his Police Commissioner Bill Bratton are not supportive, expressing concerns about the legislation hamstringing police.
But Mr. Torres may have enough votes in the Council to pass the bills if they're brought up for a vote. Mr. de Blasio has yet to veto a bill, unlike his more moderate predecessor, Michael Bloomberg.
"My question would be, what reason is there to oppose a bill that reaffirms the Fourth Amendment? I think most opposition is driven either by indifference to the Constitution or misinformation about what the bill does," he said.
"The only reasons people are opposing the bill are political. Most people opposing the bill are lying about what the bill does," he added.
The environment around police reform has been fraught since two police officers were murdered last month. The murders came weeks after anti-police brutality protests roiled the city following a Staten Island grand jury's decision not to indict a white police officer in the death of Eric Garner, a black man.
Police union leaders and conservatives blasted Mr. de Blasio and the City Council, enthusiastic backers of the protests, for harboring anti-police sentiments and creating an environment that led to the murders. Critics also said the progressive Democrats did not act swiftly enough to denounce some of the harsh protest rhetoric aimed at police.
Mr. Torres conceded he and the Council, now rolling out a plan to provide funding for new NYPD bullet proof vests, could have condemned some elements of the protest movement sooner.
"I think that's one of the lessons we have learned. We make mistakes," Mr. Torres said. "One of the lessons I have learned is that we have to be more outspoken in support of officers, most of whom are doing their jobs, risking their lives and acting in good faith. Criticisms of police policy shouldn't be directed toward individual officers."