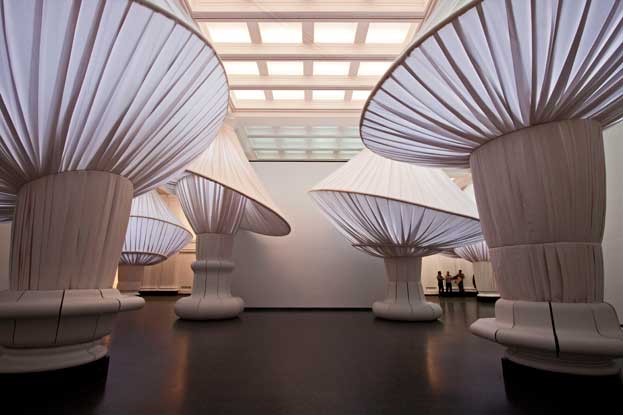 Brooklyn-based firm SITU Studio has been tapped to redesign the Brooklyn Museum's entrance pavilion and lobby with modular furniture and an interactive mobile app. The makeover comes courtesy of Bloomberg Connects, $17 million granted by Bloomberg Philanthropies to major museums for developing new audience engaging technology.
SITU is perhaps best known for transforming the Brooklyn Museum's Great Hall with a massive site-specific installation titled "reOrder" in 2011, where its classical colonnades were draped with fabric canopies—the exhibition was also sponsored by Bloomberg.
The firm will incorporate interactive hubs, ticketing booths, and new signage and information displays, all connected to a new mobile app downloadable through iTunes called ASK, set to launch in June.
"ASK seeks to improve the visitor experience by providing a platform for visitors to ask staff questions that will be answered in real time during their visit," states the museum's press release. It also mentions that the museum will be installing "location-based technology" in galleries that allow staff to track what artworks visitors were close to through interactive question-and-answer stations.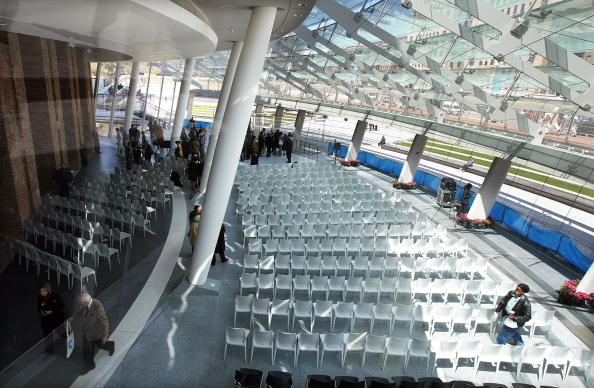 "Many places are using location based technology to deliver content to devices, but in our case, the technology is used in reverse; telling us more about the context around a visitor asking questions so we can better serve them," Shelley Bernstein, vice director of digital engagement and technology and co-project leader told the Observer by email. Ms. Bernstein and Sara Devine, also co-project leader and manager of audience engagement and interpretive materials, explained that the location tech will allow staff to customize information for each visitor, as they need it.
"Many apps released today aim to deliver information to visitors in a way that assumes everyone wants the same content," Ms. Bernstein elaborated. "As visitors use ASK to tell us their questions, we will dynamically respond to each query; there's no algorithm, no pre-recorded content."
Visitors without a smartphone won't be left out. The app will be accessible on iPads mounted on kiosks throughout the museum. And since the Rubin Pavilion currently functions as a multi-use space for after-hours public events and and programming, SITU's mobile furniture will keep the lobby space flexible.
"Ticketing bars we will use for admissions can also function as bars for special events and the seating can be reconfigured and used for public programs," said Ms. Devine.
In 2004 Polshek Partnership (now Ennead Architects) gave the museum's entrance its first major overhaul since the removal of its Eastern Parkway staircase in 1934. The firm built the glass-encased Rubin Pavilion that visually references the original staircase, and features a street level entrance and airy lobby featuring rotating sculptures and paintings. When the redesign was unveiled, reviews were mixed.
Herbert Muschamp raved about it in his review when it first opened, saying, "With the completion of the Brooklyn Museum's new entrance pavilion, the city has gained one of the most attractive public spaces to be found anywhere in town," and that it "has got a precise if not wildly imaginative grip on its place in urban history."
Then, positivity waned after populist campaigns failed to draw big crowds as promised. Former Met Museum director Philipe de Montebello said in 2010 to the Times, "I think the current glass entrance defeats that very purpose and the exhilaration felt when a person who wasn't brought up in a mansion is able to walk into a mansion. By taking away the majesty of the entrance, they've taken away the majesty of the experience."
Nevertheless, the Rubin Pavilion has been one of the highlights of Arnold Lehman's 17-year tenure as director—he plans to retire in June. On the new design, Mr. Lehman states in the release, "The redesigned space will serve as an exciting and dynamic environment to facilitate visitor engagement by creating a direct link between the visitor and Museum staff."