Everybody graded President Obama following last week's State of the Union address, with all the predictable partisan variations. But there should also be a report card for the television coverage, and more specifically, the camerawork. And here, there can be no dispute: By me, it rates an F.
Or if, in the spirit of the age, we trade old-fashioned letter grades for comments, certain words come readily to mind: Words like "pedestrian," "boring," "unimaginative," "uninformative," "lazy," "timid," "inept," "misleading," and even "biased." For one of the premiere events on the political calendar, we deserve much better.
I don't know whether there are pool cameras, so that every channel looks the same. I watched the speech on CNN, where at first all was fine. One of the perennial highlights of the occasion is watching the president enter the House chamber and make his way down the aisle. And as always, we got to see how well or badly he works the room—how finely he's perfected the moment of recognition, the perfunctory greeting, the instant grin, the snappy exchange. Each encounter is a mini-drama, in which the president must, in a split second, shake hands (men) or cheek-kiss (women), come up with the appropriate riposte, and move on. How nimble he is offers a window into his effectiveness, confidence and mood. It's also interesting to follow on whom he dwells and whom he disses.
The camera caught it all. But after that, it was pretty much all downhill.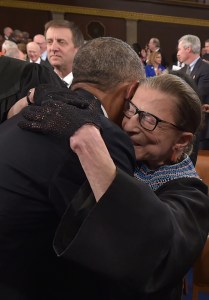 One of the glories of the State of the Union ritual is studying the gallery. Pretty much everyone is there. But only rarely did we get to see who they were. The few times the cameras ventured there, it was to show obscure congressmen or Cabinet members, people who little matter. Unless you're a Washington groupie, you often couldn't tell who they were, and on those rare occasions they were identified, the captions were tentative, late, or wrong.
It's also fun to watch the relevant senators or congressmen react to compliments or barbs in the speech—remember how glorious it was to see Donald Trump glowering in the gloaming after President Obama ridiculed him at the 2011 White House Correspondents dinner?—but there was precious little of that. Hawkish Sen. John McCain was shown once, for instance, but not when the president attacked the profligate use of military force. Copies of the State of the Union speech are available in advance; how difficult would it be to pick out the president's targets, and focus on them? When PBS broadcasts a symphony concert, after all, the director knows when to zoom in on the oboes.
There are insights to be gleaned from such occasions, and not just from the presidential text. For instance, several justices of the Supreme Court always attend. They are bona fide curiosity pieces, the Thomas Pynchons of American politics: With cameras (still) banned from the Court itself, how often do we actually get to see them? But last week we got to view them only fleetingly: Only when Mr. Obama entered were they shown up close. You had to be quick to figure out which of them were there. Even that brief moment proved revealing. Justice Stephen Breyer, for instance, is looking old. Such things matter.
---

Copies of the State of the Union speech are available in advance; how difficult would it be to pick out the president's targets, and focus on them? When PBS broadcasts a symphony concert, after all, the director knows when to zoom in on the oboes.

---
Having recorded a genuinely interesting, unscripted moment a few speeches ago—Justice Samuel Alito's disgusted shake of the head when Mr. Obama faulted the money gushing into American politics as a result of the Court's decision in Citizens United–overly deferential television producers seem to have backed off. Justice Ruth Bader Ginsburg's bowed head throughout the speech was surely newsworthy—was the 81-year-old jurist sleeping, or only frail?—but seen only from a great distance. Justice Anthony Kennedy could be spotted beaming when the president approached him. But it was when Mr. Obama touched on gay rights in his speech that Justice Kennedy—the likeliest swing vote in the upcoming landmark gay marriage case—would have been most interesting to study. No dice.
Because of the peculiar camera angles—the relevant long shot was from the back of the Democratic side, foreshortening the ever-broader swath of Republicans in Congress—at no point during the usual standing ovations were we shown how lopsidedly Republican things have become. The cameras overstated the enthusiasm for Mr. Obama, showing all those Democrats in the foreground on their feet. One would have thought the speech a great triumph for Mr. Obama—Grant Park redux. In fact, it was a triumph of Democratic legerdemain—virtually none of the president's proposals will be enacted. And in this television was willingly complicit: It made for much better visuals, as detached from political reality as it was.
Score one for the Democrats. But television also aided the Republicans. As Mr. Obama pushed for several popular programs, like free community colleges, the cameras never showed all those Republicans remaining on their rumps. (A house divided cannot stand, but it most surely can sit.) They could be obstructionist with absolute impunity. It was great to see Sen. Elizabeth Warren applauding, but it would have been far more meaningful to see Majority Leader Sen. Mitch McConnell staring ahead blankly.
One more oversight was especially egregious. The Republican side was brimming with would-be presidents, including Senators Ted Cruz, Rand Paul, Lindsay Graham and Marco Rubio. But aside from a cameo by Mr. Rubio (unidentified, natch) during Mr. Obama's comments about reestablishing relations with Cuba (Mr. Rubio, a Cuban-American from Florida, is opposed), these men were scarcely, if ever, shown. Of the GOP brass, only John Boehner, sitting squarely behind the president, was available for scrutiny. (He applauded tepidly from time to time but showed few other signs of life. For a chain-smoker, an hour is a long time between cigarettes.)
But for Mr. Graham, the Republican presidential aspirants in the Senate are relatively unknown. So every little datum about them is precious. Watching them watch a president from another party, one can pick up all sorts of things pertaining to their discipline, manners, character, intelligence. Were they bored? Curious? Inattentive? Enraptured? Dismissive? Sullen? Surly? Indignant? Contemptuous? True, as seasoned politicians, knowing that the cameras might be trained on them, all may well have been on their best behavior that night, suppressing the rolled eyeballs and smirks and yawns. But they needn't have worried. We saw far more of the struggling working mom who sat alongside Michelle Obama than we saw of any of them. Inexcusable.
I hope the poobahs responsible for such broadcasts do better next year, when Mr. Obama gives his swan song in the heat of a presidential race. The state of the Union may be strong. But the state of the presentation was pathetic.
David Margolick, a contributing editor at Vanity Fair, is completing a book on Sid Caesar and Your Show of Shows.