Few slices of the art market have changed as radically, or, surprisingly, have been taken more seriously, in the past few years as the ever-so-sleepy ceramics and glass sector. Maybe it's because of the art market's roaring boom: Wealthy art collectors traditionally buy paintings and sculptures first, and then, once every wall and corner is full, objects. Or perhaps the international success of glass artist Dale Chihuly is partly to blame. But add in the buyers  who were already collecting this material, traditionally a passionate and cultish bunch, and you have a new market.
Contemporary artists have met the demand by moving into the medium. At the well-attended New York Ceramics and Glass Fair on the Upper East Side, nearly a third of the exhibitors are offering late 20th-century or 21st century work instead of Staffordshire or Wedgewood, up from only one dealer when the fair began 16 years ago. (The event is taking place at the Bohemian National Hall, 321 East 73rd Street, on Saturday through 7 p.m., on Sunday until 4 p.m.) The mix appears to be working: At the fair opening on Tuesday, more than 2,000 attended," said Elizabeth Lees, fair co-producer.
When it comes to contemporary ceramics, some dealers said, there's a shift going on in terms of validity in the eyes of museums. "Glance back two decades only a handful of museums were incorporating such work in their holdings," said Massachusetts dealer Leslie Ferrin who just joined with Chelsea gallerist Cynthia Reeves to open a gallery in MASS MOCA.
Now, Ferrin points to her clay artist Brit Paul Scott, whose work is in more than thirty museums globally. Scott turns to 19th-century blue-and-white ceramics as both medium and inspiration. In some cases, he breaks period platters and serving dishes and then melds them together with gold. Also he adds a modern twist to his creations. For instance, on one blue-and-white bowl he has incorporated black decals of Chinese dissident artist Ai Weiwei smashing ancient Chinese vessels. His Fracking, a platter emblazoned with images of fracking equipment underscores environmental concerns. Ferrin had so far sold five platters and bowls by Scott at the fair.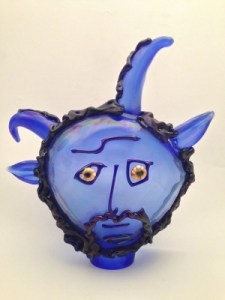 A slew of artists such as Jean Arp, Max Ernst, Salvador Dali and Picasso worked in clay and glass. (That work was long-dismissed, but has zoomed in price as Picasso paintings, etc., have become unreachable for most collectors.) And examples by those iconic artists can be found at the fair with the London dealer Sylvia Powell. Several truly cool Picasso ceramics are on view, along with Dali's 1980 Montre Molle au Cintre, a melted blue glass clock face with gold numbers slung over a bronze coat hanger. It is priced at $18,000.
New York dealer Martin Cohen is featuring the work of Dominican Jose Arias.  His 2014 pottery "Squirrel" is in black with white stripes. "In shape, it's akin to a William Edmundson folk art sculpture," said Cohen. The price for that pottery example is $5,500.
The work of a relatively big name, the late Italian designer Piero Fornasetti, can be found with the New York based dealer Earle D. Vandekar.  Vanderkar is selling a 1960 single plate for $800. One index to the popularity of Fornasetti at the fair is that by Friday, Vandekar had made six sales of Fornasetti plates. "Now, thirty percent of my annual business is in Fornasetti," said Vandekaar.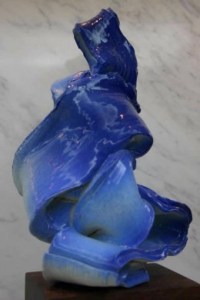 Going further back in history, Roman glass unearthed on archaeological excavations can be found with Manhattan Anavian Gallery. Not all examples are costly. An iridescent glass bangle bracelet is price at $200 and small vessels cost less than a $1,000. With the exhibition "Ennion: Master of Roman Glass" now on at the Met, interest has been rising," said dealer Paul Anavian. By Friday, he had sold a small 12th century piece of pottery of a horned ram for $2,000.
Not everything drawing lots of attention is recent. Porcelain cats in a rather Belle Époque style with a whiff of Surrealism captured considerable interest at Leo Kaplan Modern On view are a trio of faience felines with glass eyes and wearing pattern pajamas. The cost for a single kitty is $15,000.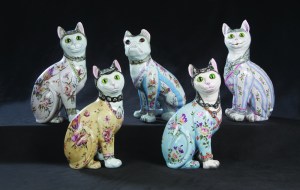 Susie Kaplan Jacobsen said there are still pronounced sales in porcelain antiques. She sold a pair of 1750 sauceboats decorated with Oriental flowers for $4,000.
"While Americana Week has long been a magnet in drawing a strong clientele, now we are seeing a more contemporary art crowd," said co-organizer Ms. Lees.