"I'm hoping at some point to have a boxing gym. That's my second life," chef Chris Santos, confessed to the Observer.
Mr. Santos has cooked at the White House and Camp David. He is the Distinguished Visiting Chef at his alma mater, Johnson & Wales, the university of culinary arts and is soon to release his first cookbook. He throws one heck of a party, too.
Home is a 900-square-foot East Village apartment that includes a bedroom, living room, open kitchen with chef's counter, small office area, bathroom, and roof-deck. He lives with his girlfriend, Cynthia, and their pug, Tyson.
You are obviously a boxing fan, what are your favorite items of memorabilia? The Brian Cox painting of Muhammad Ali in the entryway, my vintage boxing magazines and signed boxing gloves.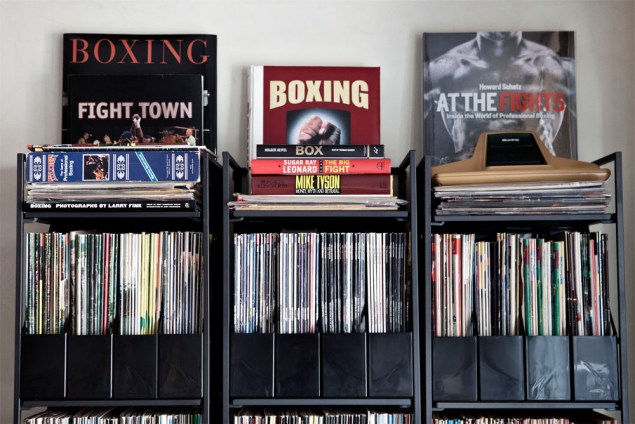 The Future of Boxing and Knockout The Art of Boxing sit side by side with cookbooks Bones and Seduced by Bacon. We can see the passion for boxing but do you cook at home often? Not as much as I would like, though my Memorial and Labor Day rooftop barbeques are legendary. I have a lot of interesting friends, so it could be anyone from Steve Nash to Dave Navarro. My fight parties are also quite amazing.
 How long have you been in New York? I moved to New York from Providence, R.I., in 1993. I've lived in Astoria, Woodside, Hoboken, Roosevelt Island, Windsor Terrace, Park Slope, and then I opened Beauty & Essex so I moved to this neighborhood.
Have you brought the neighborhood inside? It feels a little like that. I moved here on the heels of Old New York when Times Square was kind of seedy and I'm fascinated by that era. I try to incorporate some of that time into the décor. There's also custom Venetian plaster and painting throughout, I tried to add lots of quirky eye candy.
What are some of your favorite art pieces? I got a photograph that I love at an art exhibit, of a female Golden Gloves fighter in the dressing room stretching out before her fight. I also have a friend who's an erotic photographer known as Jackthezipper, who did a few pieces in my apartment. My tattoo artist is Michelle Myles who owns Daredevil tattoo and she hand-painted a piece for me.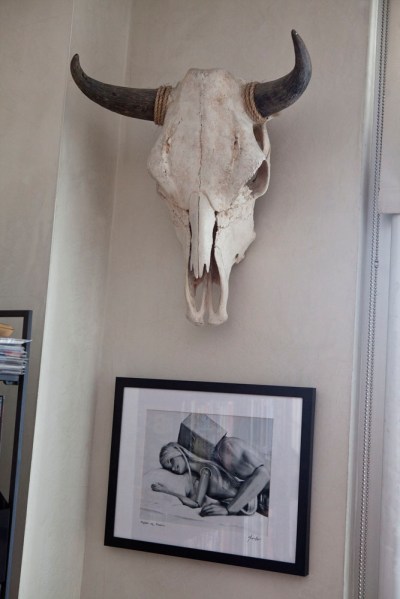 Tell us more about your sporting love? My grandfather was a pro fighter and I kind of missed my calling because I didn't start training until my 20s. A lot of my friends are world champion boxers and one of my investors is, too. I'm hoping at some point to have a boxing gym. That's my second life.
Other than the food, what's the best part of living in NYC? I stay in and around the East Village and Lower East Side almost exclusively and there is an amazing sense of community that can't be articulated. People here take a certain ownership of the neighborhood. We have formed a very eclectic family of creative, artistic hustlers.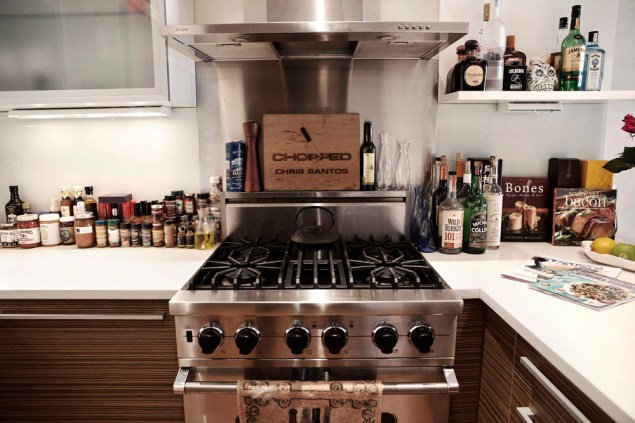 What's been the best year for you so far? 2014 was excellent. I have the two restaurants, which are flourishing. We have a new concept for a new restaurant in New York. I'm working on a cookbook. I have a line of sauces coming out that will hopefully be in Whole Foods and other stores. I collaborated with a boxing friend of mine on fitness products. I cooked at The White House and Camp David. It was my third time and it's become a thing around my birthday. Camp David was incredible because I was actually the first external chef ever allowed to go there and cook.
How were the holidays? Festive! We go over the top for Christmas. last year I bought my mom a house in Florida and she sold the childhood house, so for the first time in 43 years I had nowhere to go. I love going shopping and taking three hours to pick out the tree. We usually come home, put on Sinatra, and pop a bottle of champagne and open gifts.