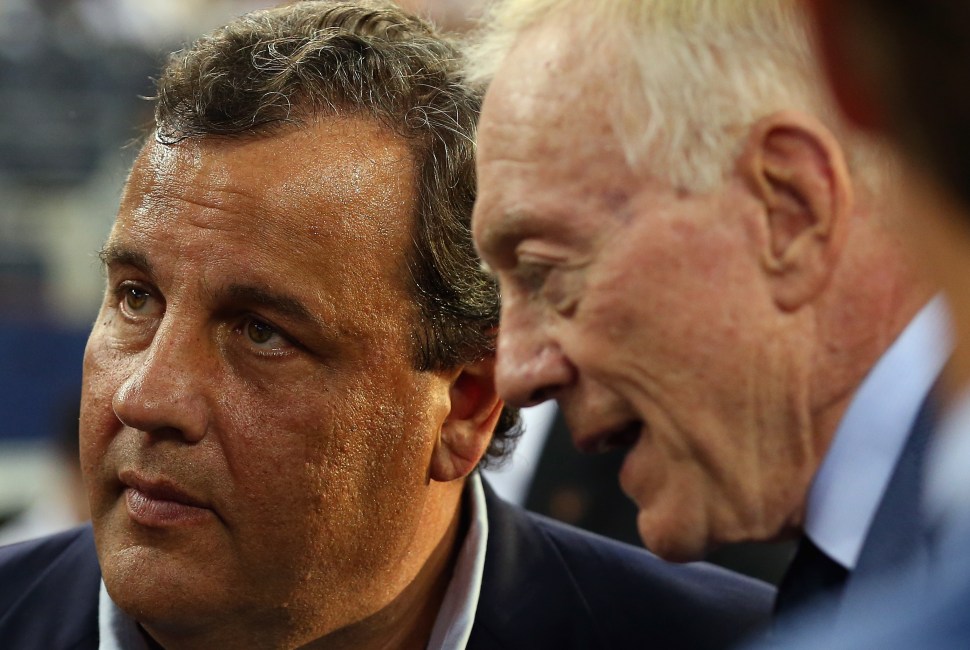 Even as some declare them toast, first following his appearance with Cowboys owner Jerry Jones at a playoff game in Dallas last weekend and later in light of renewed activity last week from a federal investigation probing Bridgegate, Gov. Chris Christie seems be charging ahead with his 2016 presidential ambitions.
Expected to announce a decision on those ambitions at the end of this month, Christie is scheduled to spend the vast majority of this week out-of-state, visiting fellow Republican governors at inaugurations from Iowa to Florida as part of a 2015 victory lap following his leadership at the head of the Republican Governors Association last year. His trips to Illinois and Ohio today to attend the inagurations of Govs. Bruce Rauner and John Kasich were cancelled due to the weather, but he's still set to attend two other swearing-ins later this week.
But Christie, considered by some to be an early frontrunner for the 2016 Republican nomination, is also expected to do more campaign exploring on the trips. He's scheduled for a meet-and-greet with prominent party leaders in the early primary state of South Carolina following the inauguration of Gov. Nikki Haley on Thursday, and will also be the centerpiece of a dinner later this month organized by Ken Langone, co-founder of Home Depot, major Republican donor, and ardent Christie supporter, according to reports.
The dinner is expected to be informal and take place in New York City, according to the Wall Street Journal.
On Friday, Christie will travel to Iowa, where he'll attend the inauguration of Gov. Terry Branstad.
And perhaps Christie's Jones affair wasn't all bad for his prospects in 2016. According to PNJ's sister site, The New York Observer, Gov. Chris Christie has landed a Texas ally toward his fast-developing bid for the presidency. Christie is expected to announce that Dallas investor Ray Washburne will be the Republican's new finance chair for a 2016 campaign, tasked with raising the $80-100 million it is expected to cost to win the GOP nomination, by the end of this week.
Washburne most recently served as the Republican National Committee finance chairman, taking the reins after the party's failure to win the White House in 2012, and although he wouldn't confirm outright his new job, he did tell the Observer that he's going to be "very involved in 2016."
"I'm friends with the Bush family," Washburne said of likely Christie challenger and former Florida governor, Jeb Bush. "I was one of Jeb's big bundlers in 2004. It's not any kind of slam on Jeb, I just think Chris is …."
"I'll tell you more later, you're going down the right track," he added.
Christie's national movement also takes place as he prepares to address his constituents at home. On Tuesday, the two-term incumbent will give his final State of the State address, leaving many NJ pols and political observers to wonder how he'll use the platform to toe a line between his present obligations and future aspirations.