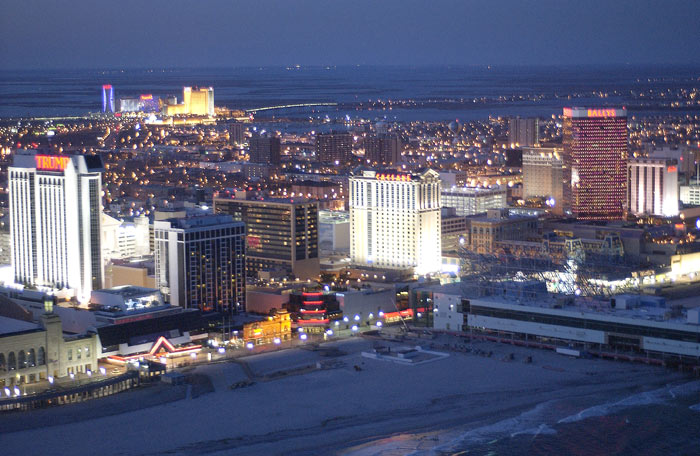 ATLANTIC CITY — At the state's third summit here today, Gov. Chris Christie formally announced the appointment of an emergency manager and counsel to oversee this seaside gaming mecca, arguing the city "can't wait any longer" and that its beleaguered economic situation necessitates "aggressive action."
"This is what we should expect of ourselves, and what residents should expect from us, not only in Atlantic City and Atlantic County, but across the entire state of New Jersey, where people are being asked to pay some of this expense," Christie said today prior to a close door meeting with local officials and legislators.
"I truly believe the time is upon us to look at this in a way where we restructure finances and work together with all the interested groups that includes not only municipal government but the school system as well," Christie added.
Christie's office first announced the decision this morning prior to the 11 a.m. meeting, saying the governor was signing an executive order to instate an emergency management team to lead recovery efforts in the city. But the news was received with trepidation by some lawmakers and county officials, many of whom had put forth their own plans to bring economic stability to the city and its shaky tax base.
Before today's meeting, Assemblyman Vince Mazzeo (D-2), sponsor of a legislative package in the legislature's lower house aimed at alleviating some of the city's financial problems, said Democrats still plan to go forward with getting their own proposal to the governor's desk. Those bills, known as the PILOT plan, would grant the city's casinos tax breaks, stabilize its property tax base and ensuring casino workers have health care, and redirect money to pay down city debt, among other things.
The city's own Republican mayor, Don Guardian, has also opposed the idea of an emergency manager.
"I want to make clear that this is not a move in anyway to supplant the mayor's role here in the city. What it's meant to do is to make sure that we have the tools that are necessary to confront the dire circumstance we are confronted with," Christie said.
Christie said the management team will consist of emergency management special counsel Kevyn Orr, the former emergency manager for Detroit, which just emerged from bankruptcy, and emergency manager Kevin Lavin, a corporate finance consultant at FTI Consulting who more typically advises financially troubled companies.