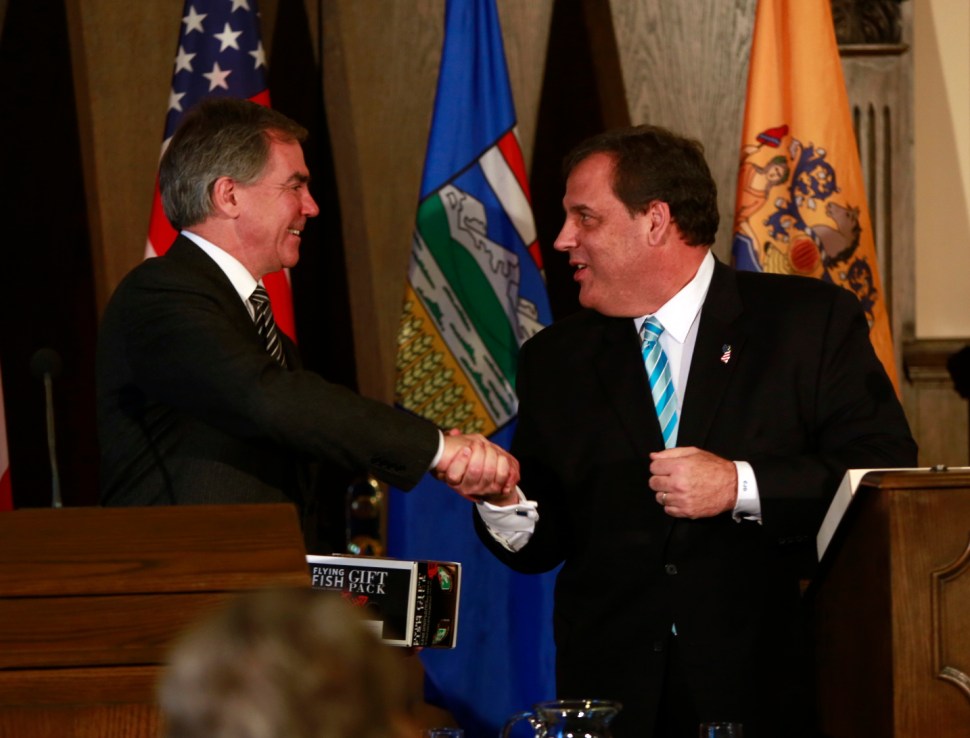 Now that he's got most of the North America covered, Gov. Chris Christie is jumping across the pond to plant New Jersey's flag — or is it his own? — firmly in European soil.
According to reports today, Christie will travel to London early next month for a trade mission to strengthen economic and cultural ties between the Garden State and the European ally nation. The trip — the third of its kind over the past two years– is expected to double as another opportunity for the Republican to amp up his foreign policy credentials ahead of a potential run for president in 2016.
"This is an opportunity to strengthen economic and cultural ties between the United Kingdom and New Jersey while pursuing real opportunities in the life sciences and finance sectors," Christie's communications chief Maria Comella said in a statement. "As with all of his previous trips, this is a way for Gov. Christie to not just help grow New Jersey, but really listen and learn."
Last year, Christie traveled to Mexico and Canada on similar trade missions, where he met with leaders of both countries and gave lengthy addresses in front of business communities.
It could be another sign Christie is nearing a long-awaited announcement on a presidential run, which some insiders say could be coming as early as the end of this month, though Christie himself has maintained that he's in no rush to declare. Early in January, news broke that Christie was preparing to form a leadership PAC to consolidate support and help raise money toward a 2016 campaign, signaling to backers that he's still serious about run after similar establishment Republicans, like Mitt Romney and Jeb Bush, entered the fray.
And last week, the Republican's State of the State Address, which many saw as geared toward a national audience, was another indication of the nearness of Christie's announcement, while the week before, PolitickerNJ's sister publication The Observer reported that Dallas investor Ray Washburne was joining a potential Christie campaign as finance chair.
There are other signs, too. As the Associated Press reported, former Christie aide Matt Mowers has confirmed that he plans to resign his post as executive director of the New Hampshire Republican party at the end of the month — fueling expectations that he'll join Christie's own campaign, should it materialize, in the first presidential primary state.