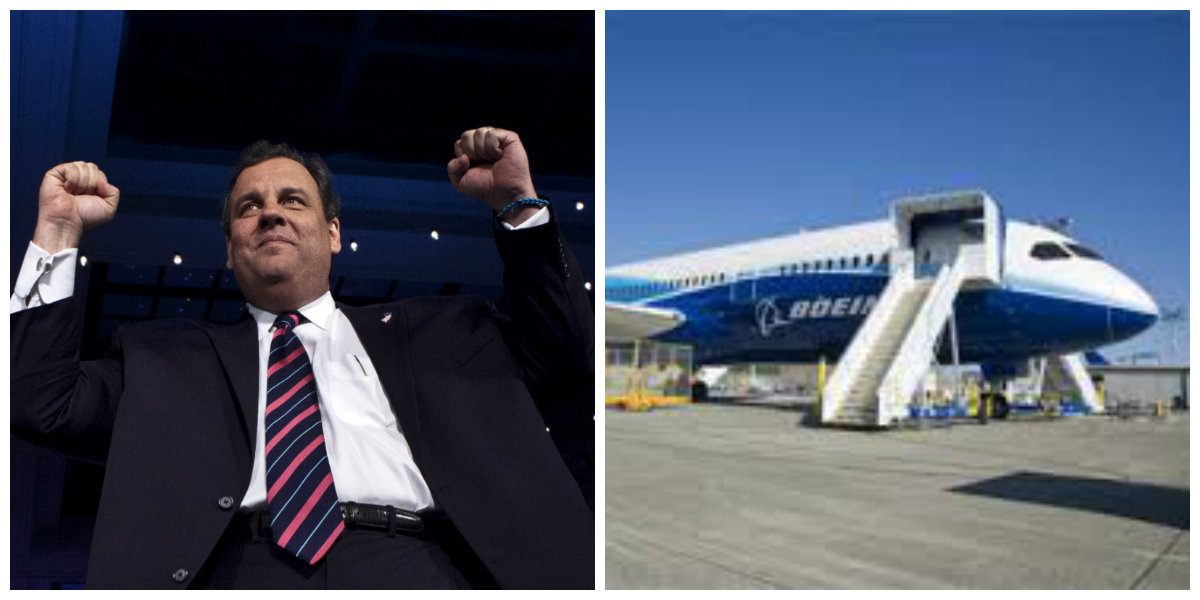 The recent obituaries of New York Gov. Mario Cuomo highlighted one of the singular moments in the Democratic icon's career. Rather than enter the 1992 New Hampshire primary, Cuomo let the planes that were to fly him and a throng of reporters to the Granite State in advance of filing deadline sit on the tarmac. Cuomo's explanation: he couldn't leave Albany while state budget negotiations were going on.
Gov. Chris Christie could soon be singing fellow New Jerseyan Frank Sinatra's "Come Fly With Me" at Newark Airport as he boards his own campaign plane. But the question remains if Christie will be able to soar above the competition while he is weighed down with what many Garden State residents see as serious political baggage.
Christie's approval rating, according to recent polls, has taken a serious dip in New Jersey as the litany of political pratfalls has grown longer. The scandal surrounding the shutting down of access lanes to the George Washington Bridge, also known as Bridgegate, doesn't appear to have yet made a permanent dent in Christie's popularity. But a host of other concerns, including a sluggish state job recovery following the recession, successive downgrades of New Jersey's credit rating by rating agencies, an ongoing downward spiral of Atlantic City casino closures and a reversal on his signature pension reform agreement with public employees, saying that the state could not afford to make the pension payments required by the accord, have led New Jerseyans to increasingly question Christie's leadership.
If Garden State residents want to ask Christie directly how he will address these problems, they increasingly have to squint as he continues to roam far and wide across America, Mexico and Canada doing the groundwork for a 2016 Republican presidential primary run. With Christie spending more and more time out of New Jersey, many state residents see the handwriting on the wall. They wonder what the governor can, or will, do for them if he's not around.
It is Christie's bold, bulldog personality that has helped him to be seen by admirers and adversaries alike as one of the most naturally gifted politicians on the American scene. Looking back at Cuomo's choice in 1992 to stay home, another question arises: could, and should, Christie step off what seems to be the inexorable pathway to the campaign plane, stay in New Jersey, untie the Gordian policy knots plaguing New Jersey and leave an unparalleled local legacy, national ambitions be damned?
Patrick Murray, director of the Monmouth University Polling Institute, offered a reminder that Christie did not say that he would solve New Jersey's structural problems when he first campaigned for governor in 2009.
"He never promised that he was going to stop the structural problems. He promised that he was going to cut down costs and root out wasteful spending, which plays around the edges. And that's exactly what he did in his first budget," said Murray. "It would be better if he fixed the structural problems around education funding, property taxes and the pension fund, taking the flak for it and probably not getting reelected. It would establish the kind of changes that need to happen here for New Jersey to stop papering over the cracks. But that's asking for Chris Christie to be something that he never was."
Ben Dworkin, professor of political science and director of the Rebovich Institute for New Jersey Politics at Rider University, said that he can't imagine the governor not deciding to run for president.
"Short of some kind of crisis, I don't think anything is seriously going to affect the governor," Dworkin said. "The average New Jerseyan has no clue whether the governor is in Trenton or Ames, Iowa on any given day. You have to examine the 'my state needs me' excuse for not running for president. History has shown us that the people who want to run find a way to run. I would be shocked if he suddenly said that he wasn't going to do it."
Dworkin feels that it is difficult to make the argument that Christie could have more impact as a term-limited New Jersey governor rather than as the President of the United States.
"He's a second-term governor with a Democratic legislature. Even if he wasn't running for president, he would face a number of challenges in terms of his agenda, and that was before the specter of Bridgegate effectively nullified the first year of his second term," Dworkin said. "People are positioning themselves to become governor after him, which affects what gets done. You still have economic growth that is not as robust as anyone would like, and when there is not enough money, you can't do a whole lot of things. Despite the governor's significant political talents, I think even he would have a hard time if he stayed."
Matthew Hale, associate professor of political science and public affairs at Seton Hall University, posited the idea that Christie's record in New Jersey may not be the deciding factor for his national chances.
"I don't know that Governor Christie, no matter how long he stays in New Jersey, is going to have a solid record to really run on. And I don't think that matters as much, given that we are more and more likely to vote for people because of personality rather than experience," Hale said. "There is no New Jersey miracle, and there won't be.
"I think that if he's going to run for president, his time has to be now," Hale added. "He's got the chits on the bags from being the head of the Republican Governors Association. There are Republican victories that he can take some credit for, and a lot of people on the ground nationally that are going to be loyal to him now. I think his legacy is going to be about taking his ideas and his I-don't-care-if-you-like me persona to the national stage, where he's going to be the same person that he was as the governor."
In this week alone, Christie has faced considerable local and national challenges.
The harsh reaction to the testimony of Newark Schools Superintendent Cami Anderson, a Christie appointee, about the controversial One Newark school reorganization plan on Tuesday highlighted a festering policy and public relations problem in New Jersey's largest city.
Meanwhile, on the same day, Jeb Bush, the former governor of Florida and potential 2016 Republican presidential aspirant, revved up his political machine, including the creation of his political action committee.
Nevertheless, Murray can't see Christie having an epiphany reminiscent of the one experienced by Mario Cuomo as his campaign plane crew waited in vain more than 20 years ago.
"If you are going to fix the structural problems that are really hurting New Jersey and driving people and businesses out of this state, you would end up being the most unpopular governor in a long time, you might be the greatest if we look back 25 years from now," said Murray. "It makes no sense for Chris Christie to not want to be president when that possibility still exists at least in the mind of his inner circle. It's not like if he runs for president, and loses, and then New Jersey keeps spiraling downward when leaves office and he's got nothing. It doesn't matter. He decided that he was going to go for the gold, and it was going to be all or nothing."