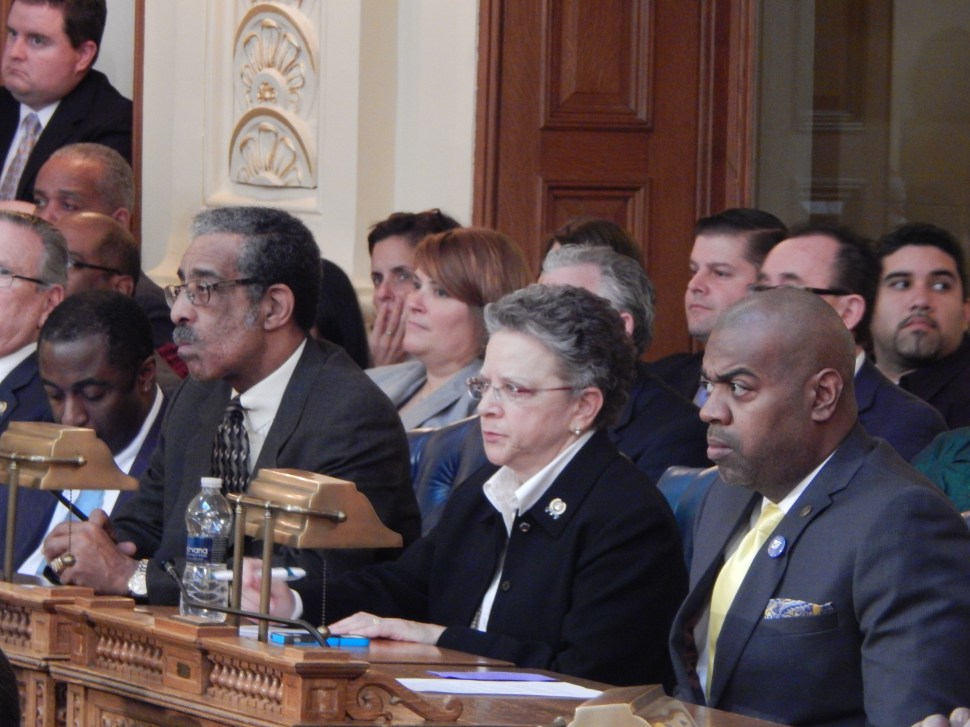 TRENTON – In his State of the State speech on Tuesday, New Jersey Gov. Chris Christie pointedly noted progress made in terms of governance, economic development, education and public safety in a major Garden State city: Camden, not Newark, the state's largest city. Then in the same address, he challenged the leadership of urban New Jersey, stating that all cities can do the same.
"There is no better example of what we can achieve if we put aside party and pettiness than the results we are seeing in Camden," said Christie, one of many references to the South Jersey city during his approximately 40-minute address in Trenton on Tuesday. "I make this offer to every major city's mayor in New Jersey: if you're willing to put down the sword of partisan politics, I will extend my hand in partnership."
Moments after the speech, Newark Mayor Ras Baraka, a Democrat, sized up the Republican governor's rhetoric from the perspective of a city where many residents feel that they've been forgotten by Christie.
"We don't have a sword up against the governor or the state. Maybe he was talking about somebody else," Baraka told PolitickerNJ. "We're just fighting for what Newarkers want. We're more than willing to work in a bipartisan way to get things done."
Baraka made sure to praise the leadership of Dana Redd, Camden's Democratic mayor, cited by Christie as a key factor in her city's comeback. Baraka was not the preferred candidate of George Norcross III, the South Jersey Democratic power broker and Christie ally, in last year's Newark mayoral election, while Redd has a strong relationship with Norcross.
Yet at the same time, Baraka was sure to draw a sharp line between what is happening in Newark's schools versus Camden's school system.
"[Christie] talked about Camden because things in Camden are happening for him. But things in Newark are not happening. He didn't highlight the work that [Newark Schools Superintendent] Cami Anderson was doing. He didn't highlight the One Newark plan," said Baraka in a reference to the controversial school reorganization plan implemented by Anderson, a Christie appointee, that fueled some searing testimony at a state legislative hearing last week. "He didn't highlight the great achievements that [Anderson] has been making, because she hasn't been. If [Christie] wants to help Newark, the first step is to remove Cami Anderson."
Baraka also offered a reminder that Newark remains a powerful focal point for New Jersey's economy, and said that politics aside, the relationship between Newark, where Christie was born, and the governor's administration can improve.
"Newark is the state's largest city, so it behooves the state to make sure Newark is successful. We agree on that," Baraka said. "We can partner around economic growth and job development in our city."
Baraka listened to Christie's speech seated among the members of Newark's state Legislature delegation, while Essex County Executive Joe DiVincenzo watched from the gallery.
Several legislators who represent Newark offered their own response to Christie's speech.
"We have a new mayor, and the new mayor deserves an opportunity to move forward. But you can't dictate to any mayor in the state of New Jersey," said state Sen. Ron Rice (D-28). "The governor basically said if you just let me dictate to you, we'll give you help."
State Assemblyman Ralph Caputo (D-28) reiterated what the other legislators who represent Newark felt was the main difference between their city and Camden in terms of policy.
"[Christie] highlighted Camden because there has been a setback in Newark around the issue of education," Caputo said. "[Newark School Superintendent Anderson] is not engaged with the community. If the governor wants to have a partnership, you have to have someone in place who is willing to communicate with all aspects of the community. To get adequate school reform, you have to have cooperation,and in Newark it's more about style than substance. We need the governor to concentrate on resolving these issues."
"There has to be a new and fresh approach, for me that means a new direction for [the Newark school] district," added state Sen. Teresa Ruiz (D-29), chair of the Senate education committee.
"What's different in Camden is there is a very different approach by [Camden City Schools Superintendent] Paymon Rouhanifard, who is working with Camden's mayor," said state Assemblywoman Eliana Pintor Marin (D-29), a former Newark school advisory board member, referring to another Christie appointee who heads Camden's state-run school district and who used to work in the Newark school district. "When [Rouhanifard] left Newark, he took some examples with him of what was working and what wasn't working. He really started fresh in Camden."