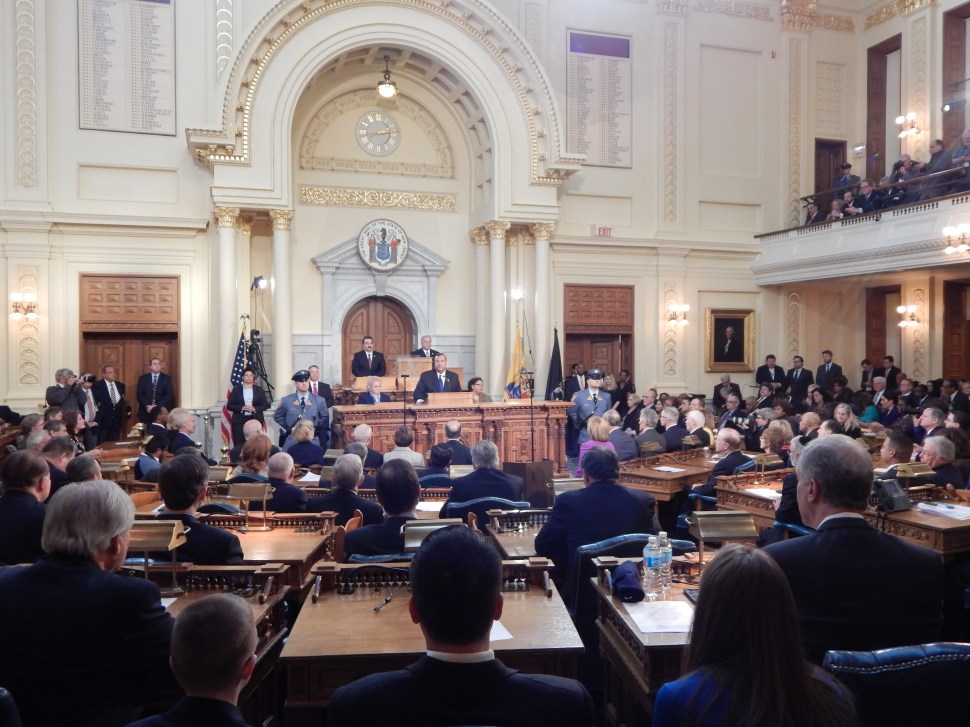 Has Governor Chris Christie abandoned New Jersey?
That's the question some are asking in the aftermath of his much-harangued State of the State Address this week, which saw an upwardly mobile Republican governor toeing a tenuous line between the roles of state executive and potential presidential candidate. Christie's speech, the content of which ranged from aggrandized accomplishments at home to sweeping rhetoric about American ideals and a national climate, has received mix reviews in the days following its delivery.
But it compelled at least one Republican senator to lash out against Christie, declaring that the party leader is "either tone deaf or just doesn't care" about the Garden State since he's set his sights on the White House.
PolitickerNJ wanted to get a better sense of the Jersey political world's take on the conflict, so we asked Republicans and Democrats across the state: How has Christie's political aspirations impacted his job record at home? Numerous Democrats did not want to go on the record, preferring to take a pass than throw a punch or appear acquiescent with a quote. One such Democrat said that while Christie looked better than last time in terms of style, he offered far less and therefore was far worse on substance.
Some Republicans also declined to comment, with one simply sending a text message saying he "firmly disagree[s] w/" the notion that Christie has in anyway abandoned the state in favor of his own ambition. 
Below is a compilation of the responses PNJ did get on the question.
Senator Jeff Van Drew (D-1), Dennis
"I don't think he has. This governor is New Jersey through and through, but if he's going to run for president necessity is going to require that he'll be out of town more. But he has to keep a watchful eye. This is a guy that has proven he can do more than two things at once."
Senator Sam Thompson (R-12), Old Bridge 
"There's still a lot of things we got to do. But we'll judge him on what he does here in the next 12 months, rather than what he's done in the past. We have a number of problems the state faces, our pension fund, the Transportation Trust Fund, the overall fiscal situation. Let's see what the man comes up with. If he can come up with solutions to some of these problems, well, he'll be on top of the world."
Assemblyman

Benjie

W

imberly

(D-35), Paterson
"He's been absent from class for 137 days. How can he give the state his full attention? He also starts the year off with bad attendance. Clearly, the speech played to a national office, not New Jersey."
Senator Joe Pennacchio (R-26), Montville
"Well, it's certainly a credit to the governor that they're even talking about him and his national ambitions. I've known Chris for 20 years. He's a very bright, smart man, and he can multitask. If he chooses to go in that direction, I think the state is still in pretty good hands. And I share [Senator Doherty's] frustration, but I also know what the governor is up against. If the governor had a like-minded legislature, then he would have got a lot of what he was asking for. But unfortunately, the map basically prohibits us from obtaining that. So, you know, the gold rule; the one with the most gold rules."
Andre

S

ayegh

, Ward 6 Councilman, Paterson
"Yes, he did, when he donned that orange sweater in Dallas."
Senator Jen Beck (R-11), Red Bank
"I sit on the Senate Budget Committee, and I think there is really no debating the fact that we have made progress in our budget. We've been very conservative in our spending and we've been able to grow revenues pretty much every year. And I think there's no question that we've seen job growth under this governor, and while the recovery might not be coming around as quick as we all wanted, there's no doubt when you look at the numbers. We have more jobs today than we had under Corzine.
"I think the economic climate continues to need work, and I think the governor recognizes that. Things are not perfect, but I think it's not fair to say we haven't made progress. We're better than we were."
Assemblyman

Troy Singleton

(D-7), Willingboro
"I think it's pretty clear that the governor can quote people from Verona, Florida but not Verona, New Jersey. That says a lot about where his focus is. We are looking more for solutions to problems, and in his speech he left a lot of us with more answers. I'm not going to say he doesn't care about New Jersey, but his story about Florida was a telling pretty omission."
Assemblyman Sean Kean (R-30), Wall Township
"Listen, nobody agrees with the governor on every issue. But I think about if we had another four years or eight years of Jon Corzine. I mean, that's how I look at it. You have somebody who's tried to do some things with the pension, kept the income tax in check, has been successful in improving the economy, whereas we saw in the decade before Christie an exodus of wealth based on bad public policies adopted by the Democratic governors and legislature of that time. So I think the governor has been successful in keeping his finger in the dike, so to speak."
Assemblyman

Reed

Gusciora

(D-15), Trenton
"I don't think anybody can criticize him for running for president. I just wish he would take Snooki with him."
Assemblywoman Alison McHose (R-24), Sparta
"It's been an interesting dance to watch the governor toy with whether or not he's going to run for office for the presidency. And I think that it affords New Jersey an opportunity to get some attention. I look at it as a positive. My frustration has been more with the fact the the legislature, the Republicans are in the minority in both Houses. I don't blame Chris Christie as much as I blame the maps and the legislature.
"On the other hand, the party sometimes loses it's own identity when you have a strong person at the helm. "
Senator

Ron

ald L

R

ice

(D-28), Newark
"I think he has abandoned New Jersey but he has also abandoned a lot of places in New Jersey. He is very selective in his abandonment. Forget about the elected officials, he has abandoned the population here in Newark."
Senator Joe Kyrillos (R-13), Red Bank
"We've accomplished a lot, but there's a lot more to be done. We've got to hunker down and we've got to focus and deal with the ongoing challenges. This state government in the next three years has got to improve the New Jersey product."
Senator Paul

Sarlo

(D-36), Wood-Ridge
"It's imperative that he stays focused on New Jersey. He just got elected to a four-year term and we need him focused. We need him to make the difficult decisions whether we disagree or agree."
Assemblywoman Holly Schepisi (R-39), Westwood
"I think the only reason [his national ambitions] will maybe effect his ability to do the job at home is because of the heightened partisan that is necessarily going to happen that will make it very difficult to accomplish some of the items he managed to get accomplished in the first term. Once you start playing national politics, the New Jersey Democrats are going to be receiving pressure from the national Democratic players as well to try and thwart any ability to put forth accomplishments."
Assemblyman Jerry Green (D-22), Plainfield
"No I don't think he's abandoned New Jersey but there are some issues I wish he would have talked about, like housing, abandoned properties and foreclosures. I was hoping he would have laid out a plan so I'm aware of where he stands on this issue before the court tells us what we have to do."
Assemblyman Jack Ciattarelli (R-16), Somerville
"Any governor who has possible presidential ambitions will always be accused of not paying attention to the pressing issues back home. Our governor is famous for saying he can walk and chew gum at the same time. So I think he's been able to do that."
Steve Lonegan (R), former Bogota mayor
"I think [Doherty] is right on point. We have a governor who is on the sidelines of the Dallas Cowboy game when he should be in New Jersey reassuring New Jerseyans of the steps being taken to protect us against the threat of Islamic terrorism. I think a press conference in front of the Statue of Liberty which sits on New Jersey soil extending his support to the people of France would have been more appropriate … Nothing has been done under this administration to make New Jersey better for business or economically. With a capital N."