Do blondes really have more fun? On a cabaret stage, it looks persuasively possible. Christine Ebersole and Sally Kellerman, two of my favorite examples of saffron in a bottle, have launched a Big Apple invasion in one week, both appearing in the same watering hole. They spread joy like marmalade.
Christine is the bubbly Broadway star of the hit musical Grey Gardens who last appeared with Angela Lansbury in Blithe Spirit. She sings Noël Coward better than anyone since "You're an' ol' Coward" himself. But not in this show, which she calls "Big Noise From Winnetka," named after the theme song for the old Bob Crosby band because she's the second most celebrated girl from that Chicago suburb on the banks of Lake Michigan. The first is still Ann-Margret. But never mind. Christine is making her mark, too, as the loud, cheering fanboys at 54 Below prove nightly.
I have always been a fan myself, but in all honesty I must admit something has gone askew. This new act is clunky, hastily assembled and alarmingly disrupted by personal opinions about politics and religion where better and more memorable songs should go. Every Christine Ebersole show is threaded with a unifying theme, then illustrated by appropriate musical selections that inform her patter. This time she talks about running away from home, then sings "Alfie." She sings it beautifully, but what does Hal David's lyric "What's it all about, Alfie?" have to do with leaving Winnetka, Ill.?
She did make a getaway from New York to the superficial lure of Hollywood, where she cut the umbilical chord of son Elijah, one of her three adopted children. But poignancy is followed by a gospel horror called "Elijah Rock" that I hope I never have to hear again. Somehow a dumb ditty about kimonos, topsiders and other tasteless costume errors they wear in the Hamptons—the worst song in the score of her otherwise memorable show Grey Gardens—leads her to meander mistakenly into an anti-war protest called "Stardust." No, not the Hoagy Carmichael classic.
From a rip-off of the Supremes to an up-tempo stomp called "That's How Rhythm Was Born," she tries to give every segment of her audience what it requires—country and western, rock and roll, a soupçon of Dixieland. The result is a grab bag of loosely strung together tempos and rhythms embracing sock, rock and Jesus. For an encore, she finally gets around to what she does best—magically crooning a love song with sugary passion. "Will You?" a great ballad from Grey Gardens, is cheer-worthy. The rest of this non-act is a disappointing waste of our time—and hers.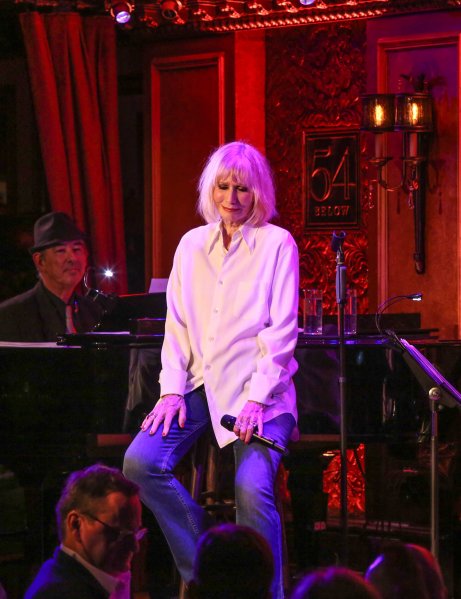 By contrast, Sally Kellerman makes up for what she lacks in a voice with an overwhelming abundance of charm and truth. Slinking onto the same stage as Christine Ebersole, she's a mesmerizing antidote.
Still the perfect image of Hot Lips Houlihan, the sinewy sex kitten she played in the Robert Altman film MASH, she knocks their wedgies off. "Somebody call the cops—my heart's a hit and run case!" she belts, and the place goes mad with ecstasy. Sometimes she rocks the joint with a hurricane force. Other times she's so lazy and sensuous she sounds like she might doze off in the middle of a stanza.
But make no mistake. The girl can sing. From the bossa nova lyricism of "The Look of Love" to the heartbreaking loneliness of "Black Coffee," she gives her all, seducing the listener without a shred of pretension. She is herself, sharing her heart with nuance. She's flaky. In her patter, she often seems to be lost on a highway to the moon, searching for a familiar road sign. At one point, she decided to lie down horizontally on the stage and take a rest. But her sense of time is captivating. Her rising passions on "Love Potion Number 9" are cries. Her smoky, bass clef vowels on Francesca Blumenthal's tender "Lies of Handsome Men" are sighs.
I once described the way she moves as walking like an anchovy. It still applies, in a white suit and a straw hat. Whatever Sally Kellerman does, she weaves and wafts her way into the soul of every song until it grows on you. So does she, like a lichen