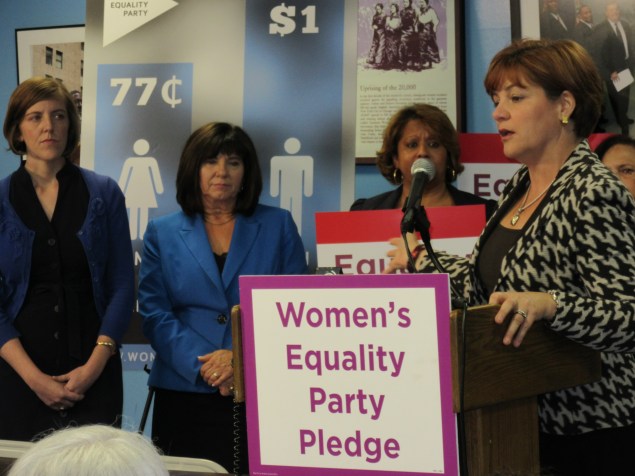 Christine Quinn lost a mayoral race to Bill de Blasio, and now she's heading to his hometown.
The former City Council speaker will be a spring resident fellow at the Harvard University Institute of Politics, where she will aim to "inspire, motivate and encourage undergraduates to consider careers in politics and public service."
"The Institute's Spring Fellows represent the strong impact dedicated practitioners can have throughout politics and public service," said Harvard Institute of Politics Director Maggie Williams. "We look forward to welcoming this accomplished group and are confident they will guide and support our students as they explore the many avenues to political engagement and public service."
Over the course of an academic semester, fellows interact with students, develop and lead weekly study groups and are "afforded many opportunities to participate in the intellectual life of the Harvard community," according to the announcement from Harvard.
Ms. Quinn, a front-runner in the 2013 mayoral race before succumbing to Mr. de Blasio, a political rival and Cambridge, Massachusetts native, most recently aided Gov. Andrew Cuomo's re-election bid. Ms. Quinn served as a key surrogate and helped form the Women's Equality Party, which will now have a place on the ballot for the next four years.
Ms. Quinn is not the only elected official who recently lost a high profile race to join the Institute for Politics. Martha Coakley, the ex-Massachusetts attorney general and failed Senate and gubernatorial candidate, and Kay Hagan, the former North Carolina senator unseated by a Republican last year, are also joining the institute.