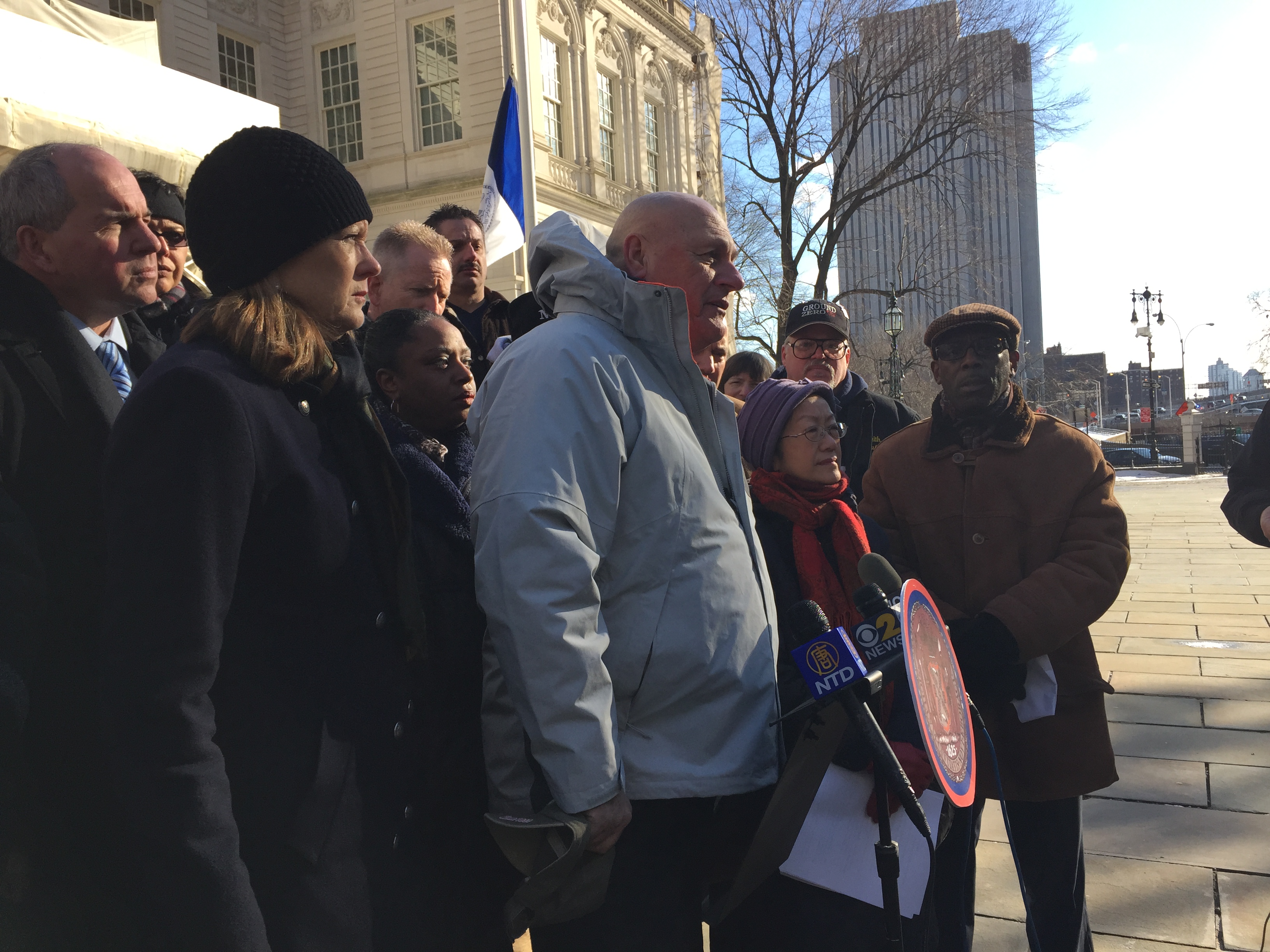 The Police Benevolent Association has not often seen eye-to-eye with the City Council in recent days, but they both called on Congress today to renew the James Zadroga Act, which provides healthcare and benefits for ailing September 11 first responders.
"Both houses of Congress just need to get it done and pass these bills," City Councilwoman Margaret Chin said outside City Hall.
Ms. Chin, along with Councilmen Paul Vallone and I. Daneek Miller, will introduce a resolution calling on Congress to renew the legislation, set to expire in October of this year. Convincing a Republican House and Senate will be an uphill battle, several in attendance said. The legislation was long filibustered by Republicans, but was finally signed in 2011.
"As many people have said, it's going to be a much harder Congress to get this passed through. It's a lift," said PBA legislative coordinator Frank Tramontano. "But we're hoping we can get as many people, especially council members, to come down and help us in this fight."
The union has slammed some council members for passing legislation installing an inspector general for the department, and for wearing shirts bearing the last words of Eric Garner, "I can't breathe," in protest of a grand jury's decision not to indict a cop, Daniel Pantaleo, in the man's death. The union has also feuded with Mayor Bill de Blasio, particularly in the wake of the death of two police officers. But Mr. Tramontano said there was never any thought of skipping the City Hall event due to other differences with City Hall.
"This too shall pass. It's unfortunate, the situation we're in now, but we expect it to get better," Mr. Tramontano said.
The passage of the original bill was one of the most important fights the PBA has taken on, he said.
"I think this mayor realizes the importance of continuing the federal funding of this Zadroga Act. The consequences are if the federal government doesn't do it, does the city pick it up?" he asked. "It's in his interest to go and fight for this."
New York Congresswoman Carolyn Maloney and Senator Kirsten Gillibrand introduced in September legislation to reauthorize the Zadroga Act and extend the World Trade Center Health Program and September 11th Victim Compensation Fund through 2041. Mr. de Blasio appeared at a press conference pushing for the legislation.
Richard Alles, legislative director of the Uniformed Fire Officers Association, agreed it would be an uphill battle to the renew the funding.
"We will however face a significant challenge from a new Congress. We'll have to work together to convince them to do the right thing and renew the healthcare and compensation for our domestic veterans," he said.
Joe Zadroga—the father of the legislation's namesake, James Zadroga—noted his son died nine years on Monday. Without the bill, healthcare for suffering first responders will simply be "too expensive" to access.
"I would hate to see that this bill expires in the next year or so and these people don't get the care that they need. It's very, very important," Mr. Zadroga said.
John Feal, who started the Fealgood Foundation to push for the Zadroga Act, said an organized group of activists would be pushing hard for the legislation in the coming months. Four more first responders died in December, he said.
"Any member of the New York delegation that's not on board? that's gonna change quickly," he said. "Any member of Congress or the Senate across the nation, we're gonna show up at their office."
There is one fewer Republican member of Congress who backs the bill than last year: Michael Grimm, who long supported the legislation, stepped down Monday on what would have been the first day of his third term, following pleading guilty to a felony count of tax evasion.
A spokeswoman for Mr. de Blasio said Congress has a "moral obligation" to renew the legislation.
"With programs due to expire in the coming months, there remains a great imperative to extend this important legislation not only to ensure continuity of care for those enrolled, but also to safeguard that services remain available to future patients whose symptoms may not have yet manifested," Marti Adams said. "No group deserves our gratitude and help more than those who went to Ground Zero in the days and weeks following the September 11 attacks. Congress has a moral obligation to make sure that these heroes and their families get the medical treatment and compensation they deserve."
This story has been updated with comment from Mr. de Blasio's office.