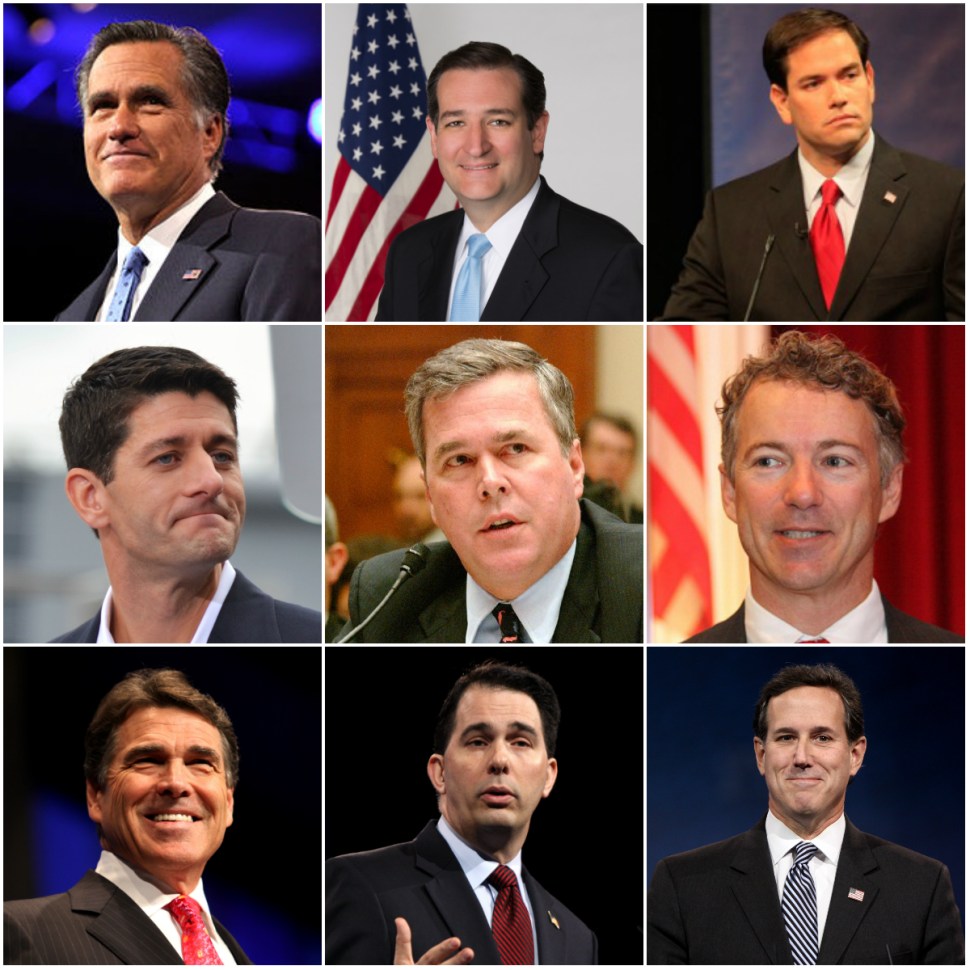 Gov. Chris Christie might have more to worry about than he originally anticipated, should he decide to declare a run for the Republican presidential nomination at the end of this month.
In terms of competition, the moderate incumbent governor from a blue New Jersey could be jumping into a potentially stacked GOP field, with candidates whose political proclivities span the conservative ideological gamut. Nearly a dozen national figures in the Republican party have either publicly expressed interest in a run or are said to be privately mulling one, making any presidential entrant's path to the White House a particularly challenging one.
But Christie especially might face a difficult road, or at least one more difficult than Republican had initially hoped for, especially given the possible entrances of some of his closest — both personally and politically — associates. The latest of those entrances took place over the weekend, when former Massachusetts governor and two-time presidential hopeful Mitt Romney re-opened the door to a 2016 campaign when he told a group of GOP donors privately that he "wants to be president."
Next to former Florida Gov. Jeb Bush, who announced publicly late last year that he was exploring a run for the 2016 nomination, Romney could be one of Christie's toughest opponents. Though, much like his alliance with Bush, he and Romney have maintained a fruitful relationship — Romney very nearly tapped Christie as his Vice President during his 2012 run, while Christie employed Romney's star power during an NJGOP fundraiser/birthday party last year — Romney is also said to be better positioned to launch a campaign than Christie, having maintained ties to major donors and party operatives.
A primary featuring both Bush and Romney could severely complicate a campaign for Christie, who is politically similar but whose connection to establishment donors might come up short next to the two Republican heavyweights, said Matthew Hale, an Associate Professor of Political Science at Seton Hall University.
"Bush, Romney and Christie are essentially going after the same people, the same money, the same sense of where the Republican party ought to be," Hale said. "They're the establishment, mainstream Republicans, and it's a competition to see who can line up as many donors between now and when everybody actually gets in the race."
Hale said Christie — was put through the wringer last week by the national media after he appeared at an all-expenses-paid Cowboys game in Dallas — isn't "doomed" by the growing competition, but that he will have to work that much harder to earn the attention of voters and party leaders. That's true not just in the face of Romney's and Bush's bids, but also given other candidates who might also jump into the race in the coming weeks, like Wisconsin Gov. Scott Walker.
Walker, a rust-belt Republican with broad appeal across the party's base, seemed to score some political points against Christie when he took a swipe at him for nestling up with Cowboys owner Jerry Jones and cheering for a football team many in his own state revile.
"The field is a lot more crowded now than it was before Bridgegate," Hale added.