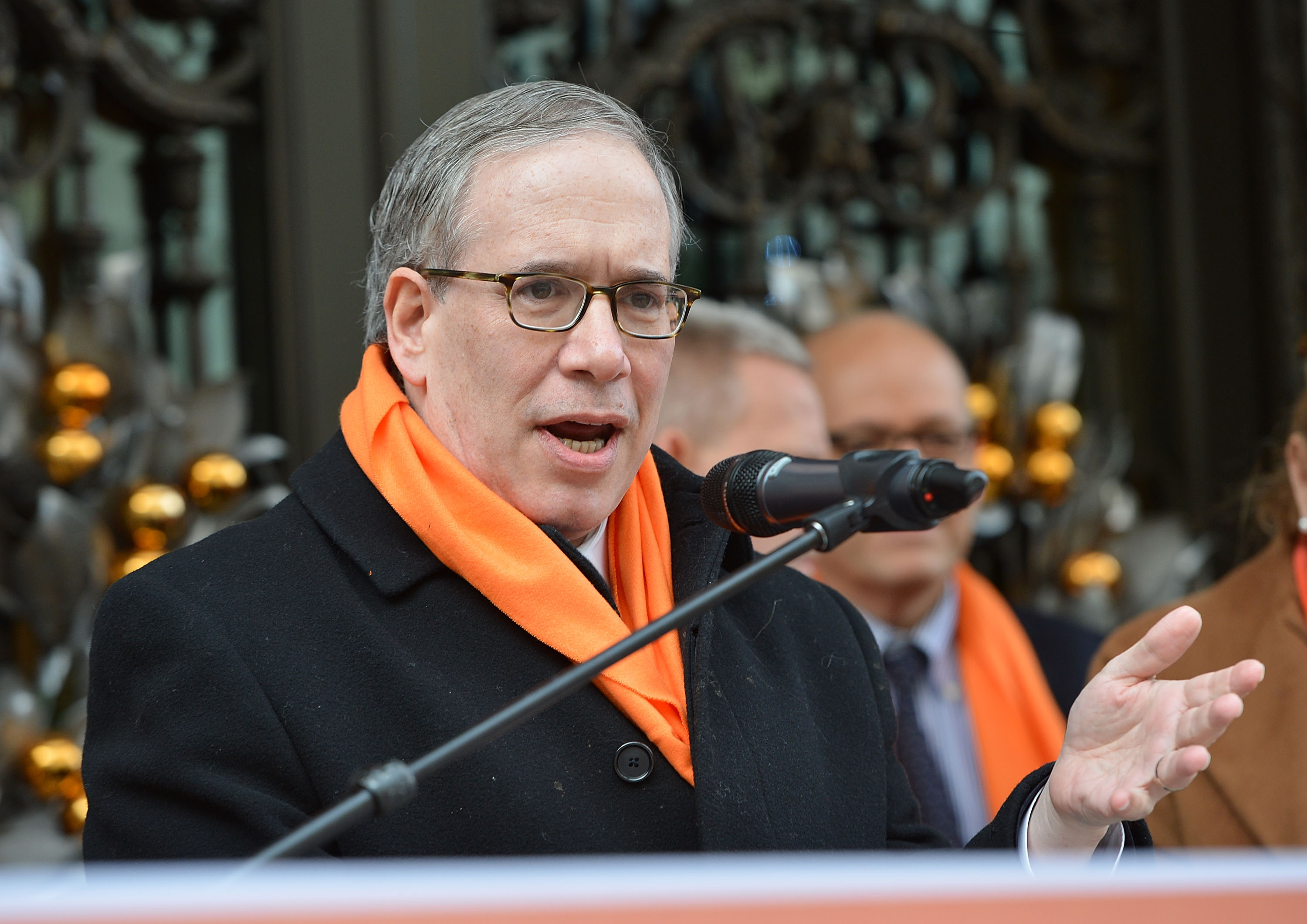 Comptroller Scott Stringer, a former assemblyman who served under Speaker Sheldon Silver, said today Mr. Silver's plan to temporarily cede power to five Assembly members doesn't go far enough.
"I don't think this is a time to step aside. I think this is a time to step down," Mr. Stringer told reporters after delivering a speech to the Association for a Better New York in Manhattan. "Allow a new leader to come forward, a new leader who can fight for the interests of the working people. That's what the Assembly has always been."
Mr. Silver has agreed to temporarily step aside and allow five senior Democrats run the Assembly:  the Daily News reported they would be Majority Leader Joseph Morelle of Rochester, Brooklyn Assemblyman Joseph Lentol, Manhattan Assemblyman Herman Farrell Jr., Queens Assemblywoman Cathleen Nolan and Bronx Assemblyman Carl Heastie.
But Mr. Stringer said there were plenty of people up for the challenge of being speaker, and one of them ought to have the opportunity to lead the chamber.
"I think people would be quite frankly very surprised, including some of the members, how well they will do fighting for our city and bringing the state together," Mr. Stringer said.
Mr. Silver was arrested last week after U.S. Attorney Preet Bharara charged him with of disguising millions in bribes and kickbacks as legitimate income from law firms for whom he did no work. The speaker claimed last week he would be "vindicated," but last night moved to temporarily step aside.
The shakeup comes just as the Assembly is considering the state budget, and the same week New York City officials were slated to visit the capital for budget testimony—something that is likely to be delayed by an impending blizzard. But Mr. Stringer said he did not think the city would have to do all of its negotiating with five members of the Assembly rather than one speaker.
"I think there's a real chance that by the time we testify in Albany, it just seems to me that one strong leader will emerger," he told the Observer. "I'm not gonna comment on who I would like."
Mr. Stringer stopped short of calling for Mr. Silver to resign his Assembly seat, and said it should be up to the body's members whether he could take back the reins if he were cleared of criminal charges.
His remarks came after he delivered a speech to members of ABNY, a business group, at the Westin Grand Central. The speech outlined Mr. Stringer's first year in office—touting audits that uncovered waste in the New York City Housing Authority and city schools, his efforts to bring more transparency and open elections to the boards of major corporations, and his ClaimStat program to track suits against the city.
Mr. Stringer said ClaimStat would be expanded moving forward through a partnership with one of the city's most-sued agency—the NYPD.
"I'm proud to announce that we have launched the first-ever, real time data sharing agreement with the NYPD," Mr. Stringer said.
The department will get claims data through a dedicated portal from the comptroller's office, and front-line attorneys from both offices routinely hold conference calls.
"Where once there were silos, there is no collaboration. Where once there were reams of buried data, there is now a cutting-edge tool for reform," Mr. Stringer said.
Mr. Stringer also rolled out a new "Red Tape Commission," designed to fight back against the idea that "bureaucratic red tape will inevitably tie up businesses." The commission, aimed at making it easier for businesses to access city services, will be led Jessica Lappin, a former councilwoman and president of the Downtown Alliance, and Michael Lambert, with the New York City and Bed-Stuy Business Improvement Districts.
The comptroller also noted that in the past, some agencies have simply ignored the office's recommendations that come with audits. He'd look to change that, he said, with a new "Comptrollers' Audit Assessment Team."
"After an audit is completed, this new unit will go back to agencies and make sure that our most important recommendations—the one's they've agreed to—are being implemented," he said.