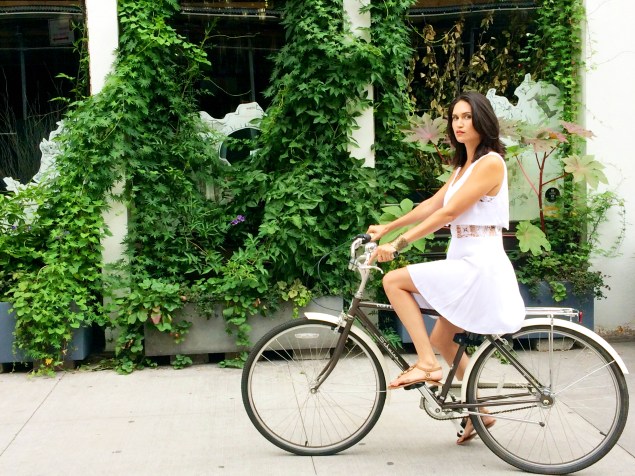 The rack I'd chained my bicycle against three hours before was now bare. I moved closer at a panicked pace, hoping I'd only momentarily forgotten the exact location of my parking space.
"Excuse me, did you see someone take the bike that was here?" I frantically called out to a group of smokers, then a waiter, everyone potentially a suspect or source. A city full of eyes but no one had seen a thing. It was gone.
I hailed a taxi and collapsed in the back seat. The cabbie's concerned look met mine in the rearview mirror. It's just a stupid bike, get it together, I scolded myself, brushing away tears. In 28 years I'd never been stolen from; it unraveled me. I filed a police report immediately.
"Do you think you'll find it?" I asked.
"Doubt it," the officer answered, not bothering to look up from his computer.
"They're probably in a different borough by now and if they're not, well, your bike will probably be unrecognizable by tomorrow," he said.
"What do you mean unrecognizable?" I asked.
He continued typing at impossible speed.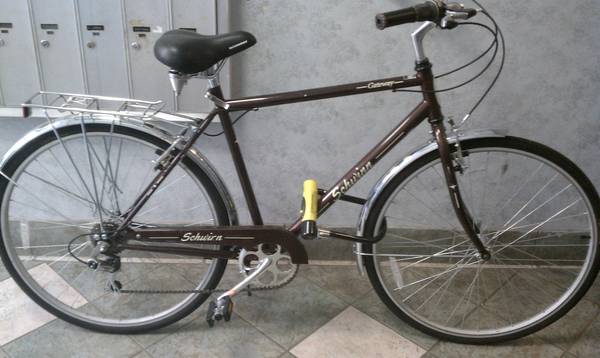 "Bike thieves aren't dumb. They know that you or me or somebody's looking for the bike they've got. You think we don't find them because we're not looking?" he asked, lifting his hands off the keyboard and cocking his eyebrow.
"We look, but they change the tires, or switch the frames or pop on a different seat. I've even seen them spray paint the whole thing. If I were you, I'd go buy myself a Metrocard, because I doubt it'll turn up."
How could I explain that they'd taken more than merely a means of transportation? It was a gift from the man who would become my husband. When we'd met, I was sick, uncomfortably weak and alarmingly thin. It was cancer. It was early. I hadn't yet told anyone. I wasn't ready to say the words out loud, to make it real. When this blue-eyed stranger asked me to take a walk with him, I let all of my secrets out. I thought he'd shy away, but he stayed. Then I did something I'd never done before: I let someone take care of me.
Three weeks into our too-fast romance, he suggested we head to a bike shop and pick one out together. I was hesitant but fast fell for a brown and tan vintage-style Schwinn, a tattered wicker basket on the back. I didn't realize then, when I'd chosen it from the lineup, that what he was giving me was a goal.
For many weeks that bike remained in the basement, untouched. Soon, I became determined to ride across the Brooklyn Bridge. At first I shakily pedaled home after only a few blocks. Then I steadily raced. That bicycle witnessed a shared life: the hospital visits and moving trucks, our marriage and the birth of our child. When we rode together, I'd sometimes fall behind, breathless, but occasionally he was the one who'd have to catch up.
I needed to get it back. I called 27 cycle stores, leaving my phone number. Then I tweeted, "I hope whoever stole my bike gets hit by a cab! #Justice." Wild-eyed and hopeful, I scrolled through thumbnails of cruisers on Craigslist; none were mine. I set 12 Google alerts to continue searching while I slept.
Eight days into my hunt, my phone sprung to life, buzzing incessantly. Google informed me that a Schwinn Coffee- Like New, 300$ was listed under Craigslist Antiques. The description was brief: Rides great and we'll throw in a lock for free. I almost deleted the notification when I saw the photo. Yes it was a Schwinn but not identical to mine. Just before I closed the screen I remembered the cop telling me that minor modifications threw seekers off of their scent.
I hastily texted the number shown, trying to play it cool. When can I come see it? I sent. My heart hammered away while I waited for a response. "OK, call my girlfriend, she can meet up today."
Three deep breaths later, she was on the line. Juliette. Her Puerto Rican accent was thick. My own Colombian accent was veiled under a working-class childhood in Miami. She slowly spelled out the address; we'd meet in Washington Heights in one hour.
As I crossed a street bare of trees and dotted with curbside furniture, I saw the handlebars first. The bike leaned against a fence. Juliette stood next to it. I was relieved she'd come alone.
"Jessica?" She asked, sliding her flip-phone into the pocket of frayed jean shorts.
"Nice to meet you," I lied, not taking my eyes off the bike, scanning it for differences.
Her smile was lopsided, but sincere. She seemed small, no older than 18, I guessed.
"It's gorgeous," I said. "Where did you find, I mean buy it?"
She looked past me, popping chewing gum against her teeth.
"Oh, my grandmother gave it to me." Now her turn to be a liar.
I moved closer as she spoke, running my hand over the frame, making certain the serial numbers matched.
"You wanna ride?" she offered. I considered speeding off but craved confrontation.
"No. I don't need to ride it because this is my bike. You stole it," I blurted out, my arms crossed.
The keys that'd been dangling from her pinky went straight into her pocket, her head viciously shaking no.
"No, it's mine. My grandmother—"
I cut her off, gripping onto the frame.
"The front tire is missing a hub, it popped off somewhere between the Seaport and Union Square last week. Oh and the basket clasp is broken on the left side," I said, lifting it upside down to show her.
She went silent and turned away.
"This is mine. The only reason I came here is to get it back," I said, glaring.
Worried, she began backing away. I rushed past her and sat on the steps, blocking the entrance to her building.
"Juliette, when you took that, you weren't stealing from a metal rack, you were stealing from me, a person with a face and a story and its important to me that you know that," I said feeling uncomfortable. My voice softened and I switched our conversation to Spanish.
---

She sat down next to me. Hesitantly I shared with her the history written in those chains and spokes. I confessed everything that'd happened in those last four years and how it had changed me.

---
She sat down next to me. Hesitantly I shared with her the history written in those chains and spokes. I confessed everything that'd happened in those last four years and how it had changed me. My nostalgia was not weakness but still, I struggled to hold back tears when I told her about my son and then my divorce.
She said nothing. Raindrops rapidly tapped against the leather bike seat. I stood up and told her again that I was taking it back.
Wordlessly, she dug out the keys. We walked together to the gate.
Her voice lowered, "I just want to say I'm sorry," she said.
I watched her as she unlocked it, her thin fingers trembling.
"Juliette, can I ask why you did it?" I asked.
"I didn't! My boyfriend did," she said and started to cry, softly until soon her whole body shook.
"Two months ago I found out I was pregnant," she said, "I don't want it, but he does, so we're keeping it."
She told me they'd argued every night for the past two months about where they'd get money, how they'd save it. They were nesting, preparing, panicking.
"What about your family?" I asked, "Can't they help?
"My mom went to the grocery store when I was 4 and never came back."
The drops fell down faster, fuller. I wanted to hug her but she was a stranger, so I held back.
"Here, take this," she handed me a key.
Before I could convince myself to stop I'd already tapped out the kickstand and dug into my purse. I counted out all of the cash I had, $280.
"No, I can't take this," she insisted.
I pushed the bills toward her. "I'm not paying for what you took. This money is for your baby. For you." She refused, her dark eyes unblinking. "Sometimes it's O.K. to let someone help you," I told her.
She tightly closed her fist and hugged me. We had nothing left to say.
I arrived home, drenched but grateful. I wove the lock through the wheels, studying every inch of that bike—the scratches, dents and dirty streaks. It had always been a reminder of survival, of undeserved kindness. Now for the first time, I saw it for exactly what it was: something to get me from where I'd been to where I was going next. 
Jessica Ciencin Henriquez is a writer living in New York City and is currently working on her first novel. You can follow her at @TheWriterJess