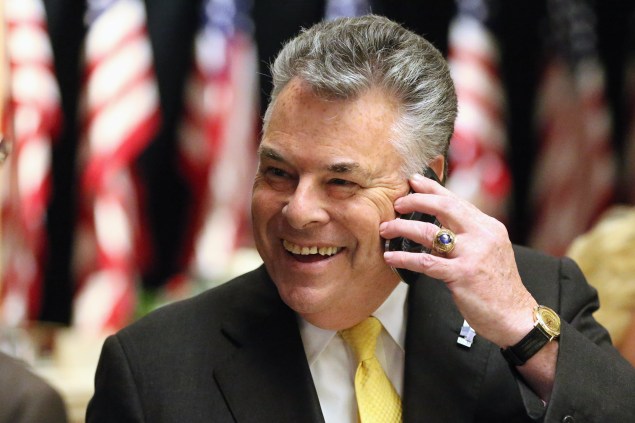 A Republican congressman argued today that two dangerous hostage situations in France show why surveillance of Muslim communities in New York is necessary.
Congressman Peter King, a Long Island lawmaker and former chair of the House Committee on Homeland Security, said the fatal attacks on Charlie Hebdo, a satirical French magazine, coupled with today's hostage siege were yet more evidence for why local Muslims need to be aggressively watched by police.
Mr. King, speaking with Geraldo Rivera on WABC, said the NYPD has "been demoralized in recent years by the New York Times, the Associated Press and lawsuits basically saying the surveillance they were doing into these Muslim communities is illegal, it's unconstitutional."
"I certainly believe it was not and it's been one of the reasons why we've been able to hold off any major attacks in New York," he added.
While critics of the NYPD's Muslim surveillance program argued it amounted to unnecessary racial profiling, Mr. King, a longtime proponent of the program, said it was "important."
"I'm not talking about illegal wiretapping or breaking into people's homes but to have sources in the community, to know who's who, to know somebody new has moved in that has a pro-terrorist background or whether or not his people in the local mosque who are being incendiary–they should be watched," he said.
French security services confronted two hostage situations, one outside Paris involving the two suspects in Wednesday's attack on Charlie Hebdo, and another that suddenly erupted today at a kosher supermarket on the eastern edge of Paris. At least two people have been killed in the assault on a kosher supermarket, according to reports.
One of the two brothers suspected of killing 12 people, including two police officers, in the Charlie Hebdo attack was trained by an Al Qaeda affiliate, according to reports. Both brothers were suspected for years to have terrorist links.
Mr. King said he believed the NYPD would be able to respond to potential terrorist threats here, even as police unions war with Mayor Bill de Blasio's City Hall.
"The NYPD, they are the best. There's nobody in the country or the world who I think is better at monitoring and responding," Mr. King said. "Now, they've had a rough time over the last few years, because of whether it's the media or whether it's Mayor Bill de Blasio and his campaign or they're talking about how this is profiling and how terrible is–the fact is this has worked."