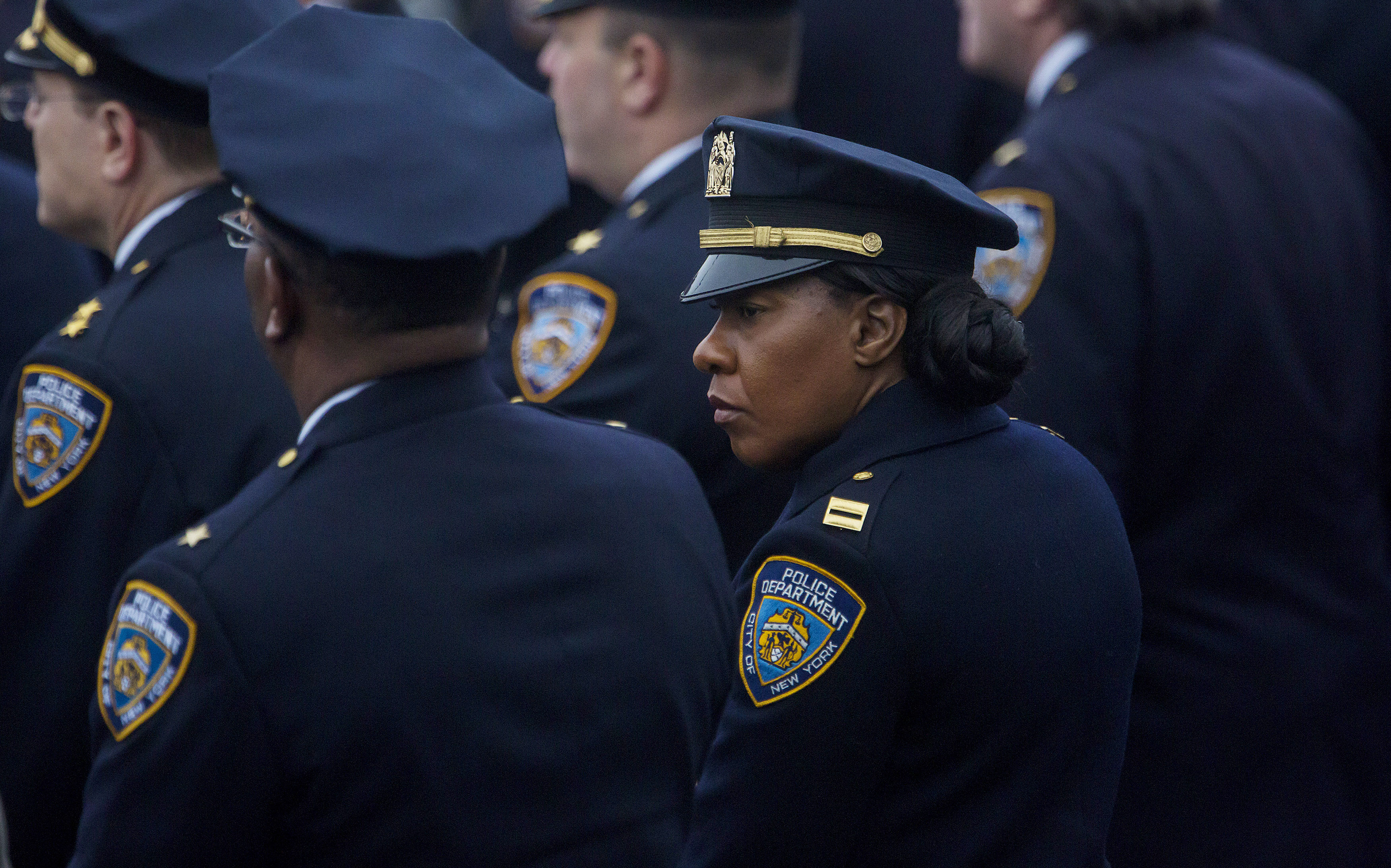 Hundreds of police officers gathered in Brooklyn for the funeral of murdered NYPD officer Wenjian Liu again turned their backs to Mayor Bill de Blasio as he spoke this afternoon
In a repeat performance of last week's burial service for Liu's partner, Rafael Ramos—both of them shot in their patrol car days before Christmas by suicidal gunman Ismayil Brinsley—a large contingent of the thousands-strong crowd of cops from across the country pointedly pivoted away from Mr. de Blasio when he gave his eulogy for Liu. The move came despite calls from Commissioner Bill Bratton and elected leaders for officers to avoid politicizing the event, though Patrolmen's Benevolent Association President Pat Lynch defended the act.
The mayor's speech focused almost entirely on praising Liu personally, recalling his background as an immigrant from China, his decision to become a police officer following the 9/11 attacks, his devotion to his family, his dedication to his job and co-workers and his affection for simple habits like fishing. He referred to the deceased by the rank the department conferred upon him posthumously, detective.
"Detective Wenjian Liu was a good man, who walked a path of courage, a path of sacrifice, a path of kindness. It was who he was," Mr. de Blasio said from the podium of Aievoli Funeral Home in the neighborhood of Dyker Heights, his voice and image projected outside with speakers and a video screen. "And he was taken from us much too soon."
However, he ended with an allusion to the ongoing racial strife and controversy over policing.
"New York has been, from its earliest days, the most tolerant of cities, filled with people of diverse backgrounds and races and creeds that live together in harmony. There have always been times when that harmony has been challenged. And the last few weeks have been one of those times," he said. "As we start a new year, a year that we are entering with hearts that are better than heavy, from the loss of Detective Liu and the loss of Detective Ramos, let us re-dedicate ourselves to those great New York traditions."
"Let us work together to attain peace," he concluded.
Mr. de Blasio has come under increasing criticism over the past year from police unions and their supporters for his closeness to Rev. Al Sharpton and open sympathy for the protests that have wracked the city since grand juries failed to indict Ferguson, Mo. cop Darren Wilson and NYPD Officer Daniel Pantaleo in the respective killings of black civilians Michael Brown and Eric Garner. Brinsley explicitly stated on his Instagram account that he was seeking to "put wings on pigs" in revenge for the deaths of Garner and Brown.
Liu's family thanked Mr. de Blasio, the police and other elected leaders for their support, and emotionally recalled the fallen officer's warmth and kindness.
"Today is the saddest day of my life," Liu's weeping father, Wei Tang Liu, said through a translator. "When I was sick, he took me to the doctor right away. When I was working in a garment factory, he came to help me until I finished all of my work. He called me every day after work to let me know he was safe and to tell me 'Dad, I'm coming home, you can stop worrying now.'"
Liu's widow, Pei Xia Chen—whom he had only married in October of last year—also took the podium in tears over the loss of her husband. She also thanked the officers who turned 65th Street in Brooklyn into a river of blue running from the funeral home on 13th Avenue all the way to 18th Avenue.
"I would like to thank each and every one of you for attending Wenjian's service today, to honor the memory and to pay respect to the life of my husband, Wenjian Liu," she said. "I thank you for sharing this moment with me, with us, with our family to reflect the goodness of his soul and the wonderful man that he is."
Mr. Lynch defended the decision of officers to face away from the mayor as he spoke.
"It was an organic gesture that started on the streets and deserves to be respected," he told reporters shortly after the ceremony.
The many politicians in attendance, however, argued the funeral was not the place for such a gesture.
"Inappropriate, absolutely inappropriate, at a forum like this," said Councilman Vincent Gentile, a Democrat with ties to both Mr. de Blasio and the PBA, and in whose district the funeral home sits. "There are issues that need to be resolved, but they shouldn't be resolved here, at the funeral for Officer Liu."
Congressman Joseph Crowley of Queens suggested that turning backs on the mayor drew attention away from those hurting.
"Right now, the focus ought to be on the families, and the sacrifices that were made by Officers Liu and Ramos," said Mr. Crowley, noting that his father and grandfather were both NYPD officers.
But Long Island Republican Congressman Peter King, also the son of a police officer whose district is home to many cops, was more sympathetic toward such an action when speaking to reporters prior to the service.
"I would hope they won't, but I can't be critical of them if they do," Mr. King said, expressing sympathy for the officers' anger toward the mayor. "He has to understand that the police aren't an occupying force."