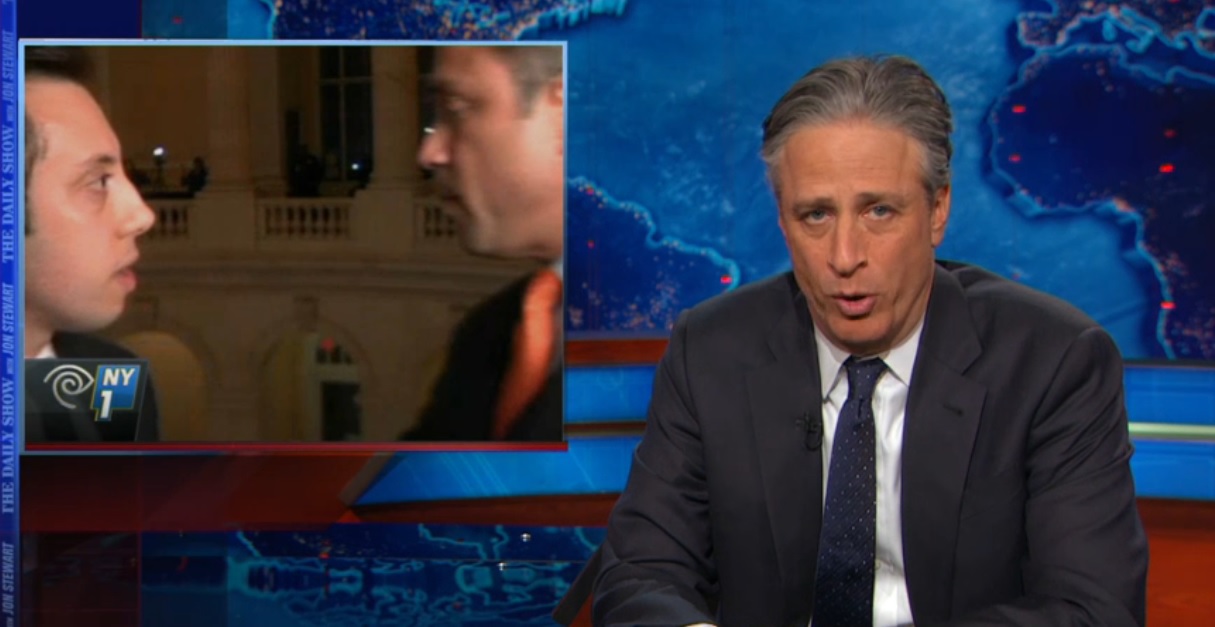 The Daily Show last night ripped into former Congressman Michael Grimm's resignation, while also mocking his possible successor in Staten Island District Attorney Daniel Donovan.
Host Jon Stewart opened his show by noting that elected officials from across the country have returned to Capitol Hill, with the notable exception of one Republican—Mr. Grimm.
"The 114th Congress is now officially in session. One hundred Senators, 435 congress people, set to do the nation's business," Mr. Stewart said, before cutting to several news clips of Mr. Grimm pleading guilty last month to a $1 million federal tax evasion charge.
Mr. Stewart responded to a CNN anchor who quoted Mr. Grimm as saying he was stepping down because he could not "continue to be 100 percent effective."
"Because he will be in jail," said Mr. Stewart, to laughter and applause.
"It's sad that being jail, he has still has to think like, 'I could still do this, right? I could be like 92, 93 percent congress person from jail, I mean how hard is it?'" he continued, mocking Mr. Grimm's New York accent.
The Comedy Central host then recalled Mr. Grimm's outburst at NY1 reporter Michael Scotto after last year's State of the Union address, when the Republican pol threatened to hurl Mr. Scotto off the balcony of House of Representatives' rotunda and "Break you in half. Like a boy" in response to a question.
"I'm going to miss you sweet, boy-breaking prince," said Mr. Stewart.
Mr. Stewart then played a clip of Mr. Grimm copping to his crime, but noting that "a lot of people do it."
"What kind of apology is that?" said Mr. Stewart, again impersonating the former congressman. "But everybody does it. Look, don't tell me you don't do it. You do it, you pay people off the books. Who doesn't commit a little tax fraud, you know! But I'm taking the fall for it you sons of bitches."
Mr. Stewart attacked Mr. Grimm's claim that the federal charge was the result of his paying delivery boys in cash.
"By the way, ex-congressman, your Healthalicious establishment defrauded the government on taxes on nearly a million dollars of unreported revenue and wages. So don't act like that's explained by a couple off the books delivery boys," Mr. Stewart said, launching into an extended gag with a calculator. "Michael Grimm's Healthalicious restaurant was apparently employing 107 full-time delivery boys. Where did they keep the bicycles?"
Mr. Stewart cut to Jason Jones, the show's "Senior Basically-In-Jersey Correspondent," who appeared against a backdrop of the Staten Island ferry terminal, and asked him about candidates running to replace Mr. Grimm.
"Well, a lot of candidates are lining up Jon," Mr. Jones said, before showing several photos of the same man posing in a sleeveless undershirt. "You got Joey Bag-a-donuts, you have your Joey-from-down-the-fucking-block, you got Joey-from-around-the-corner, and Joey-from-right-down-the-fucking-stairs. Also, we have a used washer-dryer."
"But of course the front-runner is Staten Island District Attorney Dan Donovan," Mr. Jones added.
Mr. Stewart appeared aghast at the suggestion that the D.A. who did not win an indictment of a white NYPD officer in the death of Eric Garner, a black man placed in a chokehold last July.
"Are you—the prosecutor who couldn't or wouldn't get the grand jury to indict the cop who choked out Eric Garner, are you—ah, I get it, it's a joke, like the washer-dryer thing. Very droll, Jason," he said.
Both men broke out laughing .
"Yeah, it's no joke. They're actually going to elect Dan Donovan," Mr. Jones said abruptly. "And guess what? This new election is going to cost a million dollars. Or the average amount of money you can launder through your Healthalicious franchise."
Watch the full video below:
[protected-iframe id="5b9a0de3e72d054376b11166ec78036e-35584880-66645959″ info="http://media.mtvnservices.com/embed/mgid:arc:video:thedailyshow.com:31ac08d8-c776-4a30-85d5-d3a98e497ae2″ ]