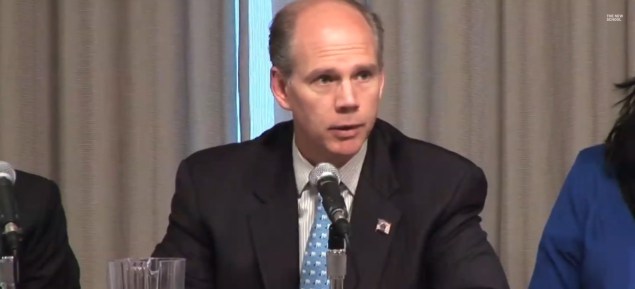 Staten Island District Attorney Daniel Donovan, the Republican prosecutor who rose to prominence for his role in not securing an indictment in the Eric Garner case, will announce his campaign for Congress this afternoon, sources say.
Mr. Donovan will be running to replace former Congressman Michael Grimm. The former FBI agent resigned this week after pleading guilty to a single felony tax evasion charge.
The announcement comes as little surprise. The Staten Island GOP establishment recruited Mr. Donovan to run and the prosecutor previously said he was considering a bid. The executive committee for the Staten Island GOP will meet tomorrow to endorse Mr. Donovan, sources say.
But national Republicans are reportedly wary of Mr. Donovan because of his role in the Garner case. Garner, a black Staten Island man, died in police custody last July after he was placed in a chokehold, a prohibited maneuver. Garner's death and Mr. Donovan's failure to indict any police officers sparked nationwide protests.
Staten Island Assemblywoman Nicole Malliotakis is also trying to secure the party's support. On the Democratic side, potential candidates include former Congressman Michael McMahon, Assemblyman Michael Cusick, Councilman Vincent Gentile and Assemblyman William Colton.
Since Mr. Grimm resigned, a special election will need to be called to replace him and the borough's GOP and Democratic organizations will each nominate a candidate to run. Gov. Andrew Cuomo has yet to set a date for the special election.
The 11th Congressional District, the most conservative in New York City, spans all of Staten Island and parts of southern Brooklyn.
Mr. Donovan confirmed this evening that he will be seeking the seat, saying that he has only gotten more and more encouragement to run.
"In the week since my last announcement the enthusiasm for my candidacy has only broadened and intensified, with expressions of support also from beyond the two boroughs," he said in a statement.
Updated to include comment from Mr. Donovan.