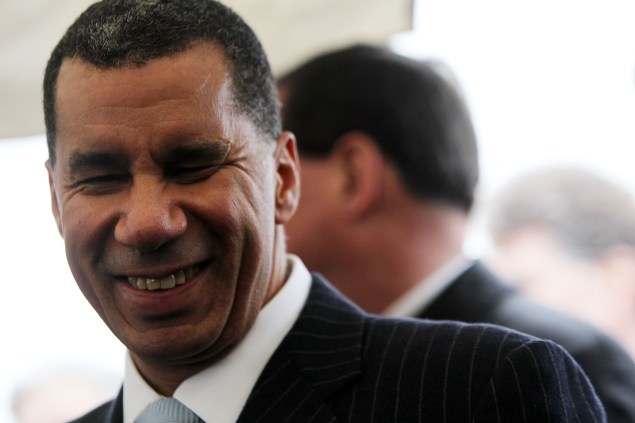 Former Gov. David Paterson—current chairman of the state Democratic Party—defended arrested Assembly Speaker Sheldon Silver on the air today, and questioned whether the charges against him had anything to do with Gov. Andrew Cuomo's short-lived anti-corruption Moreland Commission.
Talking to Geraldo Rivera on 77 WABC Radio, Mr. Paterson suggested that there is little unusual about what Mr. Silver stands accused of: receiving kickbacks from for referring cases to two different law firms. The former governor pointed out that financial disclosure laws for state officials are notoriously porous.
"When I first heard the story I didn't understand it, because a person who fails to report any type of income that they receive, that could be kind of ministerial, so I didn't understand how that could manifest itself into a criminal complaint," he said.
He went on to say that payments for referrals are common.
"They are accusing him of using his position to perhaps enhance the portfolio of this law firm," Mr. Paterson said. "Somebody comes to you and says 'listen, I need you to do something for me, and you say 'well, who's your lobbyist?' 'Well, I don't have a lobbyist.' 'Well, I suggest you take this lobbyist.' Well, that would be basically what they are accusing him of."
In one case, Mr. Silver is accused of referring  landlords with business before the state to a real estate law firm run by a former employee. In another, Mr. Silver is accused of asking a doctor, to whom he steered $500,000 in state health research funds, to refer asbestos cases to a Weitz & Luxemberg, a firm where Mr. Silver was "of counsel" and for which he received referral fees
"People earn money all the time and don't do any work. They refer business to other law firms," Mr. Paterson continued. "I'm saying that in the legal profession, people refer business all the time. And theoretically, as a Speaker, you could do that as well."
Mr. Paterson added that, seen that way, the charges against the Democratic leader are quite innocuous.
"Almost like a judge who would pick the lawyers who are going to be in the case, that's what they're accusing him of," he said, defending the longtime legislator's record. "He's been there 38 years, he's served with distinction, there's plenty of reason to think he didn't do it."
He did, however, also acknowledge the past successes of U.S. Attorney Preet Bharara—who has brought charges against a number of Albany officials besides Mr. Bharara.
"Preet Bharara has been a very successful United States attorney and prosecutor who seems to know when to bring charges and when not to, so this is something we'll have to see how it goes," Mr. Paterson said.
The Democrat brushed off suggestions that the charges might be the result of information Mr. Bharara's office gleaned from the records of the Moreland Commission, which Mr. Cuomo shut down last year after just 18 months, allegedly after blocking it from investigating his own political allies. Mr. Paterson noted that the New York Times broke both the story of Mr. Silver's arrest, and of Mr. Bharara's investigation into Mr. Cuomo's actions, and suggested the paper was trying to promote its own work by drawing a connection between the two.
"Just because two things happen doesn't mean they're connected. And that's something we'll find out down the road," he said.
The complaint against Mr. Silver makes repeated mention of the Moreland Commission, with investigators saying some evidence was gathered from the commission's documents. The complaint also notes Mr. Silver's attempts to quash subpoenas from the commission that sought to gather information and his outside income and that of other legislators. It also notes Mr. Silver was a key negotiator in getting Gov. Andrew Cuomo to shut down the commission in exchange for promises to change some aspects of campaign finance reporting.
Mr. Silver and Mr. Paterson have a complex history, as Mr. Silver at times seemed the only capable leading figure in the state government during Mr. Paterson's scandal-plagued tenure. The Speaker defended the former governor when he faced national pressure to leave office in 2010.