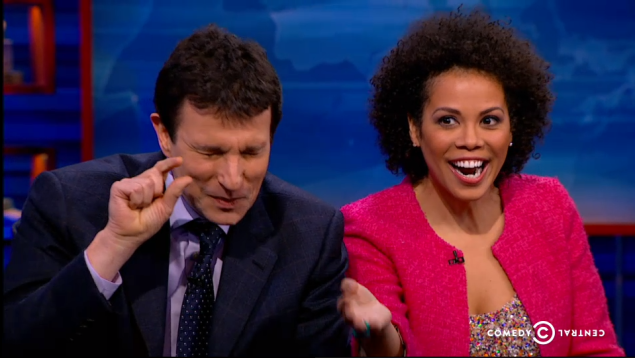 New Yorker editor David Remnick got real about Barack Obama last night on Larry Wilmore's The Nightly Show, which debuted in Stephen Colbert's recently vacated Comedy Central time slot on Monday. Mr. Remnick, who extensively interviewed the president for his book The Bridge: The Life and Rise of Barack Obama, was one of four panelists on a segment discussing 'The State of Obama' in light of Tuesdays State of the Union.
"In all your interviews with Obama, did you ever have a moment where you thought 'this guy is an asshole,'" Mr. Wilmore asked the New Yorker editor during the "Keep It 100" segment, where the host asks each panel guest a question tailored for them and rewards them for telling the truth. Mr. Remnick made the 'little bit' motion with his hand, earning him a token for his honesty.
"When he told me about ISIS, that, you know, just because you have a Laker jersey doesn't mean you are Kobe Bryant. I wouldn't say that was an asshole moment, but it was disingenuous at the highest degree," he elaborated.
"I love that you told me the moment he was an asshole," Mr. Wilmore said, handing Mr. Remnick second badge. Why settle for 100? The editor of The New Yorker kept it 200.