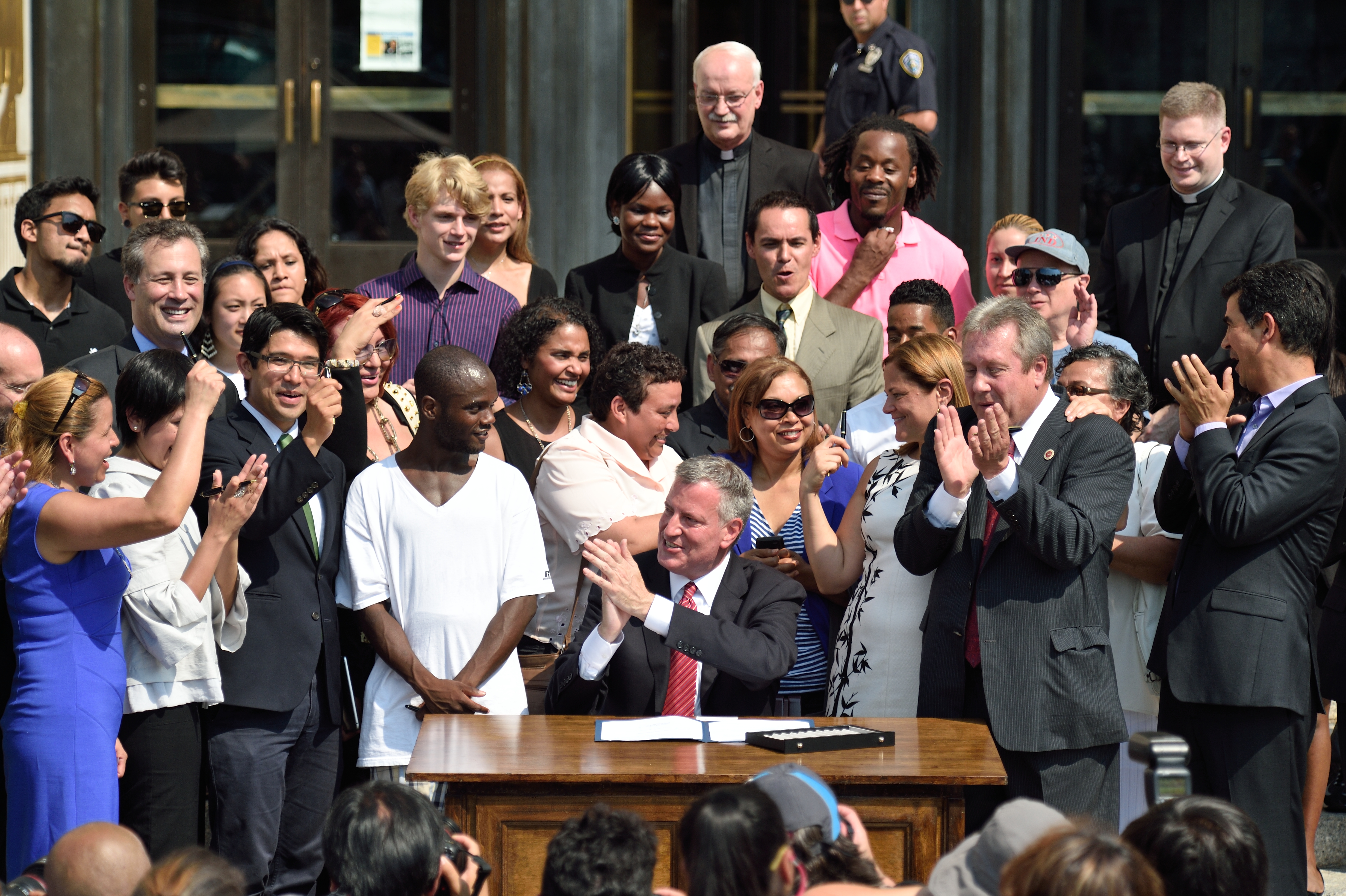 Mayor Bill de Blasio and Los Angeles Mayor Eric Garcetti are taking their support of President Barack Obama's immigration executive order to court.
They announced in Washington D.C. today plans by more than 30 mayors nationwide to file an amicus brief in the Texas vs. United States lawsuit, brought by Republican lawmakers opposed to Mr. Obama's executive order on immigration reform. The order, which many Republicans have insisted is illegal or overreaching, will protect more than 4 million undocumented immigrants from deportation.
The mayors were in the nation's capital for the United States Conference of Mayors Plenary Panel, and in remarks during the conference, Mr. de Blasio praised the president for putting for the immigration reform order, calling it a policy that is "transcendent" for cities.
"I think there's a broad sense among mayors all over this country—again, all regions, all parties—because in our cities, we see the emerging America. And we see the impact of immigration, both from those who are documented and those who are undocumented, and we understand the need for comprehensive immigration reform. We live it," Mr. de Blasio said, according to a transcript provided by his office. "We know what it would mean for people who we see every day in our cities. The president, in the absence of congressional action, I think has done exactly the right thing with a forceful executive action."
And it's key for mayors to support the president's decision, Mr. de Blasio said.
"This is one of those moments to be – to stand to be counted," he said.
One way to do that is in the courtroom, he said.
We think it is crucial that when the administration is trying to help us address these core issues, and they "come under attack, that mayors stand up and say, no, in fact, the executive action will help our people and we think it's crucial to move forward," he said.
The mayors signing on to the brief in support of Mr. Obama's order represent about 28.2 million people— 7.5 million of them immigrants, according to Mr. de Blasio's office.
"Our cities cannot afford delays to immigration reforms that will strengthen our economy and help families," Mr.  Garcetti said. "This isn't a blue or red issue, but a human and economic one."
The suit was filed in Brownsville, Texas, and the aim of the amicus—or "friend of the court"—brief is to demonstrate support for the president's case in court. The brief will point out the benefits of the order to cities, including work authorization for immigrants, increasing local tax revenue, stimulating economies, and keep families together, according to Mr. de Blasio's office.
The suit was brought by 25 states led by Republican governors in a Texas federal court in December. Twelve states and Washington, D.C., responded in January with am amicus brief challenging the lawsuit.
In the absence of federal action, Mr. de Blasio has sought to take local strides on immigration reform—rolling out municipal IDs available to undocumented immigrants and ending cooperation with federal immigration detainers.