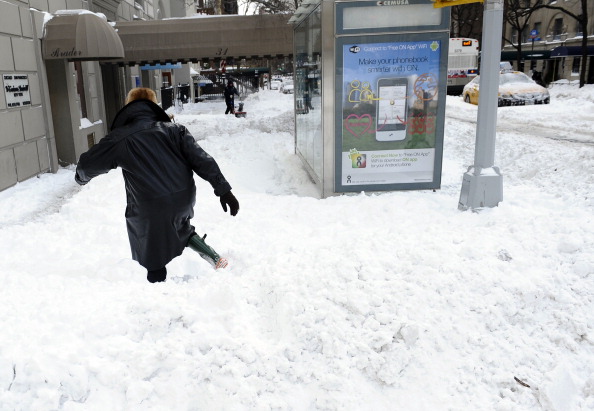 Mayor Bill de Blasio responded to criticism of his decision to shut down city streets in advance of an ultimately underwhelming snowstorm by recalling what many viewed as the Bloomberg administration's insufficient preparations for the post-Christmas blizzard in 2010 and Hurricane Sandy in 2012.
The mayor noted that most meteorologists had predicted the winter storm would hit New York City far harder than it did, and that the storm had struck parts of Long Island with tremendous force.
"We had to take the worst case scenario and project that early and often to the people so they could make the right decisions, and form guidelines. And the travel ban was part of that," he said. "I think the city needs to do that. I'm not sure in the history of the city we always did that clear enough and well enough."
One such case, he asserted, was the 2010 winter storm—which hit while Mr. Bloomberg was at his home in Bermuda, and which left many streets in the outer boroughs uncleared for days.
"That was a case where the city was not prepared. It substantially underestimated the danger and did not give people clear messages in time. And I think that is exactly the kind of situation we want to look at," Mr. de Blasio said.
He also pointed to the failure of the city to fully impress upon residents of waterfront neighborhoods the dangers presented by Hurricane Sandy. This, he suggested—coupled with the relatively soft landing of Hurricane Irene in 2011, despite forecasts of a huge and destructive storm—led many people to underestimate the ultimately deadly storm and fail to evacuate.
"I was all over the city then as Public Advocate. And it was very very striking that there was something of a gap in terms of people's consciousness. I don't think it was entirely because of Irene, I think people had a hard time imagining something of the scale of a Sandy," he told the Observer.
"I guarantee you, if we ever get to the point in any crisis where we say the word 'evacuate,' it's going to be very forceful, it's going to be constantly reiterated, we're going to put a lot of muscle into that. So it's about sending a very clear message up and down the line," he continued.
The mayor did not mention what was seen as his own poor preparation and response to last year's series of snowstorms. He said yesterday, however, that he had learned to better coordinate his agencies and take prophylactic measures like repairing potholes and pre-salting the streets.
"My job as a leader is to make decisions, and I will always err on the side of safety and caution," he said. "We got lucky."