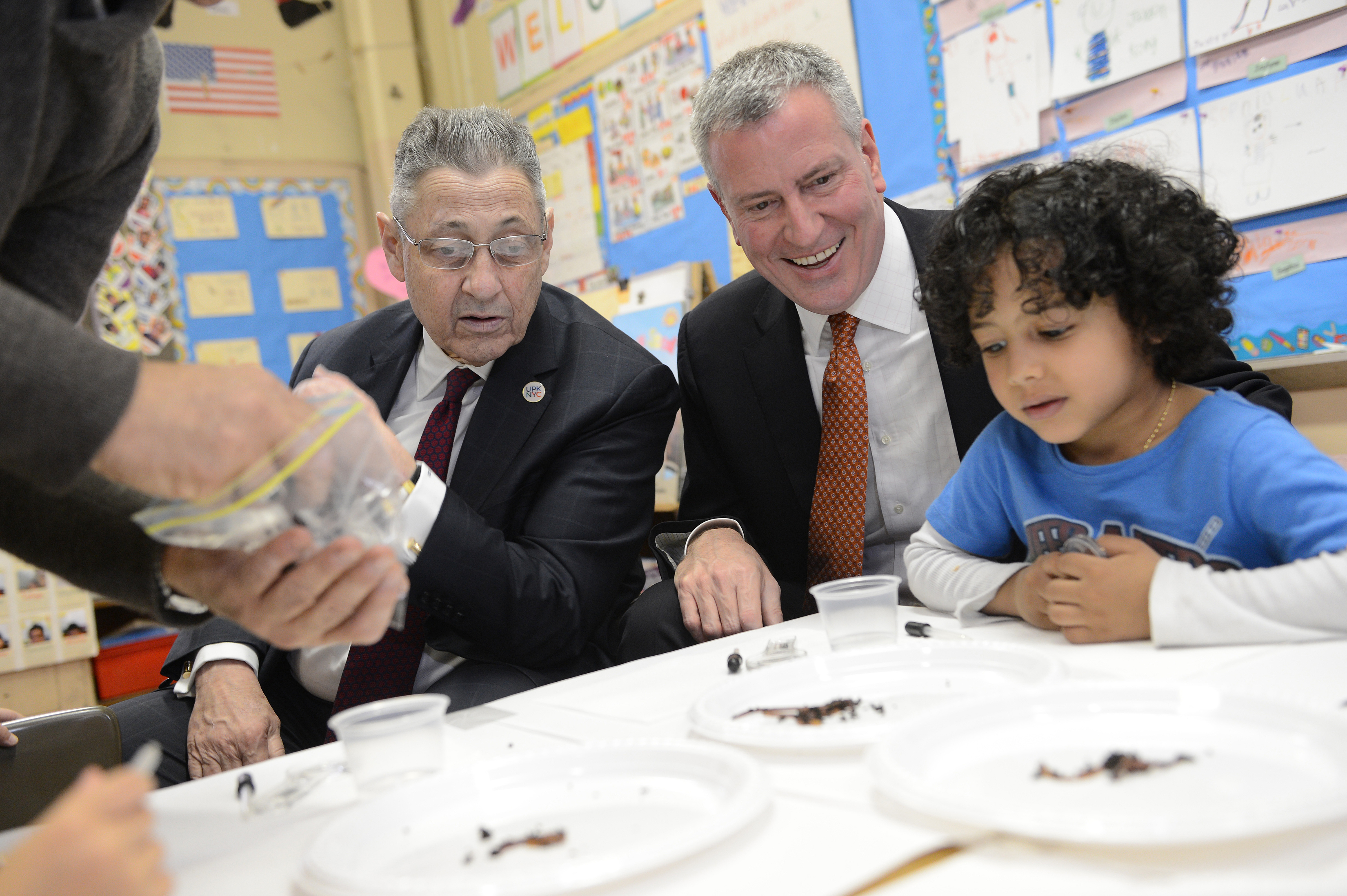 Unlike many of his fellow Democrats, Mayor Bill de Blasio won't call on Speaker Sheldon Silver to resign his leadership post—but if somebody else does take over, he'd like it to be a New York City lawmaker.
"I think it is crucially important to New York City to have leadership in the Assembly that wants to be fair to New York City, and let's be clear—we often don't get our fair share from state government," Mr. de Blasio told the Observer while taking questions from reporters at City Hall.
Mr. Silver was hit with criminal charges last week alleging he disguised millions of dollars of bribes as legitimate income. Since then, several prominent Democratic lawmakers have called on Mr. Silver to step down as speaker.
Mr. de Blasio, who has called Mr. Silver a "man of integrity", would not join them, nor would he weigh in on what Albany lawmakers should do as they huddle privately to determine the chamber's future. A plan for Mr. Silver to step back and let five lawmakers run the chamber while he kept his title seems to have been shot down.
Mr. Silver remains the speaker, but that could be short-lived as members begin jockeying to replace him. Bronx Assemblyman Carl Heastie has emerged as a front-runner, but Mr. de Blasio declined to comment on him.
In the event Mr. Silver is replaced, the mayor said it should be by someone with New York City's interests at heart. He pointed to the Campaign for Fiscal Equity lawsuit and the "billions and billions of dollars" in education funding the city has been shorted on by the state.
"I think historically, the Assembly leadership has tried to defend the valid interests of New York City and it's very important that that continue," Mr. de Blasio said.
For most of the last 40 years, the top position in the Assembly has been held by a city lawmaker, and many city politicos view it as more important now considering suburban Republican rule of the State Senate. Several local elected officials and organizations—including Bronx Borough President Ruben Diaz Jr. and the Brooklyn Democratic Party—have called for the next speaker to be a New York City lawmaker.
Pressed on whether it mattered to him that the lawmaker not only understood New York City, but also lives here and represents the city, Mr. de Blasio said it would certainly help.
"It matters in the sense that it would be hard to believe, given how unfair the dynamics have often been to New York City, that someone from outside would change that in a substantial way," Mr. de Blasio told the Observer. "I think it's been tough enough to get our fair share even with a speaker from New York City, so one can imagine that someone from outside—with someone from outside it might be even harder."
Public Advocate Letitia James and Comptroller Scott Stringer have both called for Mr. Silver to step down, as has Harlem Assemblyman Keith Wright, another possible contender for the speaker's post.