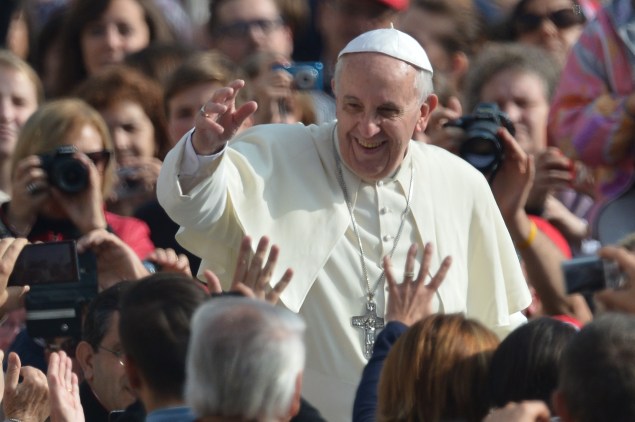 Mayor Bill de Blasio and Council Speaker Melissa Mark-Viverito showered accolades upon Pope Francis' statements about uneven wealth distribution after the Catholic leader announced he will visit New York City as part of a three-day American tour this fall.
The liberal pols both highlighted the pontiff's repeated criticisms of the yawning global gap between rich and poor—a central piece of Catholic social teaching that the Argentinian-born pope has emphasized repeatedly since rising to the head of the Church in 2013. Mr. de Blasio took credit for extending the invitation during his visit to the Holy See last year as part of his trip to Italy.
"New York City will be excited and delighted to host Pope Francis during his visit to the United States this September," Mr. de Blasio said. "The pope should know New York will welcome him with open arms. Pope Francis is the leading global voice on issues of social justice and income inequality, and New Yorkers from all backgrounds will be tremendously humbled and honored to hear his message right here in our city later this year."
For her part, Ms. Mark-Viverito attributed the Vatican's decision to add New York to the Papal itinerary—which will also include Philadelphia and Washington, D.C.—to Cardinal Timothy Dolan. She went on to say that she would help the pontifex spread his message across the boroughs of New York City.
"Pope Francis has made fighting poverty and expanding social justice a crux of his papacy and I am excited that he will be bringing this message to New York City this fall," she said in a statement. "I thank Cardinal Dolan for his tireless advocacy in encouraging the Papal visit and look forward to working with him and the Archdiocese to ensure that Pope Francis gets to experience the wonder and beauty of New York City's diverse neighborhoods, communities and people."
Pope Francis, born Jorge Mario Bergoglio, has gained international attention for his criticisms of unregulated capitalism. He has also called for the Catholic Church to be more welcoming of women and gays, though he has upheld socially conservative teachings against female priests, same sex marriage and abortion.
According to the Catholic News Agency, the faith leader will touch down in Washington, D.C. on September 22, and leave for New York on September 24. He will appear at the United Nations General Assembly meeting the following day.