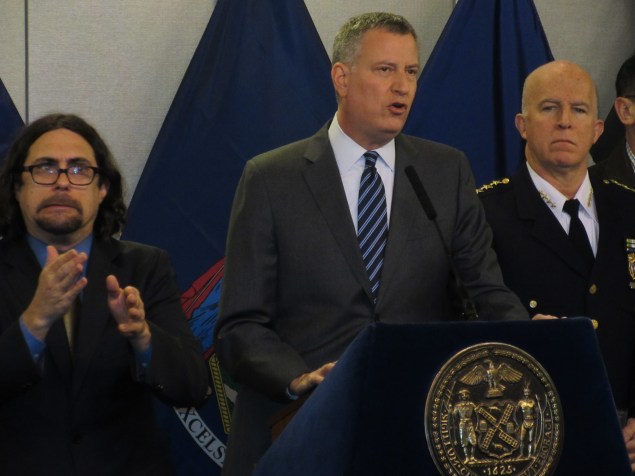 Mayor Bill de Blasio announced this afternoon that he is shutting the city's streets, schools and parks tonight until further notice as the city braces for a blizzard of historic proportions.
Speaking at the Office of Emergency Management headquarters in Brooklyn, the mayor—who faced criticism over the city's response to last year's winter storms—said only authorized city personnel would be allowed to drive on the streets starting at 11 p.m. or visit city parks beginning at 6 p.m. The restrictions may last for an undetermined number of days, the mayor said. Mr. de Blasio declared a "winter weather state of emergency" and said that thousands of Sanitation, Police, Fire, Parks, Homeless Services, 911 and 311 personnel have been working since Friday to prepare for the projected two feet of snow.
"We are ready to deal with this and whatever comes after," he said. "The priority right now is anything related to the safety of our people."
The mayor said 1,800 snowplows have been deployed, and will clear any street as soon as it accumulates more than two inches of snow. Additional ambulances have also been added to the city fleet.
Schools will be closed tomorrow. The high school Regents examinations planned for Tuesday have been tentatively rescheduled for Thursday, though the mayor acknowledged the possibility that schools might be closed that day, too.
After-school programs and adult education are also cancelled.
"This is not going to be like other storms," he warned. "People have to be ready."
Alternate side parking will be suspended through Wednesday, perhaps longer, and there will be no garbage pickups at least through mid-week. The mayor asked that citizens not attempt to clear their cars in the next several days, and not shovel snow into the streets or bury fire hydrants.
He also advised that New Yorkers remain indoors throughout the duration of the storm. Non-authorized persons caught driving in non-emergency situations will be subject to NYPD summons or even arrest.
"You're not going anywhere until we lift the emergency order," he said. "People have to make smart decisions from here on, careful decisions, recognize this as an emergency. It is not business as usual."
The mayor said he will be personally touring city facilities and neighborhoods as the storm progresses. He promised improved coordination and preparation among agencies compared to last year.
He was unable to say when the bans would be lifted.
"This is a dynamic situation, I'm going to emphasize this in all the briefings: we don't get a memo telling us what's going to happen in a snowstorm or any of the other storms. What we're trying to do is plan for the worst, not the best scenario," he said. "We can't give you an endpoint because we don't know when it would be."