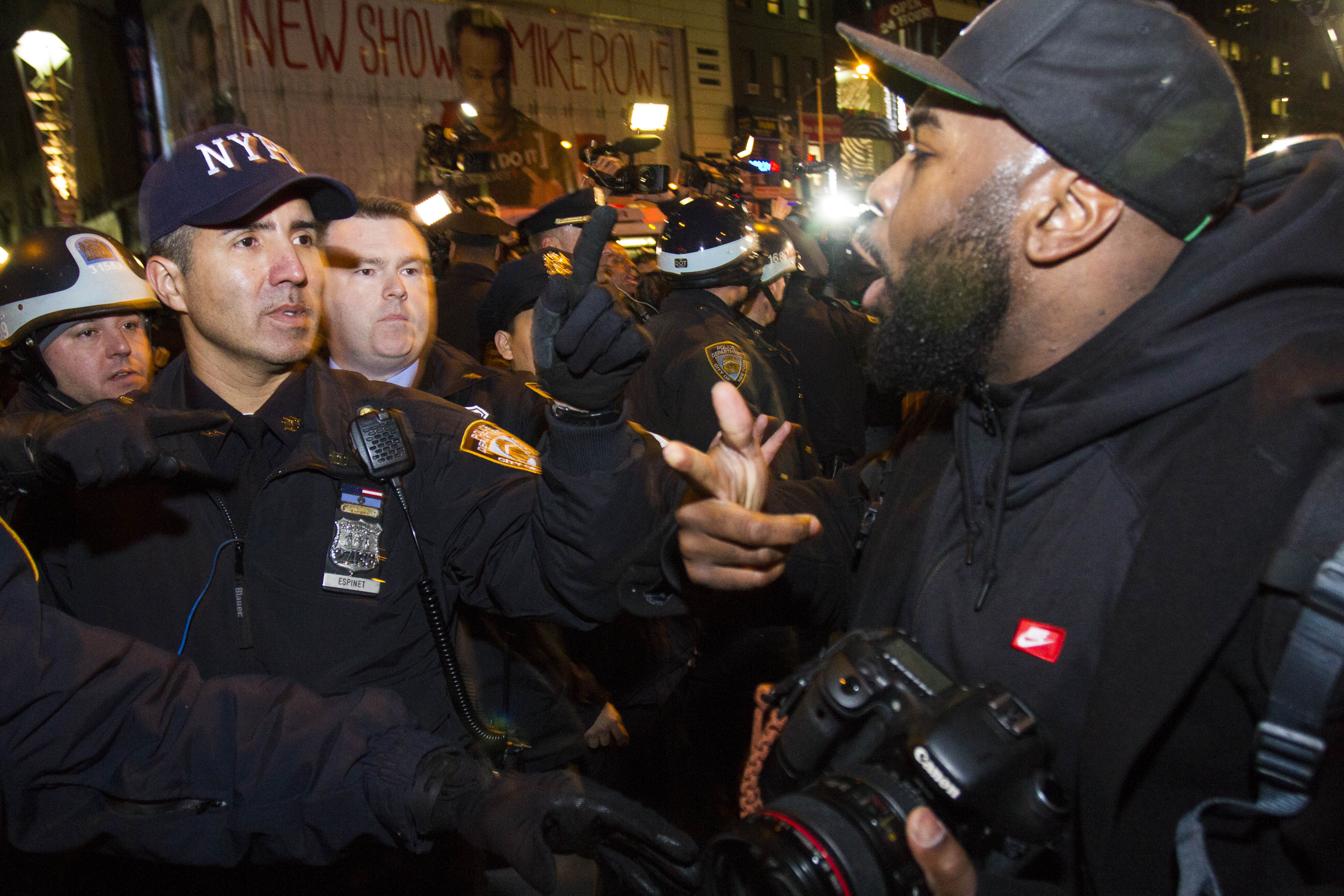 Mayor Bill de Blasio said police officers deserve to know that he finds anti-police rhetoric "unacceptable"—and said he thinks protesters calling for violence should keep their "sick" comments to themselves.
"What I think our officers need to hear, rightfully, is that while we all of course respect and believe in our U.S. Constitution that guarantees the right to free speech, that all of us here—and I wanna put myself there first—find any effort to say negative and derogatory things about our officers as unacceptable," Mr. de Blasio said during an unrelated press conference in the Bronx.
Mr. de Blasio's critics in the police union have been slamming him for weeks for, as they see it, failing to do just that—condemn anti-cop rhetoric from demonstrators who have flooded the streets after a grand jury decided not to indict a police officer in the death of Eric Garner, an unarmed Staten Island man.
Today, with more protests set to begin tomorrow and through Martin Luther King Day, Mr. de Blasio took a notably harder line against some demonstrators. Just last month, when asked about some commonly heard chants comparing the police to members of the KKK, Mr. de Blasio angrily accused the news media of "dividing" the city by focusing on a few bad apples. He allowed that the chants were "nasty" and "wrong," but spent much more time chiding reporters.
But this afternoon the mayor criticized those bad apples himself—saying it's appropriate to hit the streets and rally for policy changes, but not to denigrate officers. He expressed concern about rhetoric that could come out of rallies beginning tomorrow.
"The groups involved in those protests scheduled for tomorrow have a long history of, unfortunately, allowing some of their members to say really inappropriate, reprehensible things about our police officers, things I think are actually quite sick—anything that suggests violence towards police," Mr. de Blasio said. "They may have a constitutional right to chant their chants, but they're wrong. And they're denigrating any notion of calling for reform."
It's unclear to which groups the mayor was referring, and a spokesman didn't immediately respond to a request for more information. The NYC Peoples Power Assembly is planning to hold a "Strike Against Racism" across the city tomorrow. There are also plans for a "Lawyers March on Staten Island," being hosted by public defenders with the Association of Legal Aid Attorneys Staten Island office.
Bina Ahmad, a criminal defense attorney at Legal Aid and vice president of the National Lawyer's Guild who is organizing tomorrow's march, took issue with the mayor's assertion that anything protesters had said suggested violence. 
"I'd like for him to give us examples of what those are, because I haven't seen things that have been violent or incendiary," Ms. Ahmad told the Observer.
Critics of the protest movement have pointed to a video clip showing protesters yelling "What do we want? Dead cops," and to the assault of an officer on the Brooklyn Bridge. But Ms. Ahmad argued there was no correlation between what thousands of people might say in the streets and the actions of one disturbed individual—like the man who shot two cops to death in Brooklyn last month. The mayor should instead target the police who she said are directly responsible for the deaths of unarmed black men like Garner, she said.
"We have an absolute right to free speech. It's one of the only powers we have as a civilians in this country, particularly when we are in a national epidemic or a national crisis of police brutality," she said.
Despite his harsh criticism for some, Mr. de Blasio again reiterated his belief that most were peaceful—and he urged them to rein in their unruly counterparts and put a stop to any potential violence or violent rhetoric.
"That message has to get out. I think the many, many decent people who are protesting have to make their voices heard," he said.