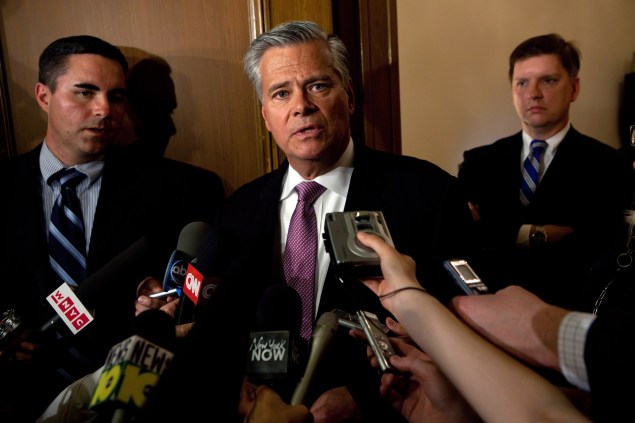 State Senate Majority Leader Dean Skelos this morning blasted a TV news report that alleged he is under investigation by U.S. Attorney Preet Bharara—though the lawmaker did not deny the piece's central claim.
According to an NBC Channel 4 story that ran late last night, Mr. Bharara—who last week brought corruption charges against Assembly Speaker Sheldon Silver—is looking into Mr. Skelos's outside income and into his ties to the real estate industry. The Long Island Republican blasted the story, and claimed he has not been in touch with anyone from the Justice Department.
"Last night's thinly-sourced report by WNBC is irresponsible, and does not meet the standards of serious journalism," said spokeswoman Kelly Cummings. "As such, we won't be commenting further."
Ms. Cummings, however, did not confirm or deny the story's contention that Mr. Skelos—who, along with Mr. Silver and Gov. Andrew Cuomo, is one of the "three men in a room" who steer state government—has come under scrutiny.
Mr. Skelos' home turf technically falls under the jurisdiction of the U.S. Attorney's Office of the Eastern District of New York, not the Southern District, which Mr. Bharara helms. However, last year Mr. Bharara subpoenaed the files of Gov. Cuomo's short-lived anti-corruption Moreland Commission, and has carried on its work of investigating potentially illegal activity among Albany politicians.
Information in those files led the arrest of Mr. Silver, which in turn has thrown the Assembly into a chaotic succession process. Last year, Mr. Bharara indicted one of Mr. Skelos' top lieutenants in the Senate, Deputy Majority Leader Thomas Libous on charges of lying to the FBI.