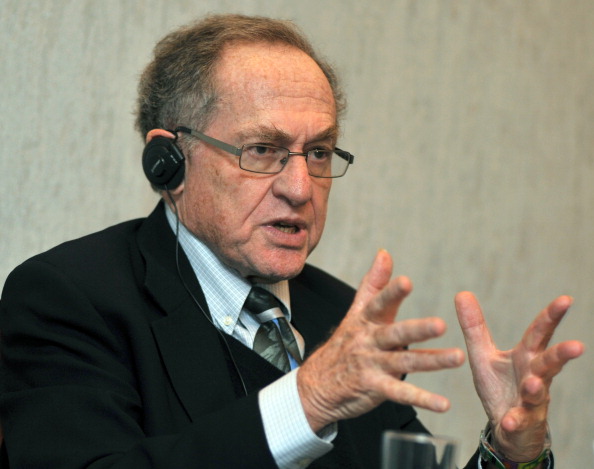 Well known rights advocate, celebrated criminal attorney and Harvard law Professor Alan Dershowitz is under attack. An under-age girl claimed in court proceedings that she had sexual relations with him while she was a held as a "sex slave" by businessman Jeffrey Epstein. Mr. Dershowitz, who is truly a master of media, knows all too well that the court of public opinion works much more quickly than the court of law; and he is not wasting any time firing back at his accuser.
Time will tell whether or not he is guilty, but his character will be hurt regardless. Media—and the public—are drawn to allegations such as these, whether they are true or not.
I do not know him personally, but I have never been fond of Professor Dershowitz. I also  do not believe he is an effective spokesman for Israel or the Jewish people. He talks of being Pro-Israel and Pro-Palestinian—a hard balance at best; and he advocates for discrimination against Jews when he proclaims that Jews should not live in Hebron.
Furthermore, he has been an outspoken advocate for President Obama, who has been a disaster for both America and Israel. Mr. Dershowitz, to me, is no more than a well-spoken uber-liberal American Jew. I find that he is always about what is good for Alan Dershowitz. That said, he deserves, as does anyone else accused of a misdeed, the benefit of the doubt. But not for the reasons he, and some of his most vocal supporters, suggest.
As CEO of a major independent PR Agency, I find his claims, as well as those of his supporters on these pages implying that accusations against Dershowitz are about Anti-Semitism, or are somehow a Jewish issue, to be absurd. Whether they are found to be true or not, this is simply not a Jewish issue.
When Bernie Madoff was arrested, I wrote at the time that "I don't believe that the "Jewish Brand" was affected in any way by the Madoff scheme. The Madoff family is a clan of crooks – of which every race, religion and people has, and the Jewish people are no different.  America is well beyond the Anti-Semitism of the USA of Henry Ford." And that was true. Mr. Madoff was a crook and a Jew. But there was nothing particularly Jewish about his crookedness and he did not represent the Jews.
The Jerusalem Post reported that Dershowitz claimed Anti-Semites and anti-Israel "zealots" are having a field day over sexual abuse allegations leveled against him.  He said, "The anti-Semites are crawling out from under their rocks, they are loving this. And the anti-Israel zealots are loving this." These allegations are inappropriate and wrong, just as he claims those against him are.
Of course, because of the nature of who he is, those clients he has represented, and what he has been outspoken on, he has accumulated a decent sized following of haters.  So, using the anti-Semitic messages he is said to have been receiving, of which he has certainly received many throughout his career prior to these allegations, is smart PR. Sympathy does help when you are accused of rape.
Yet, Dershowitz's assertion that Jews should support him, such as telling the Jerusalem Post, "I'm not only defending myself here but I am defending other values as well. I am defending the values that I have represented and stood for, for so many years" is, frankly, offensive.
Maybe the values people are offended by include the fact that he spoke warmly of Michael Jackson, a child molester, or that he served on the O.J. Simpson dream team that saw to the acquittal of an "alleged" double homicide suspect.
And then there are the many in the Jewish community who disagree with his viewpoints on our people.  He is wrong to support a Palestinian State, and other Jewish believers differ from his viewpoint that is highly "skeptical about the Torah's divine origins."   As Mitchell Bard, an American foreign policy expert and author has said, Mr. Dershowitz has suggested that "Jews should be more like Quakers who are 'less concerned about mixed marriages, more willing to share their message without conditions or conversions, more confident that they have something positive to offer in the marketplace of ideas.'" Controversial ideas at best.
Like I said before, I have no idea whether Alan Dershowitz is guilty, and he should be given the same benefits that the American justice system guarantees to all. I simply know that defending him is not and should not be a Jewish issue.
As a proud Jew, I find the argument that he should be protected because of his Jewishness to be despicable.
CORRECTION: An earlier version of this story implied that Mr. Dershowitz represented Michael Jackson and got him "off the hook." In fact, Mr. Dershowitz did not represent Mr. Jackson, though he had, according to the Chicago Tribune, "voiced support for Jackson." The Observer regrets the error.
Ronn Torossian is an entrepreneur & author.