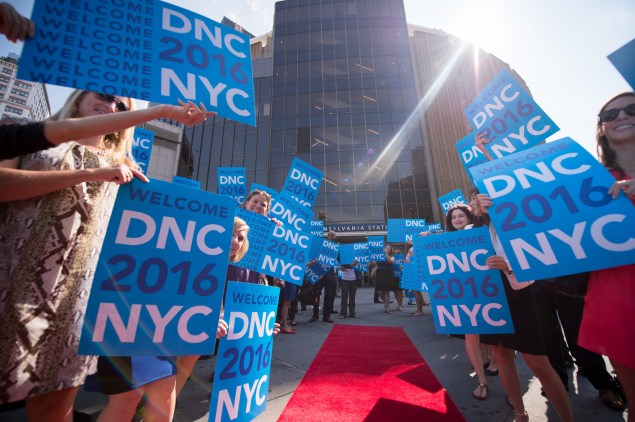 Leonard Litwin, whose company Glenwood Management is believed to be the unnamed Developer 1 in the complaint against Assembly Speaker Sheldon Silver, was on a list Mayor Bill de Blasio released today of members of his host committee seeking to bring the 2016 Democratic National Convention to New York City.
The 100-year-old Mr. Litwin—known for his massive donations to Mr. de Blasio and Gov. Andrew Cuomo, among many others—is one of 119 committee members hailing from the upper echelons of the worlds of finance, real estate, organized labor and politics. Last week, Crain's New York noted that Glenwood Management, a luxury real estate firm, fits the description of "Developer 1" in U.S. Attorney Preet Bharara's corruption complaint against Mr. Silver.
According to Mr. Bharara's office, Developer 1—not charged with any wrongdoing—hired the law firm Goldberg & Iryami as its lobbyist for matters before the state on Mr. Silver's advice, knowing that the powerful speaker received lucrative referral fees from the firm.
Mr. de Blasio's office did not immediately respond to requests for comment. In his statement announcing the members of the host committee, Mr. de Blasio argued that his slate of organizers and fund-raisers represent a broad cross-section of New York's best and brightest.
"As we head into the final weeks of the selection process, it's more critical than ever that we show the DNC that New Yorkers are enthusiastic and united in our desire to bring the convention back to New York City," the mayor said. "We are so proud to have the support of this diverse group of leaders who represent everything New York City has to offer. We've significantly outraised the other cities competing to host the convention, and we are well on our way to reaching our goal of a $100 million convention. Add to that the support of these 10 co-chairs, New York City is in the strongest position to execute an unforgettable convention."
Mr. Litwin is not among the 10 committee co-chairs, which includes Council Speaker Melissa Mark-Viverito, Goldman Sachs Chief Executive Officer Lloyd Blankfein, Tishman Speyer partner Rob Speyer, 1199 SEIU President George Gresham and Anna Wintour of Condé Nast and Vogue. The mayor's office said that the committee has already raised $6.5 million toward advancing New York's bid against its competitors, Philadelphia, Penn. and Columbus, Ohio.
A source familiar with the effort to bring the convention to Brooklyn told the Observer that Mr. Litwin was named to the committee last year, prior to Mr. Bharara's claim against Mr. Silver.
Read the full list of committee members below
New York City Host Committee Co-Chairs:

Lloyd Blankfein, Goldman Sachs and Co.
Ursula Burns, Xerox
Kenneth Chenault, American Express
George Gresham, 1199 SEIU
Melissa Mark-Viverito, New York City Council
Sean Parker, Sean N. Parker Foundation
Alan Patricof, Greycroft Partners
Rob Speyer, Tishman Speyer
Anna Wintour, Condé Nast, Vogue
Robert Wolf, 32 Advisors

New York City Host Committee 2016 Members (119):

Vincent Alvarez, NYC Central Labor Council
Stuart Appelbaum, Retail, Wholesale and Department Store Union
Gina Argento, Broadway Stages
Ajay Banga, MasterCard
David J. Barger, JetBlue Airways
Paul Beirne, Bernstein Global Wealth Management
Frank A. Bennack Jr., Hearst Corporation
Barry H. Berke, Kramer Levin Naftalis & Frankel LLP
Peter Beshar, Marsh and McLennan
Lloyd C. Blankfein, The Goldman Sachs Group, Inc
Jeff T. Blau, The Related Companies
Richard Born, BD Hotels
Jacques Brand, Deutsche Bank North America
Jill Bright, Condé Nast
Tonio Burgos, Tonio Burgos and Associates
Ursula M. Burns, Xerox Corporation Ltd.
Kenneth I. Chenault, American Express Company
Ric Clark, Brookfield Office Properties
Philippe P. Dauman, Viacom, Inc.
Dr. Barbaralee Diamonstein-Spielvogel, NYC Landmarks 50 Alliance
Barry Diller, IAC and Expedia
Jamie Dimon, JPMorgan Chase & Co.
Doug Dunham, Quinn Gillepsie
Douglas Durst, The Durst Organization
Helena Durst, The Durst Organization
Richard Edelman, Edelman PR
Blair W. Effron, Centerview Partners
Cheryl Cohen Effron
Jay W. Eisenhofer, Grant & Eisenhofer P.A.
Leecia Eve, Verizon
Hector J. Figueroa, 32BJ SEIU
Alan H. Fishman, Ladder Capital Corporation
Jay S. Fishman, The Travelers Companies, Inc
Gregory Floyd, Teamsters Local 237
Marian Fontana, 9-11 Families Association
Mark T. Gallogly, Centerbridge Partners
Christopher C. Giamo, Regional President, TD Bank
Faith Gay, Quinn Emanuel
MaryAnne Gilmartin, Forest City Ratner Companies
Steve Goldman, Kramer Levin
Barry M. Gosin, Newmark Grubb Knight Frank
Raj Goyle, Badhala
Nick Gravante, Boies Schiller
Jonathan Gray, Blackstone
George Gresham, 1199 SEIU United Healthcare Workers East
Robert Greifeld, Nasdaq OMX
Jeffrey R. Gural, Newmark Grubb Knight Frank
Gerald L. Hassell, The Bank of New York Mellon
Marc Holliday, SL Green Realty Group
Jay S. Jacobs, Nassau County Democratic Committee
Hamilton E. James, The Blackstone Group
Steven A. Kandarian, MetLife
Pat Kane, RN, New York State Nurses Association
Brad Karp, Paul, Weiss, Rifkind, Wharton & Garrison LLP
Rob Kaplan, Harvard Business School
Michael W. Kempner, The MWW Group
Julie Kushner, United Automobile Workers
Pam Kwatra, Kripari Marketing
Gary LaBarbera, Building and Construction Trades Council of Greater New York
Jonathan Lavine, Sankaty Advisors
Kenneth Lerer, Lerer Ventures
Leonard Litwin, Glenwood Management
Jeffrey H. Lynford, Educational Housing Services
John McAvoy, Consolidated Edison, Inc
Raymond J. McGuire, Citigroup, Inc.
Keith R. Mestrich, Amalgamated Bank
George L. Miranda, Teamsters Joint Council 16
Leslie R. Moonves, CBS Corporation
Evan L. Morris, Roche Pharmaceuticals
Michael Mulgrew, United Federation of Teachers
Mike Muse, Muse Recordings
Charles A. Myers, Evercore Partners Inc.
Drew Nieporent, Myriad Restaurant Group
Cynthia Nixon
Michael E. Novogratz, Fortress Investment Group
Sean Parker, Sean N. Parker Foundation
Alan Patricof, Greycroft LLC
Susan Patricof
Ronald O. Perelman, MacAndrews & Forbes Holdings Inc.
Douglas L. Peterson, McGraw Hill Financial, Inc.
Charles E. Phillips, Infor
Richard R. Plepler, Home Box Office, Inc.
Kirk A. Radke, Willkie Farr & Gallagher LLP
Bruce C. Ratner, Forest City Ratner Companies
Scott H. Rechler, RXR Realty
Dennis Rivera
Lillian Roberts, AFSCME DC 37
Jeff Rose, Attitude New York
James A. Rosenthal, Morgan Stanley
Joe Rospars, Blue State Digital
Steven Rubenstein, Rubenstein
Rosina Rubin, Attitude New York
William C. Rudin, Rudin Management Company, Inc.
Kevin P. Ryan, Gilt Groupe
Elizabeth Sackler, Brooklyn Museum
Bill Samuels, Effective NY
Marie Samuels
John Samuelsen, Transport Workers Union Local 100
Michael E. Schlein, Accion International
Richard D. Segal, Seavest Investment Group
Marissa Shorenstein, AT&T, Inc.
Adam Silver, National Basketball Association
Russell W. Simmons, RUSH Communications
Harendra Singh, Singh Hospitality Group
Jay Snyder, HBJ Investments
Rob Speyer, Tishman Speyer Properties
Ambassador Carl Spielvogel, Carl Spielvogel Enterprises
Joseph Spinnato, Hotel Association of New York City
Steven Spinola, Real Estate Board of New York
Jonathan M. Tisch, Loews Hotels and Resorts
Daniel R. Tishman, Tishman Construction Corporation
Diane von Furstenberg, DVF
Peter Ward, The New York Hotel and Motel Trades Council
David Weinreb, The Howard Hughes Corporation
Maureen White
Steve Witkoff, The Witkoff Group
Robert Wolf, 32 Advisors
Kathy Wylde, Partnership for New York City
Donald Zucker, Donald Zucker Co.
This story has been updated to reflect that Mr. Litwin was not added to the list today, and to include additional infomation about his time on the committee.