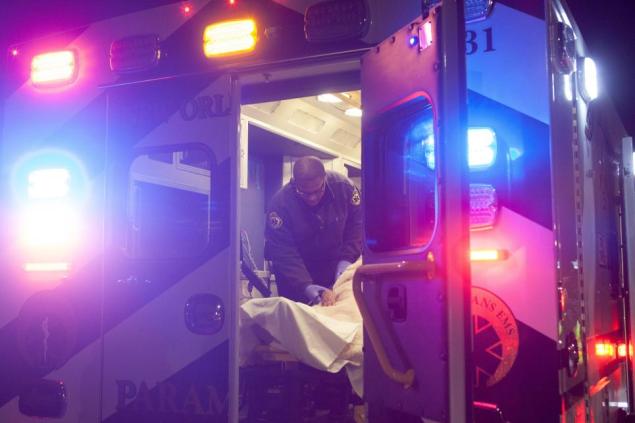 Uber producer Dick Wolf may be perceived as The King of Scripted Television, but even though he's made his mark in the scripted world, Wolf does have some reality show favorites.
"He's a fan of a show we do called Lock Up," reveals Rasha Drachkovitch, President of 44 Blue Productions, who, in association with Wolf, has launched the new reality show Nightwatch.
Set in the historic city of New Orleans, Nightwatch follows teams of police officers, fire fighters and EMT's as they risk their lives working the 8pm to 4am shift, during which they respond to as many as a thousand emergency calls a night.
"Dick came to us to talk about Lock Up, which is a prison documentary series we produce. That meeting led to some brainstorming about working together. Out of that came the idea for Nightwatch," explains Drachkovitch.
Drachkovitch and his production team were already very familiar with New Orleans, having done another show, Pit Bulls and Parolees, in the city. "We love the New Orleans and had gotten to know the law enforcement folks there really well. The city is perfect for this show because it's a city of extremes, full of very colorful people who really like to have a good time and with that come consequences and out of that came some pretty dramatic material."
In this season of the show Drachkovitch says that the first responders face some pretty harrowing situations. "We were involved in the largest tanker fire in the last 20 years. We're there for Halloween and New Year's Eve and a lot of alarming, and yet hilarious, stuff happens on those nights. I think people will be talking about those episodes, saying, 'Only in New Orleans would you see this kind of stuff happen.'"
Along with these incidents, Drachkovitch says that one episode this season features an extremely emotional event that affects all of the first responders in a very personal way. "An officer was shot and just seeing how the city bans together to find the perpetrator was very moving. That's a very powerful episode."
Drachkovitch admits that he was taken aback by a few factors that he didn't foresee when he first came up with the idea for Nightwatch. "The volume of calls really surprised me. I knew it was busy, but I had no idea that it was this busy. When an ambulance shows up and gets a patient in the back, they can be dealing with anything from a heart attack to an asthma attack to a gunshot wound. They work on that patient, then they drop that person off at the hospital and minutes later they have to go out on another call. At 2am you think, 'ok now, everyone must be asleep,' but then all of a sudden there are shots fired, there's someone in distress or there's a structure fire. It just doesn't stop. How much these people do every single night really blew me away."
Another element that came as a shock to Drachkovitch during the course of production was the methods employed by the first responders. "I was absolutely amazed at how these people handle things. They're comfortable in these really uncomfortable situations. Most of us would avoid a crisis by all means, but they come in, evaluate things and then they save lives.  They're a special breed, that's for sure. I've come to discover that being a first responder isn't something that you just fall into, you really have to have a sort of have a calling to deal with all of this stuff."
For the look of the series, Drachkovitch and his team employ the use of one of the newest technologies in filmmaking – drones. "Yeah, We use a lot of drone footage," admits Drachkovitch, "It's kind of signature element of the show. We wanted to raise the level of what people expect from a reality show. Drones allow us to look at the city with a bird's eye view at the same time as we tell the story on the ground. We had a [drone production] team that just followed our crews out and they would set up a few blocks away and just launch the thing and get the shot from above. It was really cool to watch the process and it gave us some amazing footage. In the old days, to get that shot would require expensive equipment that we just couldn't afford, but now we can do it and it just works so well cinematically because we're looking down on a city where the majority of people are asleep but we're pinpointing the ones that are in the middle of this story that we're telling."
Keenly aware that there are countless other reality shows out there for viewers, Drachkovitch offers these reasons as to why Nightwatch should be a must watch show. "I think we're doing something that hasn't been done before. To have a show that tackles three agencies in a city for the first time is not an easy thing to do. People are going to see things they haven't seen before, they're going to meet characters that are memorable and they're going to watch people doing extraordinary things. Yes, there are situations where things end in a tragic way, but it's ultimately uplifting because of the people that we're profiling. These first responders are truly heroic in all of their efforts and that's very inspirational.
Drachkovitch hopes that this incarnation of the show is just the first in a long line of many different versions, saying, "If this goes well, then we'll expand, I'd like to see Nightwatch: Miami, Nightwatch: New York, and hopefully even Nightwatch: London. That's the ultimate goal; to tackle this series on a national and global level. But, right now we're just taking it one step at a time."
Working with Wolf has resulted in some specific guidelines for the series, admits Drachkovitch. "We keep saying that we want it to really feel like a Dick Wolf Show because of the bar that he's set in the scripted world, and we think it does have that feel to it."
To that end, fans of Wolf's shows will notice that Nightwatch opens with what can only be referred to as a Wolf signature, the distinctive voice of Steve Zirnkilton, who's silky pipes have graced the beginning of hundreds of episodes of Wolf's Law & Order series for over 20 years.
"Yes, it's him," confirms Drachkovitch. "His voice is sort of a trigger, telling you that this is some serious stuff, that what you're about to see is very important. There's a real credibility behind that voice that we felt we wanted to open each episode of our show with. And yes, Dick made that happen."
Nightwatch airs Thursday nights at 10/9c on A&E.